An insight into TRAINOSE restructuring
Posted: 13 February 2015 | Dr Nikolaos Athanasopoulos, Strategic Planning Senior Advisor, TRAINOSE S.A. | No comments yet
TRAINOSE S.A was established in 2005 as a subsidiary of the OSE Group (the Hellenic Railways Organisation) responsible for the provision of passenger and rail freight transport. Since then it has undergone significant restructuring in order to meet EU regulations. Strategic Planning Senior Adviser Nikolaos Athanasopoulos gives an insight…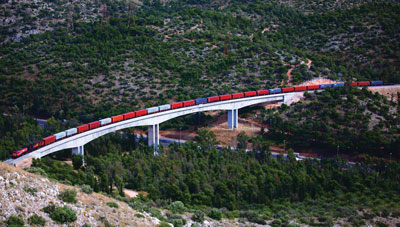 In 2007, TRAINOSE became fully operational and took over the services of the Athens suburban railway company. In 2008, the 100% share capital of TRAINOSE was transferred to the Hellenic Republic (HR) and since then TRAINOSE operates independently from the OSE Group as the only railway transportation provider in Greece, with suburban, national and regional routes. From 2007 to 2009, TRAINOSE had an operational deficit (annual) of €240 million. In 2010, a two-year restructuring plan was designed, which was gradually implemented. In 2012 the restructuring of the company was successfully completed and TRAINOSE presented earnings – for the first time in the Greek railway history – of €0.3million EBITA. In 2013, TRAINOSE shares were transferred to the Hellenic Republic Asset Development Fund (HRADF).
As the Greek railway business was gradually segregated into different companies – each with a distinct line of business, as per the EU regulations – the objective of TRAINOSE is to provide passenger and rail freight services. Its sources of revenue come from passenger and rail freight transportation, as well as the compensation from HR, Public Service Obligations (PSOs) for the non-commercial routes.
TRAINOSE has a unique positioning in the Greek rail market being the leading market operator and keeping the first-mover advantage in a market with special characteristics. It has secured business for the provision of passenger services for the next five years through the PSO contract and, having implemented a successful restructuring plan, it is now a profitable operating company. In the passenger sector, the significant network upgrades as of 2017 will lead to substantial capacity, higher speeds, and significantly lower costs rendering train transportation more competitive to that of other means. In the freight sector, the connection of railway infrastructure to Greek ports is expected to bring significant potential as the ports are uniquely positioned to serve as gateways for the transportation of goods coming from the Far East to South-East and Central Europe. Additionally, longterm freight agreements for regular routes from the ports of Piraeus and Thessaloniki are expected between TRAINOSE and domestic enterprises.
The rest of this article is restricted to logged-in members. Login or subscribe free to read it.