Competition strengthens German rail sector
Since access to the German rail market was open to all rail operators, competition for services has strengthened the railway's ability to compete with other modes of transport. Burkhard Bastisch, Managing Director of NWL – the transport authority for the Westphalia-Lippe region – explains NWL's responsibilities and policies and how it is organised in a decentralised manner, plus information about the Rhine-Ruhr-Express (RRX) – one of Germany's biggest regional transport projects and among the most important mobility and infrastructure projects in North Rhine-Westphalia…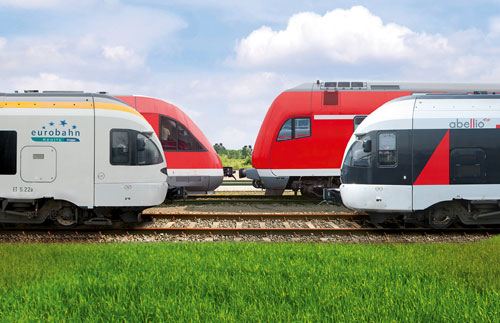 There are major differences between the railway scene and competitive landscape of Germany and those of other European countries. Up until the late-1990s, the national government was solely responsible for the organisation of regional transport in Germany. The 16 federal states have now had responsibility over this for two decades. Some states carry out this task themselves through subsidiaries, others have local government-run joint boards or transport associations. A total of 27 different organisations have since then been involved in planning, commissioning and organising local passenger rail transport in Germany. The organising authorities play a key role in the comm issioning of local passenger rail services. Through competitive contract processes (tenders), the organising authorities for local rail award contracts to rail operating companies for the provision of local transport services for a set term and in accordance with defined quality and performance criteria. As a result, approximately 64 different rail operating companies were competing with the Deutsche Bahn (DB AG, German Railway) in 2012, and about 24.1% of all transport services were provided by non-DB companies. The devolution and regionalisation of local passenger transport occurred in 1995/1996 and provided a considerable boost to competition. As a result, access to the market was open to all rail operators to an equal extent, and on the basis of fair conditions. There is a regulatory authority to ensure this, as well as a rail law, which provides for effective regulatory instruments.
Overall, competition means better and additionally optimised services in return for a balanced allocation of resources, resulting in a growth in passenger numbers, and strengthens the railway's ability to compete with other modes of transport.
The Nahverkehr Westfalen-Lippe (Westphalia-Lippe Local Transport) Joint Board is the transport authority for the region
The Nahverkehr Westfalen-Lippe (NWL) has its headquarters in Unna. This is a city in western Germany, in the federal state of North Rhine-Westphalia. The region of Westphalia, which is NWL's sole area of activity, forms the eastern part of the federal state.
The NWL was formed in 2008 by the merger of five regional associations in Westphalia:
Zweckverband SPNV Münsterland (ZVM, Local Rail Passenger Transport Joint Board for the Münster Area)
Zweckverband Ruhr-Lippe (ZRL, Ruhr-Lippe Joint Board)
VerkehrsVerbundOstWestfalenLippe (VVOWL, East Westphalia and Lippe Transport Association)
Nahverkehrsverbund Paderborn/Höxter (NPH, Paderborn/Höxter Local Transport Association)
Zweckverband Personennahverkehr Westfalen-Süd (ZWS, South Westphalia Local Passenger Transport Joint Board).
As one of three local rail transport authorities in North Rhine-Westphalia, NWL is responsible for the commissioning and funding of rail services and infrastructure improvements. It plans regional services for local rail, co-ordinating these to integrate them with the neighbouring regional services and the long-distance rail services of DB AG. Service planning is closely co-ordinated with overall policies relating to guidelines on fares and operations, infrastructure guidelines for improvements to stations and tracks, as well as additional services, complementary local passenger transport and eco-mobility modes of transport.
The NWL area incorporates 206 cities and municipalities, of which 127 have a local rail station. NWL is responsible for a network that is approximately 1,800km-long and provides a service of about 32 million timetabled train kilometres per year. In total, there are 55 local rail services (lines). Approximately €270 million is spent annually on the funding of services. In addition, approximately €20 million per year is available to NWL for improvements to the local passenger transport infrastructure. This includes, for instance, the construction of tram tracks as well as aboveground and underground light-rail, central bus stations, park-and-ride and bike-and-ride facilities, the remodelling of stations and stops, as well as measures to ensure faster journey times. The aims of NWL are the maintenance and expansion of a high-performance local transport system in the Westphalia area to provide mobility for people, as well as effective co-operation between municipal actors in the field of local passenger transport.
NWL is organised in a decentralised manner. The formerly independent associations are now branches of NWL that continue to have responsibility for carrying out their functions in their respective regions. In this way, the umbrella organisation guarantees a good collective performance whilst also ensuring through its structure a proximity to passengers, the local rail market, local politicians and the public. It has a coordinating function and is examining future measures to further develop its organisational structure. NWL has an impressive track record, which has been in place since regionalisation in the Westphalia area, and which must be continued.
A large number of NWL's other tasks in Westphalia-Lippe, such as strategic quality management, local transport planning, strategic vehicle fleet planning, strategic competition planning, North Rhine-Westphalia-wide fares and sales, as well as timetable data management are carried out in a decentralised manner by the member organisations for Westphalia-Lippe. As the second-largest commissioner of local rail services in North Rhine-Westphalia, and one of the seven largest nationally, NWL advocates a reasonable distribution of subsidies for local transport in the Westphalia area.
Competence Centre for the Integrated Fixed-Interval Timetable guarantees local rail connections in North Rhine-Westphalia
As a result of the establishment of the state-wide Competence Centre for the Integrated Fixed-Interval Timetable (Integraler Taktfahrplan, ITF) in Westphalia, NWL is responsible for the further development of the North Rhine-Westphalia framework timetable. The ITF Competence Centre is one of five institutions subsidised by the state of North Rhine-Westphalia with the task of co-ordinating key issues in local passenger transport. The main task of the Competence Centre for the Integrated Fixed-Interval Timetable in North Rhine-Westphalia (KC ITF NRW) is the further development of the North Rhine-Westphalia-wide timetable interval in local rail.
The Competence Centre for the Integrated Fixed-Interval Timetable is working in co-ordination with the state of North Rhine-Westphalia, the transport authorities, the infrastructure owners as well as operators on updating the North Rhine-Westphalia fixed-interval timetable. The planning involves defining priorities that require urgent action (both in terms of infrastructure as well as service levels). This takes into account medium- and long-term policies in order to ensure the later compatibility of different designs. In this way, the Competence Centre for the Integrated Fixed-Interval Timetable guarantees a sustainable future for mobility in North Rhine-Westphalia. Its connection with NWL guarantees that it remains close to the transport authorities in terms of expertise, and ensures that personnel and financial resources are used optimally.
Rhine-Ruhr-Express (RRX), a premium product
RRX is one of Germany's biggest regional transports projects and is among the most important mobility and infrastructure projects in North Rhine-Westphalia. The high-capacity local rail service is due to be opened in stages from 2018 onwards, and will be a high-quality express train system in North Rhine-Westphalia, with 11 million timetabled train kilometres.
RRX will absorb the rapidly growing traffic in the metropolitan area between Dortmund, Duisburg and Cologne. The lines are being extended beyond Dortmund to Hamm, Bielefeld/Minden and Paderborn/Kassel, with a view to extend to Lünen/Münster in the long-term, once the required infrastructure upgrades are complete. The aim is to connect the major cities in Germany's most populous state between the Rhineland and the eastern Ruhr area with a high-frequency service – and this with 15-minute intervals on six lines.
The new service will build on the successes of the Integrated Fixed-Interval Timetable. The design for RRX has been adapted to fit into the Integrated Fixed-Interval Timetable for local rail. Since RRX will also take over some long-distance rail functions, the network design takes into account the way it will interact with the long-distance passenger rail system.
The design for RRX differs substantially from other local rail products, since it incorporates rapidly accelerating and decelerating multiple units with short dwell times at stops, guarantees a high degree of timetable stability with its maximum speed of 160km/h, and offers a high level of seat availability even at peak times. It also ensures an even frequency of service for all stops, as well as the same timetable intervals and frequency of services on weekdays and weekends.
The introduction of RRX requires infrastructure upgrades to be carried out on the network and stations, necessitating an overall investment of €1.4 billion. The rail network has to be upgraded to allow the smooth operation at 15-minute intervals, completely separate from long-distance services, on the Dortmund-Cologne section. To that end, the widening of some sections to four or six tracks is planned for the new lines. After the infrastructure upgrades are complete, the current major regional express lines will be absorbed into the future six RRX lines, with expanded services.
The total contract value is approximately €4 billion. For the first time, separate contracts will be awarded for vehicle procurement, maintenance and operations.
This makes a sustainable procurement of high-quality vehicles possible and guarantees a uniform vehicle fleet. The tender will not just be based on the purchase price of the vehicles, but also on their life-cycle costs. This new approach to tendering saves taxpayers' money and protects the environment, because the vehicles will be designed and built in a way that ensures that they are cost-effective overall and use as little energy as possible. In addition to the vehicles, a vehicle availability of 30 years is being purchased from the manufacturer. This means that the manufacturer guarantees that the vehicles will be continuously available on a daily basis in the required numbers and quality. In addition, separating the contract for the vehicles and maintenance from the operating contract encourages competition. This applies to both the construction of the new trains and innovative maintenance schemes, as well as the rail operations themselves. At an overall investment volume of up to €900 million just for the procurement of vehicles, traditional types of tender process, in which the rail operating companies supply their own trains, would risk there only being one applicant. Only a genuine competition involving a sufficient number of applicants will ensure that the overall cost is kept as low as possible and quality levels are kept high. As a rule, the regional associations become the owners of the vehicles and then lease them to the rail operating companies.
The service is being provided with new single-deck and double-decker vehicles that can reach a top speed of 160km/h. It is planned that there will be 80 trains, each composed of four carriages, offering 400 seats.
RRX will make it possible to reduce the number of daily passenger journeys by car by 31,000, and will thus ease the pressure on the region's constantly overburdened road network.
A common pricing system: the WestfalenTarif
Removing the barriers between transport associations for the benefit of the customer was NWL's goal right from the start. Now, is it planned that there will be a uniform and comprehensive fare system for customers in Westphalia, covering all fare regions and transport associations: the WestfalenTarif.
Prompted by the state of North Rhine-Westphalia, there will in future be only three regional fare areas, instead of nine: the Rhineland, the Rhine-Ruhr and Westphalia-Lippe. The WestfalenTarif will be jointly developed by transport operators in Westphalia-Lippe and NWL.
The introduction of the WestfalenTarif, which is planned for the fourth quarter of 2016, will create the third-largest German regional fare system in terms of population, and the second-largest in terms of area. The fare system's area covers 16 districts and three urban districts, with a population of 5.7 million. It is planned that neighbouring major regional centres such as Dortmund, Hagen and Osnabrück will be integrated into the WestfalenTarif as well, along with the rail line to Enschede in the Netherlands. The new fare system will then replace the previous regional joint fare systems. The WestfalenTarif will apply to city buses, city light-rail systems, regional buses and local trains of all transport operators. It is hoped that the harmonisation of fares will make fares in Westphalia more transparent.
NWL facts and figures
Area: 19,416km2
Population: 5.7 million
Local authorities: 16 districts, three urban districts (Bielefeld, Münster, Hamm)
Turnover: €300 million/year
Services: 55 lines
Network: 1,793km of track
Annual operational performance: 33 million timetabled train kilometres
Services: 55 lines, including 17 regional express, 35 regional rail, three S-Bahn (urban rapid transit) lines
Operators: DB Regio NRW, Eurobahn, Nordwestbahn, Westfalenbahn, Abellio Rail NRW, Hellertalbahn, Hessische Landesbahn
Biography
Burkhard Bastisch completed his regional planning studies at Dortmund University in 1979 with the degree of Certified Engineer (MEng equivalent). Subsequently, he worked in various urban development roles at the City of Wuppertal, until he took on the position of Managing Director of the Ruhr-Lippe Local Passenger Rail Transport Joint Board (ZRL) in 1996. From 2008, he was also Spokesman of the NWL management umbrella association. In 2012, Burkhard was elected to the full-time post of Managing Director of NWL.