Supporting competition and an innovative single European railway
ERFA, the European Rail Freight Association, brings together the newcomers on the European rail market. ERFA's members range from railway undertakings to wagon keepers, freight forwarders, leasing companies and national rail associations, covering the whole value chain of rail transportation across Europe. All members are united in a commitment to work towards a competitive and innovative single European railway market underpinned by attractive, fair and transparent market conditions for all railway companies. Julia Lamb, ERFA Secretary General, explains more…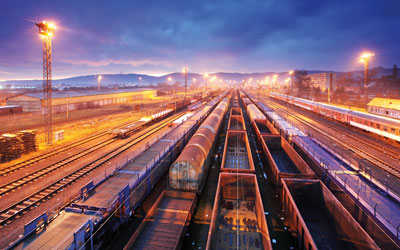 The rail sector's newcomers distinguish themselves from the traditional incumbent operators, as from the beginning they have had to adopt a commercial and business-minded approach to ensure their existence and very survival on the market. Attracting customers with reliable, efficient and dynamic services has had to be the priority for the newcomers. It is by creating confidence in rail to deliver a service of quality that ERFA believes political will for the rail sector will be restored and along with it much needed public and private investment.
ERFA's existence, since 2002, is firmly linked to the EU's market opening agenda and its vision of reviving rail use. The opening up of the European rail market over the last 10 years has challenged the traditional rail monopolies of the past in favour of a competitive environment. There is wide-spread recognition that concentrating too much power in the hands of one company or organisation, be it public or private, drives away the incentive for innovation and efficiency and along with it a large share of the customers. Reversing that trend and capturing that growth potential have been at the centre of ERFA's interest in a more dynamic rail sector.
The rest of this article is restricted to logged-in members. Login or subscribe free to read it.