The Railway Infrastructure Manager's challenge
As the railway Infrastructure Manager in the UK, Network Rail is entering uncharted territory – new possibilities in traffic management are opening up through the European Rail Traffic Management System (ERTMS), and the ability to measure the performance of the infrastructure in ways not previously imagined is becoming increasingly available. These are indeed exciting times, writes James Lewis, Network Rail's Head of European Research and Development (R&D) Programme.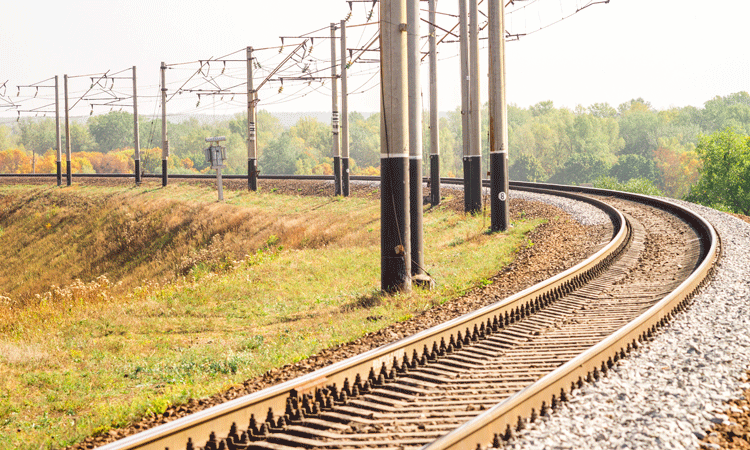 The future of our railway lies in harnessing technology that is available right now. Today we still use technology that fundamentally hasn't changed from when it was first invented in the 1840s. We've inherited an ageing Victorian rail network, parts of which hark back to Brunel days and are in desperate need of upgrade and modernisation. Lever frames in traditional signal boxes to control traffic, semaphore signs worked by wires and gravity, points switched by long rodding runs of mechanical linkages and an infrastructure which maintains many of the design traits that it inherited from its early beginnings. There is certainly plenty of room for modernisation.
More bluntly, it could be said it's not an infrastructure that is going to meet the future needs of railway customers and more needs to be done. Societal changes will see population growth, energy and carbon challenges, economic constraints for Europe in a competitive global marketplace and the increasing expectations of customers in a digital age. For Network Rail these challenges, together with safety and performance, are best summed up as the 4C's; Capacity, Carbon, Cost, and Customer. Ultimately, Network Rail needs a railway that is affordable and attractive to customers in the future; a future in which Network Rail expects capacity to double by 2030.
Let's do this differently
It is impossible to talk about In2Rail without first talking about Shift2Rail; it is only in this context that it can truly be understood. Shift2Rail will be the first European rail joint technology initiative to seek focused research and innovation by accelerating the integration of new and advanced technologies into innovative rail product solutions. Shift2Rail will promote the competitiveness of the European rail industry and will meet the changing European Union (EU) transport needs. Through the research and innovation carried out within Shift2Rail, the necessary technology will be created to complete the Single European Railway Area (SERA).
For Network Rail the Shift2Rail programme is unique in many ways: firstly the level of funding is unparalleled for railway focussed R&D at €920 million. Although still not enough to address the challenges the industry faces it is nonetheless significant; the concept of advancing the sector in a co-ordinated system based approach makes the 'art of the possible' far greater. For example, advancing the state-of-the-art for trains and tracks at the same time allows each to go much further than it could if the other remained unchanged. It's a railway system after all. Crucial to this is that Shift2Rail allows industry to work together in a way it has not previously, from Executives to Engineers, the Founding Members of Shift2Rail are working together. This is an aspect that Network Rail is relishing, the ability to get its challenges across to industry and work truly collaboratively to beneficially address them.
Finally, Shift2Rail advances the R&D to a mature stage; this isn't about creating a shelf full of reports to be picked up at some undefined later date. It's about creating demonstrators – real, tangible engineering solutions.
In2Rail
In2Rail, or Innovative Intelligent Rail to give its full title, is about exactly those two things its name suggests: doing things differently, and being smarter. It is an ambitious research project that looks at railway infrastructure. In the wider context of Shift2Rail it kicks off and sets the foundations for many of the technologies that will be continued within Shift2Rail Innovation Programmes 2 & 3 and will make important advances towards achieving the overall Shift2Rail objectives of enhancing capacity, increasing reliability and reducing the life cycle cost.
In2Rail addresses the challenge through focusing on three areas: Smart Infrastructure, Intelligent Mobility Management (I2M), and Energy Management.
The Smart Infrastructure area will be looking into:
Intelligent reliable infrastructure which includes concepts such as integrated asset monitoring, self-diagnostic and adjusting assets, efficient design and new materials, exploring mechatronic solutions, with an increased focus on data from low-cost, low-maintenance sensors
Better system resilience and a reduced need for maintenance through innovative infrastructure design, novel working methods and smarter use of data
Overall reduction in carbon emissions, noise and vibration, and improved levels of sustainability.
I2M is about developing information as a strategically critical asset and includes:
A standardised approach to information management and dispatching system enabling an integrated Traffic Management System (TMS)
An Information and Communication Technology (ICT) environment supporting all transport operational systems with standardised interfaces and with a plug and play framework for TMS applications
An advanced asset information system with the ability to forecast network asset statuses with the associated uncertainties from heterogeneous data sources.
Rail Power Supply and Energy Management focused on:
An Alternating Current (AC) Rail Power Supply System with minimised energy losses and optimised loads
An efficient energy management system allowing understanding of energy flows within a railway system, and a reduction of the energy consumption and cost.
A system based approach
The key idea underpinning the project is the adoption of a whole system approach to create the building blocks for Shift2Rail: innovative technologies will be explored and resulting concepts embedded in a systems framework where infrastructure, information management, maintenance techniques, energy and engineering are integrated, optimised and routinely shared and exploited across the transport sector.
The system approach makes it possible to create and exploit synergies between the three research areas that comprise In2Rail. It connects the developments of intelligent infrastructure elements through specification, design, data management and demonstration. A V-model concept will be applied to the project. This is used to accompany projects from specification to demonstration of system performances for complex systems.
The working methodology sees the definition of overall needs and requirements. These are then apportioned and allocated to the different project components, to set the requirements for innovation on Smart Infrastructure, I2M, Rail Power Supply and Energy Management. The system engineering approach is then applied to the different areas addressed in In2Rail. The priority topics deemed essential to improving railway system performance will be addressed.
An industry pulling together
There are many partners that will deliver In2Rail, more than 50 in fact, a number which brings about its own challenges for an R&D project. It does however also bring with it a wealth of experience and expertise to tackle the main challenge in hand – that of better railway infrastructure. The consortium traverses the boundaries of the EU member states, and is representative of the European railway industry covering the value chain from Small Medium Enterprises to Multi-Nationals and Infrastructure Managers. The approach taken is essential to ensuring the successful adoption of results and creating the step change required in the rail industry.
Conclusion
There can be no doubt that there is a lot to do, many significant challenges to be solved and hurdles to be overcome for the industry. In2Rail will begin an important phase in this journey to a better railway and in the longer-term through Shift2Rail it has the ability to bring about real change. It's an opportunity that the industry must take full advantage of. There are plenty of reasons to be optimistic and perhaps exciting times just got a little more exciting. For Network Rail and the other In2Rail partners, a long time planning is just about to finish, so it's time to start doing.
Biography
James Lewis leads Network Rail's European Research and Development (R&D) Programme which includes initiatives such as Shift2Rail and In2Rail; he is Chairman of Network Rail's Seedcorn Fund, and manages R&D commercial activity within the business. James is a Fellow of the Chartered Management Institute, a Member of the Chartered Institution of Civil Engineering Surveyors and a Member of the International Council on Systems Engineering. Prior to his career in Network Rail, James gained experience across several industries providing high-end technological solutions to clients on many major UK infrastructure projects.