Sweden's Railways: Quality, capacity and competitiveness
Posted: 1 October 2015 | Björn Westerberg, CEO of the Association of Swedish Train Operating Companies (ASTOC) | 1 comment
Never before has there been so much talk about the railroad in Sweden, writes Björn Westerberg, CEO of the Association of Swedish Train Operating Companies (ASTOC). Train services have been developed and adapted for a market with high standards and are an important part of society. Unfortunately, it is the flaws of the railway's facilities that are in focus. Instead of visions and new developments, there are talks about the 'maintenance mountain' and infrastructure debt…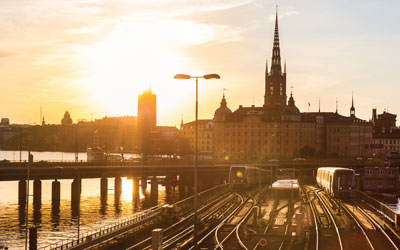 Sweden, and our environment, continues to evolve. Economies globalise, populations grow, urbanisation increases and digitalisation moves faster. The development of the Swedish society has led to fewer and larger regions, increased commuting between and within the major regions and a vital export industry with an increased flow of goods from large parts of the country. The service society has increased the need for skilled labour and acceptable conditions for work, study, and culture. Sweden is one of the most deregulated railway markets in Europe and the European Commission is striving to promote the Swedish system as a role model for the Fourth Railway Package. The next step in the development of the Swedish society requires a sustainable, rapid, comfortable and efficient transport system.
Sweden needs to strengthen its identity as part of a leading European development region, at the forefront of innovation and modernity. To keep up with the development and to strengthen Sweden's competitiveness, we are forced to change. A major challenge will be to achieve both a more efficient use of resources and to become more flow-efficient. How we develop our transportation system will be crucial to how well we succeed in meeting future challenges and opportunities of the country.
The rest of this article is restricted to logged-in members. Login or subscribe free to read it.