Southern Africa railway revitalisation…
The Southern African Region can be considered as including the countries of Angola, Botswana, Lesotho, Malawi, Mozambique, Swaziland, Namibia, Tanzania, Zambia, Zimbabwe and South Africa. This region is close to the Indian Ocean and also comprises the Comoros States, Madagascar, Mauritius and Seychelles. The UIC has collaborated with experts from the African region in a study called: 'Revitalisation of Rail in Africa: Destination 2040' which was supported by the African Union and endorsed at the 3rd African Transport Ministers meeting in Malabo in 2014…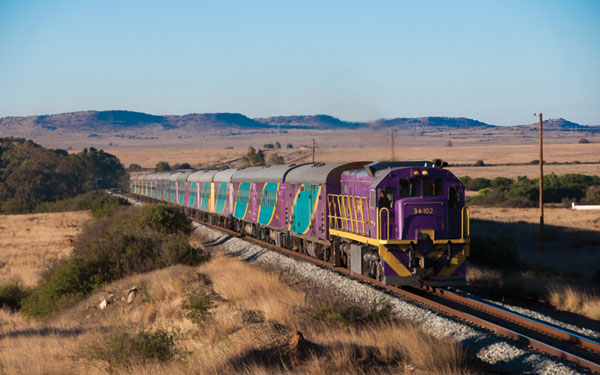 African extensions of some networks (South Africa and North Africa) were implemented for an urgent and economic exploitation of the continent's mining and agricultural wealth. The rapid urban development phenomenon does not only mean that more people live and work in cities, but also that a large amount of individuals and assets travel more in urban areas and therefore cover longer distances.
avel more in urban areas and therefore cover longer distances. However, the way in which most African cities respond to these rising needs shall have environmental and economic efficiency consequences and will also affect the liveability of these agglomera – tions. The significant growth of informal trade in Africa indicates that the volume of intra-African exchanges is not as weak as suggested by official statistics. For example, according to some surveys, the value of informal trans-border trade in the member countries of the Southern African Development Community (SADC) can reach 17.6 billion dollars per year, which represents 30-40% of the total exchanges carried out within this community.
Recently, a Programme for Infrastructure Development in Africa (PIDA) was developed: energy, transport, water supply and information and communication technology (ICT) have been taken into consideration in this study. While stressing the beneficial economic and environmental impact and its safety (compared to road transport), two railway components were identified in the PIDA programme, namely: in Southern Africa, to link the centres of production/consumption in landlocked countries to the Pacific (Durban, Maputo or other ports) and/or to the Atlantic (Walvis Bay).
South Africa, the country with the largest railway network in Africa, has 440km of railway tracks per one million people, which is nearly equivalent to the European average. In 2000, the Integration of Regional Infrastructure in South Africa programme was introduced by the African Union and it identified 514 infrastructural projects, totalling 69 billion USD financed by public funds at 21%, 25% by FIs, 35% by PPP and 19% by private investors.
One of the important international projects is the South Africa–Swaziland link, supporting intensive trade between countries and mining projects, servicing the Lothair line in Mpumalanga in South Africa and Sidvokodvo, Swaziland. Costing approximately 2 billion USD (1.5 billion USD for South Africa) the feasibility study is due to be complete during 2016.
Cargo transportation on key corridors, as well as shipments of copper metal from the countries of the copper belt (but below the tonnage of iron ore and bauxite) would use transport facilities specifically developed for this type of transport. Transit traffic from landlocked countries is expected to increase during the next 30 years in Southern Africa, with volumes rising from 13 million tonnes to 148 million tonnes. Berg Insight1 is of the opinion that the market for fleet management in South Africa is in a 'growth period' which will continue in the years to come. The number of fleet management systems in active use is forecasted to grow at a compound annual growth rate (CAGR) of 10.8% from 0.9 million units in 2015, to 1.5 million by 2020. The penetration rate in the total population of non-privately owned fleet vehicles used by businesses is at the same time estimated to increase from 21.5% in 2015 to 32.5% in 2020. 
Members involved with the UIC African Region intend to accelerate the pace of their activities in order to implement the new strategy supported by 'Revitalisation of Rail in Africa: Destination 2040'. Committed to the slogans of innovation, mobilisation and integration, the efforts intend to:
Promote rail transport across the continent and help its members meet current and future challenges of mobility and sustainable development
Promote interoperability of railway systems and establish railway standards
Develop and facilitate all forms of regional cooperation, continental or bilateral , to encourage the exchange of best-practices (benchmarking)
Technically support members in their efforts to implement projects, develop new markets and new business areas
Suggest ways of improving technical and environmental performance, to enhance competitiveness and reduce costs.
In this sense, the UIC African Region will play a key role as:
A provider of know-how expertise in the technical and operational elements, and it will propose technical solutions; variations of regulations and standards and best-practices will be recommended by the UIC
A facilitator of platforms of exchange, innovation: new ideas and concepts to defend the common interests of members of political support for development projects of critical infrastructure
A moderator of rail-related forums, platforms, seminars, conferences and congresses in Africa
A developer of specifications, interfaces and interoperability for continental corridors.
Reference
Biography
Jerzy Wisniewski is an engineer of mechanics, with specialisation in rail transport. He is a Member of the Board of Directors at the International Union of Railways (UIC) and is Director for the Fundamental Values Department, responsible for cooperation and supporting the UIC's core activities in railway infrastructure, passengers and freight transportation – paying special attention to transversal issues like sustainable development, safety, security, expertise development and research coordination. Furthermore, since 2012, Jerzy has been the UIC African Region Coordinator. Jerzy's previous roles within the UIC included heading the office for international relations when he was seconded from the Polish Railways, and between 1999 and 2005 he was responsible for the UIC's pan-European railway system integration for Eastern and Central European Countries, working closely with organisations such as the CER, the OSJD, and the CIT etc. From 2006 to 2009, Jerzy was a nominated PKP expert on planning and operations including advising international organisations on crisis management for railway infrastructure.
European Railway Review's next international instalment will focus on developments in South America, written by Guilherme Quintella, UIC's Chairman for the Latin American region. Make sure you receive Issue 3 2016 published in May 2016 by becoming a subscriber today – visit www.europeanrailwayreview.com