Lessons of liberalisation: How do Britain's railways really compare with others in Europe?
Elizabeth de Jong, Director of Policy at the Rail Delivery Group (RDG), shares the realities of the UK's railway performance – and it's better than you'd think.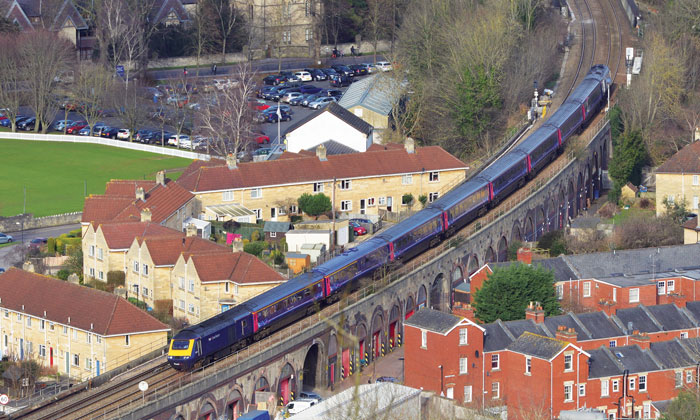 In Europe the narrative of liberalisation of the railways is often that it increases costs and reduces levels of performance. However, this narrative is not reflected in the independent comparative data (RMMS 2016): in fact, in Britain – a market liberalised over 20 years ago – we have seen very high performance in many of the metrics. As the Fourth Railway Package market pillar is implemented across the EU, many railways have requested visits to Great Britain in order to understand our experience.
We are keen to share the full picture, including the challenges. There is no way to sugar-coat some of the difficulties we've experienced, particularly in the early days. However, when we review the outcomes of liberalisation underpinned by independent data there are plenty of positives to regale our visitors with. In Britain we have seen doubling of passenger journeys and some of the most significant freight growth in Europe since liberalisation. First and foremost, our growth has been accompanied by a strong safety record, second only to Ireland in terms of accidents per million train kilometres. There have been no passenger fatalities in train accidents in Britain for just over eight years. We continue to work hard to further improve our safety culture including sharing experience and learning from our European counterparts.
Our punctuality performance has been challenging in recent months but is comparable with other European railways and many routes and services outperform the EU average. The challenges arise from the density of use of the British rail network – our track utilisation is 60% higher than the EU average. Network saturation means that one delay has a greater negative knock-on effect than in a more lightly used network, and more time is required to maintain and enhance the network.
However, our customers still have high levels of satisfaction, second only to Finland at just below 80%. There are many contributing factors to this including rail companies in Britain delivering more than £50 billion of investment across the network. One of the passenger facing topics our visitors in Europe have been most interested in is our centralised ticketing system. While we have advised newly liberalised railways to avoid the complexity of the fares structure – an issue RDG is leading the way on resolving – we have also shared the benefits of passengers being able to buy any ticket for any destination from any operator. Leisure or business travellers who book ahead have among the cheapest fares in Europe. Comparisons of average commuter fares are meaningless since far more people here commute from further away and as a result we have vastly more frequent and quicker outer commuter services.
Our European visitors are often surprised by our satisfaction scores citing the erroneous 'fact' that Britain's railways are the most expensive in Europe. In fact, we deliver operating costs below the European average. The main infrastructure manager, Network Rail, have reduced the costs of running the railway by 32% and controllable operating costs by 46%. Furthermore, rail fares have only actually increased by 6.7% in real terms between liberalisation in 1997 and 2014 (KPMG 2015).
The misunderstanding about the cost of our railway stems from confusion as to the source of revenue to the railways. Government policy in Britain has been for these costs to be borne in a greater proportion by the fare payer rather than the tax payer. As a result, our public service contracts, PSOs or franchises, make a net payment to government rather than receive any subsidy. This is in comparison with France, for example, where PSOs are subsidised by nearly €25 per kilometre.
This balance has also helped railways in Britain to make a significant contribution to the economy. 1.68 billion passengers (excluding TfL's services in London) and 17.8 billion tonnes of freight are carried each year on Britain's railways. Independent research has calculated this as having a value to the economy of £10.1 billion gross value added and also pays up to £4 billion to the Exchequer each year1. Rail reduces CO2 emissions by up to 7.7 million tonnes per year, valued at £460 million. The value of reduced congestion on the roads is £12.9 billion.
The implementation of the Fourth Railway Package is the start of a new chapter for Europe's railways. It is a chapter that no railway can embark on alone and our success will lie in open dialogue and exchanges of experiences based not just on the narrative, but also the facts. 
Reference
Oxera 2015
About the RDG
The Rail Delivery Group (RDG) exists to enable rail companies to succeed in transforming and delivering a successful railway. Rail plays an ever-more crucial role in Britain, with long-term growth in passengers and freight.
The RDG brings together all passenger and freight operators with Network Rail and HS2, providing services and support to enable them to succeed by delivering better services for their customers. This ultimately benefits taxpayers and the economy.
The RDG organises its activities into four portfolios with the following objectives:
Customer experience – modernising ticketing and improving door-to-door journeys
Today's railway – improving punctuality, reliability and value for money
Industry reform – improving industry structures to enable excellence
Tomorrow's railway – better planning for the railway's future.
This activity is supported by communications and engagement with stakeholders, and improvements in how the RDG is organised and operates. The RDG also provides support and gives a voice to freight and passenger operators, as well as delivering important national ticketing, information and reservation services for passengers and staff on behalf of member companies.
Background
The Association of Train Operating Companies (ATOC) was set up after privatisation in 1993, to bring together all train companies to preserve and enhance the benefits for passengers of Britain's national rail network. In 2011, it was joined by the RDG, which was responsible for policy formulation and communications on behalf of the whole rail industry.  In October 2016, the single name of Rail Delivery Group was adopted to describe the two organisations.