Technology is the key to unlocking cross-border rail travel in Europe
Global rail is experiencing a renaissance; governments across the world are investing in high-speed infrastructure and, more and more, rail carriers are recognising the important role that technology has to play in improving the customer experience. In turn, travellers are opting for rail (often over air, when it comes to journeys of four hours or less), acknowledging the convenience it offers and its undeniable environmental benefits. Klaus Kreher, Head of Carrier Development at Trainline discusses this further and acknowledges that there is still work to be done, particularly when it comes to delivering a single, seamless, rail journey across borders.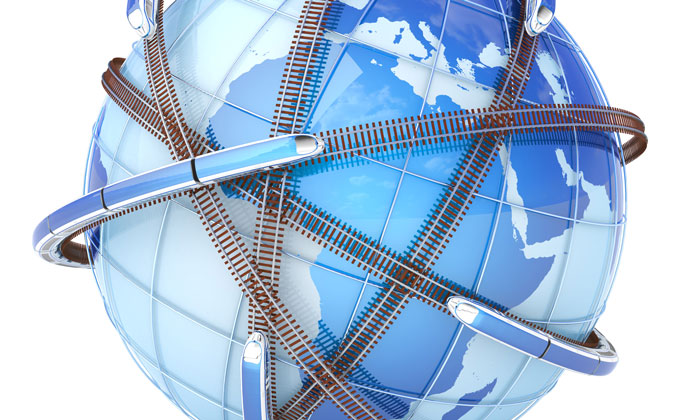 CURRENTLY, the landscape is complex; with 35,000 train stations across Europe alone – versus approximately 2,500 airports – and with different ticketing systems in each country, customers can struggle to navigate the modern rail system. Countless carriers, fares and journey options can be bewildering, especially when travelling in another country.
Technology has the ability to simplify and demystify rail travel, whether domestic or cross-border. It can bring rail travel information from multiple carriers, such as choice of routes, fares and journey times, together onto one digital platform so passengers can make informed choices about booking journeys that are most suited to their specific needs. Allowing travellers to make their journey by booking in their preferred language, using their local currency and providing a simple, easy and fast user interface can transform the customer experience.
At Trainline, we help customers from across 173 different countries make over 125,000 smarter journeys every day. We take the friction and hassle out of rail travel by bringing together carriers from 25 different countries onto a single platform – a number that is growing all the time. We believe it is particularly important to provide rail travellers with neutral and transparent information on all rail offers for their desired journey. In the wake of the EU's liberalisation of the European rail markets (first cross-border and soon nationally), new operators have entered the market and provided more choice to the travelling public. It is conceivable that in the not-too-distant future, carriers will provide a similar wealth of choice to passengers as various airlines do, from low cost to full service. It is therefore more important than ever that the customer is empowered by technology to make informed choices.
We're soon launching localised sites in several different languages, including Chinese, Czech, Portuguese and Mandarin, because we recognise the clear benefit this will bring to customers globally looking to travel by European rail. Making it easier for people around the world to opt for train travel can only have a beneficial impact on the rail industry itself – boosting demand and passenger numbers.
For the international rail experience to be truly seamless, however, more work needs to be done to improve access to combined journeys for two or more carriers. For example, a passenger travelling from Austria to neighbouring Italy usually needs to change en route and switch to another carrier. When booking through conventional channels, the passenger is forced to source separate tickets for each carrier, making the experience frustrating. The intuitive approach, offered by Trainline, enables the passenger in this situation to buy a combined journey at the best fare available.
Rail is the only transport mode where such disjointed practices remain in place, leaving significant demand untapped. If the industry is to truly grow and take a larger share of the air and road market, this needs to change and technology provides the solution.
The global rail industry is currently worth approximately $230 billion and, unlike air travel, rail is an integral part of millions of people's everyday life – whether it's the morning commute, weekend trips to the beach or travelling to meetings. On average, people make over 10 times more rail journeys than flights per year; that's 24 train journeys per person compared with just two flights. Where the booking and travel experience is seamless and intuitive, we know this rail travel frequency increases.
With around 70% of tickets still bought offline, again technology has a key part to play in enhancing the customer experience and, as a result, growing the market. By providing digital tickets on the customer's phone, alongside real-time data about train travel delays, cancellations and platform numbers, the passenger has greater control of their journey. World-class mobile user experience makes rail a very appealing proposition to the customer, instantly modernising the experience and solving a wealth of complex issues that infrastructure updates, for example, would take years to eradicate.
But innovation doesn't just stop there. At Trainline, we have a dedicated data science team and over 250 railtech engineers focused on applying cutting-edge technology such as AI and machine learning, to elevate the customer experience even further. In the UK we've launched predictive features in our app, such as BusyBot, which crowdsources data (150,000 pieces of customer feedback every week) to predict how busy a train will be before it arrives at the platform, advising passengers where to board to have the best chance of getting a seat. In the very near future we'll be launching even more smart features that are designed to make rail travel more intuitive, enabling customers to simply focus on enjoying their journey.
Improving the customer experience is also central to various initiatives at European level. The EU Commission kicked-off the process by embarking on a lengthy programme of rail liberalisation in EU member states, starting with a series of rail directives. The fourth directive aims to open up full competition on national rail networks by 2020. Naturally, the EU's funding of projects under its TEN-T programme focusses primarily on the physical infrastructure such as tracks and stations. In parallel, the European rail industry has acknowledged that the digital infrastructure equally needs attention to improve consumer access to rail journeys and leverage the value of the significant investments. Trainline is a founding member and contributor to initiatives such as the Full Service Model (FSM) to establish the foundations for standardised IT applications across multiple European rail carriers.
Ultimately, industry collaboration is crucial for the continued improvement of the rail experience. State-of-the-art rail infrastructure in Europe and around the world offers the foundation for efficient, comfortable transportation, yet the key to unlocking cross-border rail travel in Europe is to provide the customer with easy access to clear, up-to-the-minute information and a seamless digital experience. Governments, rail carriers and technology providers alike need to work together to unlock significant dormant demand, grow the market and make rail the transport mode of choice every time, for everyone. Trainline is committed to working hand-in-hand with the rest of the industry to make this vision a reality.
Biography
KLAUS KREHER is Head of Carrier Development at Trainline, with responsibility for growing the company's global network of rail carriers. Klaus joined Trainline in April 2017 from Travelport where he most recently held the role of Commercial Director for Rail with responsibility for devising and delivering the commercial growth strategy and key account management for railway operators and suppliers in Europe, America and Asia. During his 10-year tenure in the role, Klaus created new partnerships with more than 40 train operating companies in Europe, Asia and America.