South Western Railway – The journey starts here
On 20 August 2017, South Western Railway began its operations. We speak to the new franchise about its brand-new fleet of trains and its timetable proposals as well its Station Travel Plans and what it has in the pipeline to provide its passengers with a positive travel experience.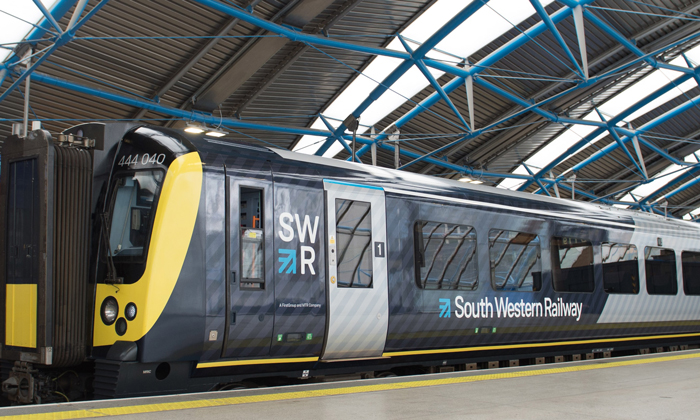 South Western Railway (SWR) began running the new franchise on Sunday 20 August. At the time, Managing Director, Andy Mellors said: "The future is exciting with transformational projects taking place across the franchise that will drastically improve our customers' experience." And transformational it will be.
Keen to build on the respected foundations established by the previous incumbent, SWR will be investing £1.2 billion over the course of the franchise with new and better trains, more seats, improved service frequencies, quicker journey times, enhanced stations and more flexible fare options.
By December 2020, 90 new Aventra trains (750 carriages) with air conditioning and toilets will be introduced. These new trains will contribute significantly, with 52,000 additional seats through the morning and evening peak into and out of Waterloo. This additional capacity will be made possible through Network Rail's £800 million Waterloo and South West upgrade. In addition, SWR will be introducing 18 additional refurbished and re-tractioned five-car trains for fast Portsmouth-to-London services.
Along with the new rolling stock, SWR's fleet will include improved Wi-Fi, at-seat charging points, toilets and real-time information on all mainland trains. The rest of the SWR fleet will be refurbished and refreshed, giving passengers a much-improved journey experience.
South Western Railway plans for the December 2018 timetable offer more services, quicker journeys, and some earlier and later trains. Our proposals, which will be subject to consultation, also offer up to 400 additional Sunday trains across the network, giving passengers more flexibility when planning their journeys.
The Island Line on the Isle of Wight is a unique part of the SWR network. SWR will work with Islanders and their local representatives to develop a viable future for the line and put it on a sustainable footing. After consulting with these stakeholders, SWR will submit proposals for improvements to the DfT. SWR will also partner with ferry operators and the Isle of Wight Steam Railway.
More than £90 million will be invested to improve stations, with major schemes planned for Southampton Central and Wimbledon. Other planned improvements include: Station Travel Plans, better customer information screens, new seating and waiting areas as well as additional car parking.
Although Waterloo is the London hub of South Western Railway, to encourage people to explore other parts of the network, new promotional fares, an easier-to-use website and apps to support ticket purchase are in place. Plans also include flexible season tickets for those that do not commute every day and a new ticket for 16-18 year olds to bridge the gap between child and full fare travel while still in education.
But it's not just about much-needed improvements for passengers. South Western Railway recognises that it has a responsibility to put it in a sustainable position for the future, and to invest in the communities it serves. Along with the introduction of the UK's biggest rail franchise apprenticeship scheme and investment in customer experience training, its environmental responsibilities are key, with the aim to improve performance through reduced carbon emissions and sustainable resource use.
So, what does £1.2 billion worth of investment look like? Well, at a glance, something like this:
Trains and service provision
A new fleet of 90 trains by December 2020 – that's 750 additional carriages for the suburban network
22,000 extra seats each morning peak and 30,000 extra seats each evening peak into and out of Waterloo by December 2020 – a 30% increase on today
18 additional five-carriage trains for Portsmouth fast services
Refreshed trains across the rest of the network
More frequent services on some routes including Reading and Windsor
Proposed journey times reduced on many routes
Sunday services to match weekday off-peak frequency on most routes
Better south coast connectivity – including an additional Portsmouth – Southampton service.
Stations and customer experience
£90 million invested in station improvements
Better Wi-Fi speed and coverage
Charging points accessible from every seat on every mainland train
Toilets on every mainland train
At least 1,500 new car parking spaces.
Ticketing and the journey
New smartcards across the franchise
A new innovative customer app with mobile ticketing
Easier-to-use ticket machines
Simple and easy compensation for late trains (Delay Repay)
Real-time information on all mainland trains.
Investing in our people and our communities
Working with the Isle of Wight to build Island Line's future
New lower fares for 16-18 year olds and flexible seasons
Living wage for employees
Over 100 apprenticeships each year – the UK's biggest apprenticeship scheme among rail operators.
Related regions
Related people