Issue #1 2018 – Digital version
This issue of Global Railway Review features articles on rail infrastructure in Saudi Arabia, Poland and the US along with in-depth focuses on Big Data and Safety.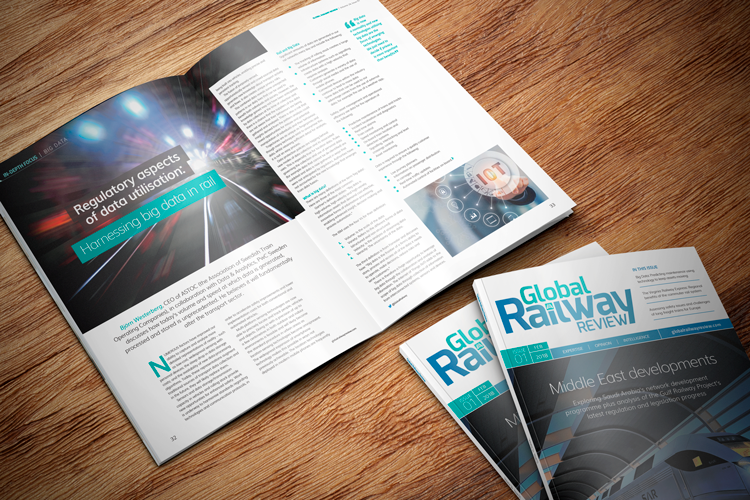 Included in this month's edition:
LEADERS' SERIES: Reviewing 2018's rail policy priorities
Libor Lochman, Executive Director, CER (Community of European Railway and Infrastructure Companies)
INFRASTRUCTURE: Railways setting the track for Saudi Arabia's transformation
Dr Bashar Al Malik, CEO, Saudi Railway Company (SAR)
REGULATIONS & LEGISLATIONS: Railway developments and regulations in the Middle East
Gurmeet Kaur, Partner, and Rita Allan, Senior Associate, Eversheds Sutherland 
THE PASSENGER: Infrastructure quality is key for improved passenger satisfaction
Veysi Kurt, Director General, TCDD Taşimacilik A.Ş.
IN-DEPTH FOCUS: Big data
INFRASTRUCTURE: Virginia Railway Express: Regional benefits and informed expansion
Doug Allen, Chief Executive Officer, Virginia Railway Express (VRE)
INFRASTRUCTURE: Measuring the vibration-isolating effect of an elastic railway superstructure in Poland
Ewelina Kwiatkowska, Adjunct Professor, Wroclaw University of Technology, Harald Loy, Head of R&D, Railway Division and Michael Biskup, Project Manager, Getzner Werkstoffe
IN-DEPTH FOCUS: Safety
The digital version of Issue #1 2018 is restricted to logged-in members. Login or subscribe free to read it.