A facelift for DB's ICE 3 fleet
After some 15 years in service, 66 Deutsche Bahn (DB) ICE 3 trains are going through a redesign programme to make them fit for the future. For Global Railway Review, Jan Poppendieck, Project Manager at DB, provides more information on this challenging yet important redesign.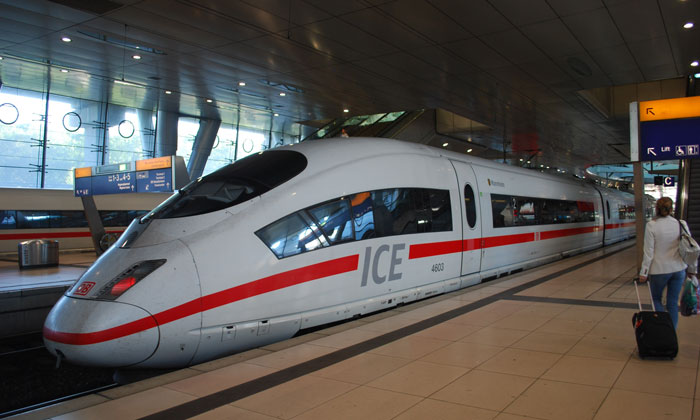 The 66 trainsets, each with eight coaches, are being redesigned in the Nuremberg maintenance depot of DB Fahrzeuginstandhaltung and made fit for the future. These trains include 50 Class 403 multiple units from the first and second series, as well as 16 Class 406 multisystem-capable multiple units, including three multiple units from Dutch state railways. The redesign allows Deutsche Bahn (DB) to take customer comfort to a whole new level and make the vehicles more reliable. Each Class 403 train is also being fitted with the European Train Control System (ETCS), allowing them to be used more flexibly on the high-speed network lines (the Class 406 is already equipped with this system). It is the most challenging redesign in DB's history: High-speed multiple unit trains with distributed drive and multi-system equipment are being modernised for the very first time.
Why a redesign?
The trains have reached the halfway point in their lifecycle: After approximately 15 years their service life is expected to be at least 30 years. A combination of wear and tear and a lack of state-of-the-art functions and features are starting to cause issues. From a customer perspective, the trains no longer meet their needs and therefore they require an overhaul. As part of the extensive work, the technical components such as the traction and HVAC equipment are also being overhauled and modernised. This should also increase the reliability of trains and deliver tangible improvements to in-service punctuality. Component failures should be reduced by up to 40 per cent.
A redesign makes absolute sense from an environmental and economic perspective. Most components and materials, such as the wall panelling, are being reconditioned and reused. Deutsche Bahn has set itself the target of a 97.3 per cent recycling rate and has almost achieved this thanks to the modernisation of the ICE 3 fleet. After all, recycling saves DB around 80 per cent of the materials compared with that of buying a new train.
What is being upgraded?
The changes in customer needs was the key factor in redesigning the interior. Thanks to extensive market tests, individual features were tested beforehand and customer feedback incorporated into the design. Key new features include the following:
Space
More space for luggage, pushchairs and wheelchairs. The new luggage racks are positioned in the open saloon section of the coaches, providing passengers with more storage space at floor level and making it easier for them to keep an eye on their cases and bags. As part of the redesign, the layouts of all series were harmonised: The first series of the Class 403 used to have three compartments in Second Class, while the second series had an open saloon section with more seats at this point. As such, passengers could not previously reserve these seats in all ICE 3 trains. Completion of the modernisation programme with a harmonised seat arrangement now means that all existing seats in the ICE 3 fleet can be reserved in the same way. In First Class, the compartments (three compartments per multiple unit) have been kept in all 66 trains.
Seats
The different areas of the train are now also marked much more clearly, both inside and out. Important information – such as coach and seat number – is displayed near the boarding point and First Class is marked with a yellow stripe, as on regional train services, as well as a figure '1' next to the associated entrance doors. Large pictograms label the special areas such as quiet, dining car or family zones. These are clearly visible from a distance. The new DB pictograms are established, self-explanatory symbols with universal meaning. All signage in the train uses the in-house font DB Type.
Real-time screens
Travellers can find information regarding their journey and connections on a larger number of new monitors on the train. One particularly important feature is the provision of real-time information thanks to the use of a radio link to DB's centralised passenger information system (RIS). A total of 2,542 monitors are installed altogether. The LAN network on the train was also set up from scratch to provide passengers access to much higher bandwidth in conjunction with the very latest Wi-Fi technology. In the boarding and alighting areas, the monitors have been fitted for the first time in portrait format, making the connecting trains much easier to read. 
Dining car
The redesign also provides the trains with a stylish dining car that seats 20. In the past, trains simply had an on-board bistro. The galley, bistro counter and standing area in the bistro have also been extensively revamped and all the kitchen appliances have been replaced.
Family-friendly
The parent-and-child compartment has been completely redesigned. It now features a colourful design with more space. A wall game, a table top game featuring hidden objects and a colourful carpet make the compartment child-friendly and attractive.
Accessibility
Wheelchair users now have two spaces per train with height adjustable tables – prior to the design change they had just one. People with impaired vision can now find their way around the train more easily by means of the new tactile wayfinding system.
Interior comfort: For passengers, train drivers and on-board staff
Approximately 35,000m2 of carpet are being replaced. Furthermore, halogen lighting is being substituted with LEDs and there is an additional LED lighting strip above the luggage rack.
The train drivers and service staff members on board also benefit from the new features. The driver, for example, has a new seat, additional power sockets and an improved sun visor, while a new break room with additional lockers now offers on-board staff more space.
Livery
A complete exterior paint finish rounds off the redesign.
How are the trains being converted?
DB Fernverkehr has contracted DB Fahrzeuginstandhaltung to modernise the ICE 3 fleet. Planning started back in 2013, with the first train completed in 2016 and tested for the approval of the ETCS which was completed in August 2017. Series modernisation got underway in October 2016 and ten trains will already have been fully modernised by October 2017. The redesign of the remaining high-speed trains should be completed by the end of 2020. In the Nuremberg maintenance depot, two trains are being upgraded in parallel. The 16 Class 406 trains will be upgraded in the Krefeld maintenance depot from April 2018 and around 150 employees are involved in the redesign. The conversion is being carried out in Nuremberg in 8,500 work steps and in three shifts in each case. It involves separating the coaches from each other, gutting them, installing new systems and interior equipment, painting, testing, before being deemed ready. This all happens in approximately nine weeks and Deutsche Bahn is investing around €210 million in the overall redesign.
Where will the modernised trains be used?
The trains will be used on all lines on which the ICE 3 already runs; for instance, between Munich and Dortmund, or Essen via Nuremberg, or Stuttgart and Frankfurt Airport, respectively. Since the ICE 3 fleet will now also be fitted with ETCS, the trains will be able to run on the new Berlin–Munich high-speed line from December 2017. Modernised multiple units in the ICE Sprinter guise will then connect the two regional capitals three times a day in just under four hours. 
The redesign is part of the 'Zukunft Bahn' quality programme launched in 2016, which aims to make Deutsche Bahn services more reliable, comfortable and enjoyable for customers.
Biography

Jan Poppendieck has been the Project Manager for Deutsche Bahn's ICE 3 redesign since 2013. Jan has experience (since 1992) in various specialist and management functions, as well as project management at Deutsche Bahn/DB Systemtechnik. Jan has also previously been employed as Senior System Coordinator for ICE 1 and ICE 2, Project Management for the ICE 2 redesign, ICE T Phase 1 at DB Technology/Procurement, as well as in-vehicle management at DB Fernverkehr AG since 2008.
Issue
Related organisations