Frecciarossa 1000 – high-speed comfort and safety
The Frecciarossa 1000 is the new high-speed train from Gruppo FS Italiane subsidiary Trenitalia which began operating on 14 June 2015. The new ETR1000 fleet comprises 50 trains which were ordered in 2010 further to an international tender won by the Temporary Business Group consisting of AnsaldoBreda and Bombardier, with cooperation from Bertone with regard to design. Marco Caposciutti from Trenitalia's Technical Department outlines the train's technical details and overall features.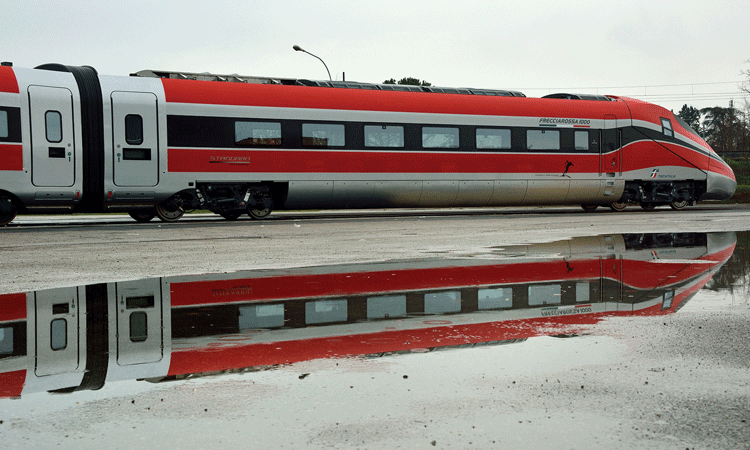 Credit: www.ansaldobreda
These ETR1000 trains began travelling throughout Italy under the brand Frecciarossa – a name that has represented excellent and top quality high-speed services from Gruppo FS Italiane. These new trains are capable of travelling on eight extraterritorial networks (France, Belgium, Germany, Spain, Austria, Switzerland, Holland and Belgium) and thereby ensure that Trenitalia can access and also compete on the European high-speed market as soon as European regulations allow this.
Main technical features
This is a bi-directional train with block composition comprising eight vehicles with an overall length of 202m. It has a distributed traction system with 16 engines, two per vehicle. It can reach a top commercial speed of 360km/h on 25 kVca lines and 300km/h on 3kVcc lines.
From an architectural viewpoint, this train is symmetrical and divided into two independent semi-trains.
Continuous traction power is 9.8 MW under a 50 Hz 25 kVca chain conveyor; four independent converters supply 16 three-phase asynchronous traction engines. Electric and mechanical systems for power under 15kVca 16.7 Hz and 1.5kVdc chain conveyor are entailed.
The ETR1000 train has two bogies per vehicle (Jacobs bogies are not used here, as is the case in other high-speed trains), which have been designed and built for a speed of 360km/h.
This train has special devices to improve passenger comfort such as, for example, pneumatic secondary suspension with air springs and active lateral suspension to ensure excellent stability, thereby permitting the case to be centred with respect to bogies on approaching curves.
Pantographs are built-in and have a low aerodynamic profile when resting to reduce noise and aerodynamic resistance.
The control car is for one driver only and the control panel is located in the centre. Special ergonomic studies were carried out to ensure the best possible comfort for the train driver.
The ETR1000 control cab structure and shape were also designed and tested further with tests in a wind tunnel to thereby find the solutions offering the lowest possible aerodynamic resistance.
Interoperability
The ETR1000 is a fully-interoperable train and complies with TSI (Technical Standards for Interoperability) establishing the requirements with which a train must comply to operate on other networks. More specifically, mechanical, electrical and signalling parts must be built or prepared to operate on eight extraterritorial railway networks; control cabs and technical areas (for example electric panels) have been designed and built in a modular manner to thereby ensure that additional equipment can be added to comply with technological systems in other countries under 'plug and play' logic. This train also complies with TSI regarding Passengers with Reduced Mobility (PRM): special car number three has two PRM seats and a mobile platform to allow passengers in wheelchairs to board without the need for any further equipment, such as hoists. Car three has a special toilet for wheelchair users, plus its layout ensures that people with reduced mobility can easily reach the bistro car.
Train diagnostics
The ETR1000 train guarantees high standards in terms of reliability, availability and maintenance (RAM). In order to fulfil these objectives, an on-board/off -board diagnostics system continuously monitors sub-systems and equipment.
When any problems arise, the system sends relative information to various recipients depending on the probelm: on-board staff (drivers and crew) for rapid intervention, Trenitalia maintenance and vendor staff to plan maintenance as soon as possible and the Ops Room to manage train speed and any limits. Furthermore, predictive diagnostics ensure that trains comply with CBM (Condition Based Maintenance) policy: the objective is to replace mechanical parts or carry out regular interventions immediately prior to a fault.
Interior layout
Every detail entailed in the Frecciarossa 1000 has been designed to ensure the best possible comfort and quality: all spaces are adequately usable; wide corridors; ergonomic seats; sound-proofing; LED lighting; air conditioning; access for people with reduced mobility; on-board monitors; electricity sockets for PCs; plus Wi-Fi connection.
The Frecciarossa 1000 offers passengers 455 seats plus two for passengers with reduced mobility located in eight carriages – elegant and refined environments designed by Bertone and a choice of four different service levels (Executive, Business, Premium and Standard), a meeting room in Executive class and the chance to opt for face-to-face coaches in Business, Premium and Standard levels.
Safety
The Frecciarossa 1000 also ensures the highest possible safety standards, as it comprises the most evolved speed control technological system available – ERTMS/ETCS – to avoid the possibility of human error, monitor journeys second-by-second and automatically come into operation when needed. On-board signalling equipment integrates various national systems with those unified at the European level, thereby ensuring the best possible safety in every country. The materials adopted, distribution and conformation of interior spaces and excellent accessibility through 32 doors also ensure the best possible safety.
Respect for the environment
The Frecciarossa 1000 is the first high-speed train in the world to have received Environmental Product Declaration (EPD), as it is able to limit CO2 emission per passenger to 28 grams. This result derives from its extremely low aerodynamic resistance, excellent mass/power ratio and consequent energy savings. This train also ensures top-level performances in terms of noise and vibration reduction and the materials selected are 85% recyclable and 95% renewable.
Commercial services
ETR1000 trains have received AMIS ('Autorizzazione Messa In Servizio' – authorisation to operate) at a top commercial speed of 300km/h on the 25kVca HS/HC network and 250km/h on the 3kVcc network.
As these trains provide services similar to those offered by ETR500 trains, as of 14 June 2015 a number of ETR1000s operate eight connections on the Naples–Rome–Milan–Turin line that were previously made by ETR500 trains and at the same times. These new trains travel as far as Turin and stop at the Rho Fiera Station in Milan dedicated to Expo 2015, thereby offering numerous domestic and international passengers going to the Expo the chance to travel on the new Trenitalia train.
Once delivery of the new ETR1000 trains has been completed (50 trains in all), shifts and therefore schedules carried out by these will be increased. This increase will occur every 3-4 months on average.
Tests will be carried out over the next few months to verify the possibility of travelling at 300km/h using two coupled trains to thereby obtain compositions that can be separated at an intermediate station for services to two different final destinations and also ensure high-capacity connections: two coupled trains can offer around 900 seats on a train measuring 400m in overall length.
These ETR1000 trains improve the Long Haul Passenger Division fleet and thereby create the conditions for a general increase in the quality of rolling stock and overall service level. In fact, once all the ETR1000 trains have been delivered, they will cover Frecciarossa services along the Salerno–Naples–Rome–Florence–Bologna–Milan–Turin line currently provided by ETR500 trains; the latter will be used for Frecciargento services while ETR480 trains will be used for Frecciabianca services and the trains currently operating under this brand will be used for the Universal Service.
This scaled-use of rolling stock linked to the ETR1000 trains becoming operational will benefit all passenger services. The entire industrial system will have the task of maintaining the high quality to which our customers have become accustomed over time, thereby illustrating that we have the flexibility required to fulfil demand from the market.
Tests at speeds exceeding 300km/h
Alongside the initial trains operating a commercial service as of 14 June, tests were started on Frecciarossa 1000 trains at speeds exceeding 300km/h. These tests aim to certify the train's performance at 360km/h and are carried out using two trains expressly dedicated to this activity comprising the appropriate measuring equipment. Operational tests will entail these trains running at a top speed of 350km/h (therefore with dynamic tests at a speed of up to 385km/h). Certification for a speed of 360km/h will be provided by Gruppo FS Italiane's certification subsidiary Italcertifer as VIS ('Verificatore Indipendente di Sicurezza' – Independent Safety Verifier).

Marco Caposciutti has been the Technical Director of Trenitalia (FS Italiane Group) since 2012. Headquartered in Florence, Marco oversees Maintenance (with direct control of nine plants) Engineering, Safety Management, and Project Management for purchasing new rolling stock. He coordinates 3,000 employees and he directly reports to Trenitalia's CEO. Prior to this position, Marco held executive positions in Trenitalia with responsibility for Frecciarossa train services and being responsible for maintenance in the Freight Division. Marco started his career at Trenitalia in 1993 as an Engineer in the Technical Department; before this, he gained experience in an iron and steel factory as an engineer dedicated to maintenance. Marco is also Chairman of the Organising Committee of the WCRR (World Congress of Railway Research) which will be held in Milan in 2016. Marco holds a B.S. degree in Electric Engineering from Pisa University, Italy (1990).