FLEXX Eco: The leading lightweight passenger bogie design
The origins of the BOMBARDIER FLEXX1 Eco bogie development can be traced to a number of research studies which were carried out by British Rail in the early- and mid-1980s. These studies examined ways in which bogie weight reductions and other improvements could be introduced, including the possible use of lightweight materials such as composites.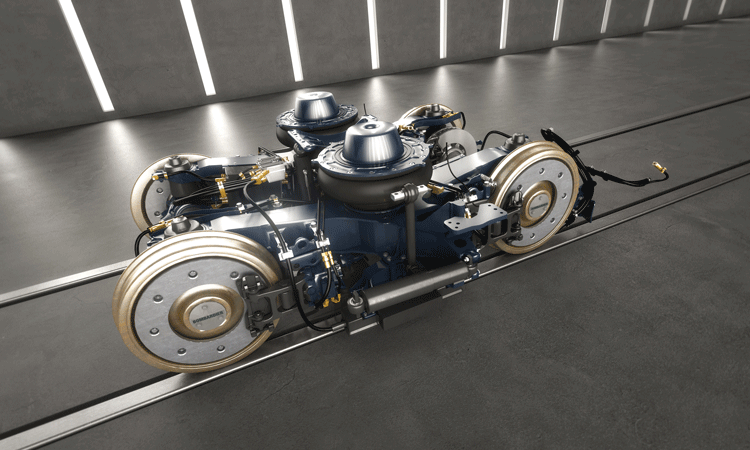 A computer generated image of a FLEXX Eco ICx trailer bogie
Firstly, the studies concluded that the use of composite materials for bogie frames offers only modest weight savings, since the frame itself constitutes less than a quarter of the total bogie weight.
Secondly, weight savings in the wheelsets were by far the most important, as they not only reduce total weight but also the rotational energy and track damaging forces.
Thirdly, and probably most importantly, considerable savings could be made by good design optimisation using conventional, proven materials.
Business requirements
The FLEXX Eco bogie was developed to satisfy an outline technical specification which was based on the future business requirements. This can be summarised as follows:
30% reduction in bogie mass
Reduced bogie maintenance
Reduced track damage
Improved curving performance.
Whilst these requirements were originally defined by British Rail more than 25 years ago, they are even more relevant today than they were then.
FLEXX Eco bogie development
To meet the demanding business specification, it was necessary to fundamentally re-think the 'conventional' bogie concept. The bogie that resulted from this process was originally designated the B5000 and was later re-branded as the FLEXX Eco bogie.
The impressive weight savings have been achieved in spite of a requirement to have an increased bogie carrying capacity. In addition, the saving has been achieved using low risk conventional materials, working within accepted stress limits as a result of good concept design and careful optimisation.
The inboard bearing concept results in a significant reduction in the overall size of the bogie and this is the key reason why it is possible to achieve such a significant reduction in the bogie mass without compromising structural integrity.
FLEXX Eco – key advantages for our customers
The main features of the FLEXX Eco bogie are lightweight and low maintenance, and it has superior performance in terms of minimising wheel and rail wear, and track damage.
FLEXX Eco bogies have a 30% lower mass than conventional bogies with the same load capacity. This typically results in a 10% reduction in total train mass, with corresponding benefits for energy consumption. The trailer bogies also have a 30% lighter wheelset with correspondingly low inertia. Bogie dynamic stability is therefore improved which allows a lower primary yaw stiffness than is possible with a conventional bogie design. This improves the curving performance of the bogie and thus reduces rail wear and rolling contact fatigue (RCF) damage on curves and switches. The lower forces from the reduced axleload and unsprung mass also reduce the vertical track damage.
In the UK, the VTAC track access charging model can be used to calculate the financial benefit to the train operator of the reduction in track damage. The calculation shows that only changing from conventional bogies to FLEXX Eco bogies, with no other change to the vehicle, will result in a 30% reduction in the vehicle track access change. This benefit is a result from the combined effect of the reduced axleload, reduced unsprung mass and the improved curving performance. The additional benefit of the reduced energy consumption also needs to be included.
The bogie design requires approximately 25% less maintenance than a typical bogie, and enables the light overhaul to be done, in situ, on the vehicle without having to remove the bogie from the vehicle.
Good curving performance and low wheelset mass reduces wheel damage/wear and improves wheel life. The large capacity journal bearing achieves an increased bearing life. Together these factors mean that wheelset overhaul periods can be extended by up to 50% compared with conventional bogies.
Therefore, FLEXX Eco bogies contribute to an optimised cost of ownership of the train through:
Reduced track damage
Reduced energy consumption resulting from the weight reduction
Reduced bogie maintenance.
Fully-proven in service
The FLEXX Eco bogie was original developed as an Advanced Suburban Bogie for British Rail and the prototype motor bogie was successfully tested in passenger service on a modified Class 466 train in 1994.
However, prototype versions of the bogie were extensively evaluated under vehicles in passenger service in the UK, Germany and Norway with very different operating conditions. This demonstrated that this innovative bogie could be easily adapted for a wide range of applications.
In 1998, we received an order to supply and maintain 34 four-car diesel-electric multiple unit cars (DEMUs) for the operator of CrossCountry services in the UK. With a maximum speed of 200km/h, these Class 220 trains are designed for ease of maintenance and a high level of passenger comfort. The high power to weight ratio and electric transmission allows high acceleration resulting in improved journey times. This was the first production application for the FLEXX Eco bogies and these bogies have been in service since 2001.
In 2002, we received a further order for a total of 27 DEMUs for HSBC Rail UK Limited. The 200km/h Class 222 trains are run by East Midland Trains.
Both of these contracts use the same type of bogie on all car types. The bogie is a 'hybrid' power bogie with one driven axle and one trailer axle (see Figure 2). The driven axle incorporates a final drive gearbox, which is driven via a cardan shaft from the body mounted traction motor. This arrangement reduces the bogie mass and ensures that the track damaging forces are minimised.
The new generation Class 172 TURBOSTAR1 160km/h diesel trains also have FLEXX Eco bogies and 93 cars are in service around the UK.
The power bogie has both axle driven via a cardan shaft from the body mounted MTU diesel engine and a ZF gearbox. The bogie has all of the benefit of the FLEXX Eco design. Low bogie weight and low unsprung mass results on reduced track forces and track damage. The track damage will be significantly lower than on the lighter weight Class 158 Sprinter trains due to the lower unsprung mass and better curving performance of the FLEXX Eco bogie.
We have also supplied 122 FLEXX Eco trailer bogies for the Norwegian State Railways. The bogies are used under refurbished 160km/h Class 5 coaches. The reduction in bogie weight and the reduction in bogie maintenance are the key advantages for the customer.
The latest FLEXX Eco Platform developments
The FLEXX Eco bogies have been operating in passenger service since 2001 and have already accumulated well over 2,500 million fleet kilometres and they are continuing to cumulate more than 200 million fleet kms/year.
The FLEXX Eco bogie remains the world's only lightweight in-board bearing bogie which is already fully-proven in passenger service for a wide range of mainline applications.
Bombardier is now developing the latest FLEXX Eco Platform bogie and this will be used on all future contracts. This latest development builds on our 13 years of service experience so that FLEXX Eco will continue to be the world's leading lightweight mainline bogie design.
The first order for the new FLEXX Eco Platform bogie is for the DB ICx trains in Germany. We have now started production of this high axleload version of the FLEXX Eco bogie (see Figure 3). The bogie will be used on the trailer cars only but will reduce the total train weight by 5%. The first order is for 130 trains which will have 45×7 cars for 230km/h and 85×12 cars for 250km/h but with options for additional trains.
The Platform development also includes versions for Metro and EMU applications and we already have the following orders for more than 2,000 bogies:
Stockholm Metro C30 MOVIA1 (80km/h)
Riyadh Metro INNOVIA1 300 (100km/h)
London Crossrail AVENTRA1 (145km/h).
The Crossrail contract is for 65 nine-car AVENTRA electric multiple-units. There is an option for a further 18 trainsets.
Therefore Bombardier has developed the FLEXX Eco Platform into an extensive range of bogies which now covers the full range of market applications from 80km/h lightweight metro cars to 250km/h, 19 tonnes axleload InterCity trains.
The unique advantages of the innovative FLEXX Eco design which results in a low weight, reduced energy consumption, reduced track damage and low bogie maintenance cost can now be appreciated on a wide range of passenger train applications.
Reference
BOMBARDIER, AVENTRA, TURBOSTAR, MOVIA, INNOVIA and FLEXX are trademarks of Bombardier Inc. or its subsidiaries.

Eddie Searancke started his career in 1974 at the British Railway Technical Centre in Derby, UK. In 1984, Eddie joined British Rail Engineering and then in 1987 he joined RFS Industries in Doncaster. In 1989, Eddie became Engineering Director of RFS Specialist Rail Products and was responsible for the development of the B5000 bogie (now the FLEXX Eco). The company was purchased by Bombardier Transportation in 1994. In 1997 he was appointed Director of Bogie Design for Bombardier Atlantic Europe based in France. In 2001, Eddie became Head of Product Engineering and later Product Management. He is now Deputy Head of Engineering, Bogies in Europe.