Giving passengers more control over their journeys
Jacqueline Starr, Managing Director of Customer Experience at the Rail Delivery Group (RDG), explores how plans to deploy innovative technology across Britain's rail industry will aim to give customers more choice, time and freedom about how they travel by rail.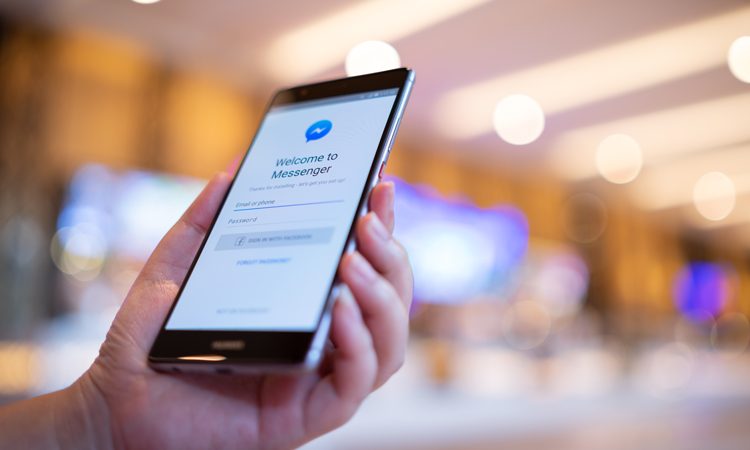 National Rail is trialling using Facebook Messenger to provide passengers with useful and relevant information so that they will feel in control of their journeys
This year, technology will continue to transform the way we travel by train. Passengers across the country will start to benefit from smoother journeys as the rail industry introduces a series of technology upgrades and trials to ensure they are better informed.
Customers are satisfied (81 per cent) with the majority of journeys, according to last year's National Rail Passenger Survey. However, research commissioned by the Rail Delivery Group shows that passengers are most anxious when facing uncertainty, for example when standing on a platform or making a connection. The research also confirms that passengers are frustrated when information about their service isn't delivered at the right time.
We want to give passengers more control over their journey than ever before and tackle the key points where they get frustrated. Investing in technology is key to ensuring we can deliver accurate, personalised and up-to-date information. So where will our customers see improvements?
Tracking your train
Currently a train's location is only measured at fixed points and these can be anything from 200m to over five miles apart.
Moving to GPS will provide better-than-ever accuracy of train journey information to passengers and will reduce instances of trains predicted to be on time suddenly showing as delayed. Chiltern, Grand Central, LNER and parts of Northern and ScotRail will be the first train networks using a new GPS-led information system.
GPS being introduced now will empower passengers to have more choice in how they take their journey. Once rolled out, the new technology will provide better and more timely information to help passengers at some of the most stressful points of their journey.
Integrating rail with your overall journey Journey planning apps that tap into our data will automatically improve as the rail industry rolls out new technology to improve information.
Live data on trains will be integrated alongside bus and trams to help plan whole journeys and reroute during disruption. Apps like Citymapper will see accuracy of the data it already uses improve, especially as GPS is rolled out.
Finding your carriage
Even when we know exactly where a train is, passengers don't yet get information about how many carriages it's made up of or what's on board.
New camera recognition technology, which identifies each carriage, is being piloted by Arriva Rail London. This aims to provide better information on the number and order of carriages on trains and when carriages need to be cleaned.
As more trains become smart and send this data to passengers' phones, they will know whether the toilet is working and accessible, where emptier carriages are (calculated by footfall and reservations), and even where to stand on the platform to board the train.
Some customers will have already seen GTR's Class 700 Thameslink trains tell passengers on board how busy each carriage is and whether toilets are occupied, using weighing technology. This new camera recognition technology is the next step.
Facebook messenger notifications
As well as providing more, better information, the railway is investing to deliver new technology that will allow us to provide a more tailored service. We want to ensure that information is up-to-date, personalised and available at people's fingertips.
National Rail is trialling new technology that will allow personalised travel information to come through Facebook Messenger. Designed by transport technology specialists Zipabout Connect, this new tool will provide passengers with useful and relevant information so that they will feel in control of their journeys.
Passengers who take part in the trial will be able to sign-up to receive notifications about any possible disruptions to their journey, including suggestions for alternative routes. Passengers will need to sign-up via the 'Keep Me Updated' button that will be made visible to all users as part of the nationwide trial.
Using Facebook Messenger for personalised disruption messaging shows the rail industry is leading the way with innovations to improve the way passengers receive information.
Revolutionised passenger assistance
In a first for Britain's transport sector, the rail industry is pressing ahead with an app that will transform the way that passengers with reduced mobility can book assistance when they travel by train. This pioneering technology has the needs of our passengers at its heart and will make their journeys easier, less stressful and less likely to go wrong.
We want everyone who has requested assistance to get the help they need. The new Passenger Assist smartphone app will make it easier for customers to book help at stations and get a more consistent and reliable service. It is being trialled by four train companies and will be rolled out across Britain.
Passengers will be able to create a user profile, specifying their personal details and the type of assistance they need, so recurring bookings become quicker. That will cut down the now time-consuming process where they provide contact details and specify the assistance they need every time.
A few taps of the app will give passengers more control, enabling customers to book, change and cancel assistance quickly, which can currently take up to 40 minutes over the phone.
The app will also help our people do their jobs better. At the moment, staff at stations receive printed lists of booked assistance each morning, which means when plans change, for example if trains are delayed or the customer misses their booked train, there is no way to update the list and staff can end up in the wrong place at the wrong time. The new system will give staff live information, including key details about the customer and their journey.
All of this means staff will anticipate and deliver changes in planned assistance, accommodate short-notice requests and work better together, so they can provide a better service and enable more people to benefit from travelling by train.
Why is this all important?
The investment into innovative technology is part of our commitment to deliver big changes and improvements to today's railway for the benefit of passengers, communities and the wider economy. The new technologies aim to give passengers more choice, time and freedom about how they make their journey.
The new products all have the ability for updates, to keep pace as technology develops. We are welcoming innovations for the future to keep delivering more, better, accurate information to passengers.
The journey doesn't end here. As well as harnessing technology, we want to go further to improve the railway system, which is why we're calling for more fundamental, once-in-a-generation reform to unlock greater improvement for the next 20 years. To achieve this the government's rail review must look at the plumbing of the whole railway, from train companies and Network Rail at the frontline to the Department for Transport (DfT) and the rail regulator behind the scenes.
The test of success for the review must be to deliver a railway that, first and foremost, puts passengers at its heart. The same goes for every technology we introduce.
Biography

Jacqueline Starr joined the Rail Delivery Group (RDG) in September 2015, having been Customer Experience Director within the Design Office at Barclays since 2013. Prior to that, she held a Head of Customer Experience role at O2, Head of Customer Experience and Loyalty at Orange/France Telecom and various operational roles within BT where she started her career. Since joining RDG Jacqueline has built a strong customer focused Directorate, delivered a piece of work to present the current industry customer experience and kicked off a phase II to define the target industry experience for the passenger of the future; to include setting ambitious visions across the end-to-end customer journey.