Remaining a step ahead of regulations
Soon to celebrate its 150th anniversary, Estonia's railway network has played, and will continue to play, a central role in the country's transportation and logistics offering. However, fatal and serious accidents at level crossings continue to occur. Tarvi Viisalu, Head of the Safety Department of Estonia's national railway company, Eesti Raudtee (EVR), explains how continual investment in safety measures and publicising the dangers of level crossings will hopefully lead to fewer accidents.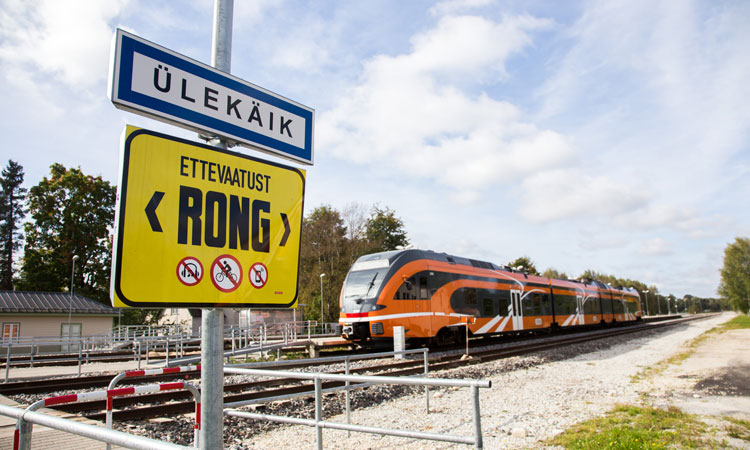 THERE are 152 level crossings located along EVR-owned infrastructure, with 76 per cent of these having already been equipped with safety devices. However, the majority are only equipped with automated traffic signals. According to EVR's strategy, one of the most important safety measures will be to increase the number of level crossings equipped with barriers. At present, 36 of the 152 crossings are equipped with safety barriers but it is expected that this number will increase to a maximum of 106 by the end of 2023. This goal exceeds the requirement set by current national regulations, but we want to remain a step ahead of the regulations when it comes to safety.
Reducing risk
Since accidents resulting in serious consequences have happened as a result of collisions between trains and road vehicles at level crossings, these rail-road junctions unquestionably represent one of the greatest sources of risk. In addition to the loss of life, a collision at a level crossing can result in often millions of euros worth of material damage to the infrastructure, with EVR and the railway transport service undertaking as well as third parties bearing the brunt of the costs of repair. Figure 1 shows the number of accidents involving collisions between trains and road vehicles at level crossings on EVR-owned infrastructure between 1995 and 2018, and highlights the number of people who were injured.
Safety investigations
EVR conducts an investigation for every collision that occurs at a level crossing. During each investigation, the circumstances surrounding the incident are determined, the risk factors brought about by the realisation of the risk are reassessed and proposals are made for the implementation of additional measures (such as the installation of automated traffic signals or level crossing barriers). Results of investigations have identified that the carelessness of vehicle drivers are the main cause of level crossing accidents with many drivers ignoring safety requirements or failing to notice approaching trains.
Increased train frequency brings increased risks
In previous years, improving safety included creating grade-separated crossings, renovating the level crossing surfaces, cleaning visibility triangles and the installation of automated traffic signals or barriers. Investments in technology have helped to improve the technical condition of level crossings and reduce safety risks. However, with increased train frequency, faster trains, increased highway traffic, distractive activities and the increased use of smart devices and headphones have unfortunately caused an increase in the number of recent serious accidents at level crossings. On 16 April 2014 in Raasiku, two people were killed and 12 were injured, plus on 20 February 2018 in Kulna, nine people suffered minor injuries – both accidents were caused by semi-trailer trucks driving in front of oncoming passenger trains.
The 'zero vision' strategy
EVR's main activity is to ensure maximum railway safety. Within our company's strategy and our safety management system, in 2018 we set a 'zero vision' strategy. While we acknowledge that road users may make mistakes at level crossings due to the 'human factor', we are continuing to design safer railway infrastructure to ensure that when mistakes are made, people are not being killed or seriously injured.
Safety equipment
Based on our own experience and learning from other railway networks around the world, level crossings equipped with safety devices are, unsurprisingly, far safer than unregulated level crossings. Research indicates that installing barriers at level crossings that are already equipped with automated traffic signals reduces the number of accidents by approximately 50 per cent.
The aforementioned accident in Kulna has resulted in EVR making plans to install even more safety equipment. Between 2019 and 2023, we will be modernising or building a total of 107 automated level crossing systems (see Table 1) which will help us achieve our goal of not having a single unregulated level crossing, or crossings without barriers, on high-density passenger traffic sections.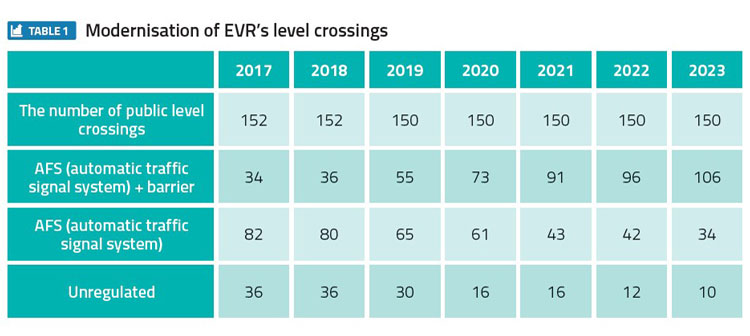 Road users, the infrastructure owner, contractors and authorities are all involved in ensuring safety at level crossings, and only with continuous, systematic and coordinated activity from all parties over an extended period can improvements be made. The desired goals can only be reached if public railway safety principles, general bases and activities have been agreed upon unanimously and successfully implemented.
Campaigns and initiatives
Raising the awareness and actively promoting the dangers of level crossings is key in helping reduce the number of accidents.
Since 2004, EVR has been involved in running public railway safety information campaigns, and to get other railway undertakings involved EVR established the non-profit organisation Operation Lifesaver Estonia (OLE1). Its mission is to significantly increase the dangers of level crossings and to promote safe and lawful behaviour with the ultimate goal of reducing the number of accidents and the number of people killed and seriously injured. Each year, railway safety presentations are carried out in educational institutions, reaching approximately 5,000 people, and 'safety days' and other events are also organised. Between 2015 and 2018, EVR participated in approximately 160 different events. Furthermore, more than 100 volunteers have successfully completed training to become railway safety presenters.
In 2018 and in cooperation with the state railway safety authority, EVR participated in developing a safety workbook for schools which was distributed to 700 children during various safety campaigns. In cooperation with the Estonian Police and our contractual security company, we organised live demonstrations across Estonia to focus on level crossing safety from the point of view of road vehicles and pedestrians.
To implement additional road safety measures to increase driver awareness when reaching a level crossing, the Estonian national authorities have applied the following measures:
Road user speed restrictions on level crossing sections where it is currently possible to cross a railway without reducing speed
The continued placement of relief road surface markings (rattling markings) and the implementation of other attention raising measures
Updating the safety assessments for existing level crossings and, as necessary, raising the level of safety equipment.
It is also EVR's goal to explain and implement the following measures:
Automated traffic surveillance at level crossings to catch drivers that ignore traffic signals and/or lowered level crossing barriers
In cooperation with state safety agencies and local governments, to reduce the number of level crossings by closing existing ones when there are reasonable alternatives available
Placing smart notification systems into operation to improve safety.
Conclusion
The most important goal for EVR is to ensure safe and efficient railway infrastructure operation and with its strategy and safety management system, EVR is actively working towards its 'zero vision'. But to achieve this, continual investment in level crossing safety is required and installing automated traffic signals and barriers, plus continuing to raise public awareness about the dangers of level crossings, are all valuable solutions. By cooperating with all the various parties associated with ensuring railway safety to implement measures and activities to reduce risks at level crossings, EVR is taking important steps to improve level crossing safety in the long-term.
Reference
www.ole.ee
Biography

TARVI VIISALU is a graduate of the Tallinn University of Applied Sciences, with a higher technical education in the field of Transport and Logistics. Tarvi has earnt a diploma as a railway engineer and holds a Level 7 vocation with a specialisation in railway traffic and safety, railway transport technology and management, consultation and advising. He has worked at Eesti Raudtee (EVR) since 2000.