Keeping trains moving in extreme cold conditions
In recent years, two polar vortex systems have battered the United States' Midwest region, with temperatures falling to -30˚C in Chicago and -37˚C in North Dakota – colder than parts of Antarctica. But, despite these severe weather environments, Norfolk Southern Railway Company managed to keep trains moving thanks to detailed preparation plans, efficient response activities, and the hard work and team spirit of its employees.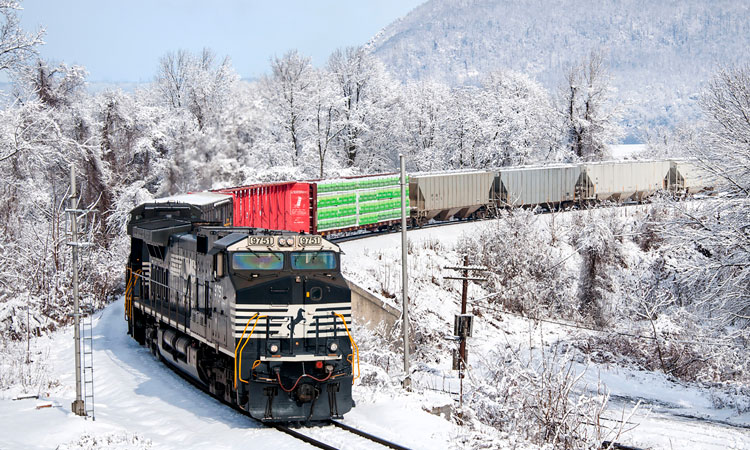 Norfolk Southern Corporation (NS) is one of the United States' premier transportation companies. Its Norfolk Southern Railway Company subsidiary operates a route of approximately 19,500 miles across 22 states and the District of Columbia, serves every major container port in the eastern United States, and provides efficient connections to other rail carriers. Norfolk Southern operates the most extensive intermodal network in the East and is a major transporter of coal, automotive and industrial products.
In recent years, NS operations employees have weathered two polar vortex systems – during the winter of 2013-2014 and, most recently, in 2019, which was a winter for the record books – and an opportunity for the men and women of NS to show there's no better railroaders in the business.
Ice and snow fell heavily, and the wind chill reached -50˚C across northern Illinois and Indiana in late January and early February 2019, making carrying out normal daily activities a challenge, let alone operating a rail network.
"It's hard to describe how difficult things are in weather like that," explained Mike Vawter, Communications and Signals (C&S) Division Manager on the Dearborn Division. "Nothing works when it's minus 40 degrees out. Getting around is hard, and we have vehicles that get stuck. Trying to turn something with a wrench, with all the clothing you have on, makes it so much more difficult. Walking out to a location can be difficult, and then you have to troubleshoot whatever problem you have, and you really can't stand out there for very long because it's so cold."
For nearly a week during the brutal polar vortex, employees patrolled tracks, kept locomotives and rail cars operating, and moved trains through yards and across the network to deliver customers' freight.
Dwayne Gibson, Chief Engineer for Programme Maintenance, said: "Everybody was out there fighting through the elements, and they did one heck of a job protecting the railroad. You can't brag about your team enough, about all their commitment and dedication to service."
Working around the clock, track maintenance workers and C&S personnel teamed up on 'cold patrols', riding the track in hi-rail vehicles in search of broken rail sections that could potentially derail a train and cause other serious issues that could disrupt operations.
"You're looking for anything unusual," said Eric Cooper, Track Supervisor on the Illinois Division. "Anything that could slow down train operations, we try to find it ahead of time to get it repaired to keep traffic moving."
Extreme cold causes steel rails to contract, which can result in a broken rail or 'pull apart' at rail joints. Track maintenance employees on 'cold patrol' carried wraparound joint bars that they could bolt on to the rail as a temporary repair. They also used 'fire snakes', a material placed along the rail base and set afire, to heat and expand the rail so that repairs could be carried out.
"You can put a wraparound bar on fairly quickly and keep the trains moving, on restricted speed, until the dispatchers see a break in action and give a track gang an hour or so to cut the rail out and change it," said Eddie Otey, Chief Engineer Line Maintenance.
In temperatures so cold, protective gear and safety precautions are paramount. Employees wore anti-slip boots, insulated coveralls, thermal underwear, warm head gear under hardhats, and winter gloves and glove liners. Employees warmed up in heated truck cabs or field facilities to avoid overexposure to the cold.
Clearing ice and snow that froze around switches was a major challenge. Operations were adjusted to avoid movements that required switches to be thrown, putting a priority on running trains in one direction on the tracks.
Planning ahead is key and team effort is essential
Preparations made in advance of the polar vortex helped NS weather the event. Operations set up division command centres to ensure good communications between the Network Operations Center in Atlanta and operations people in the field. This was key to coordinating the most efficient response to issues. Cabell Brockman, Division Superintendent of the Dearborn Division, said: "Having a good plan of action was the biggest thing," adding that every decision before and after the polar vortex was driven by the five principles that underpin NS' new strategic plan: serve the customer, manage assets, control costs, work safely, and develop people.
Cabell continued: "Our engineering groups were all over any issues out there that were track and switch or signal related, and their quick response time was vital. Mechanical had teams around the clock ready to respond, and the same thing with transportation – we lined people up with 24‑hour coverage to ensure we had the right teams in place."
At the Elkhart yard in Indiana, where the wind chill dropped to -65˚C, terminal track maintenance-of-way employees worked 12-hour shifts for 18 consecutive days. Among other things, workers helped keep the switching yard's 380 switches clear of snow and ice and ensured that the yard's 72‑classification tracks were operable when needed.
Jason Holmes, the yard's inspect and report foreman in engineering, said: "It was all hands on deck. The employees at Elkhart take great pride in our terminal and in their work. It all starts with attitude, and when they're presented with a challenge like the polar vortex, everyone gets on the same page with the same mission. They did a really impressive job of keeping things moving."
Another big concern was ensuring that locomotives in the yards were properly notched up to ensure the engine cooling water didn't freeze. In Chicago, Nathan Logsdon, Senior General Foreman, said: "We had a full team on board, and everyone showed up and did an excellent job."
Preparation, power and resources, and response
With harsh winter months around the corner once again, NS have outlined their winter weather operations to ensure they can once again fight against the challenging weather:
Preparation
● Management leaders have been reorganised regionally for better focus on smaller territories
● Triggers and escalations are set in anticipation of inclement weather, requiring all departments to be proactive. All operating divisions across the network have created, communicated, and implemented winter safety action plans
● Additional triggers and escalations have been set for potential inclement weather in the Metro Atlanta region. Planning includes providing transportation and lodging for dispatchers and activating our alternate command centre in Tucker, Georgia
● Winter operating procedures are in place to adjust train size, speed, and operating restrictions. Cold-weather train lengths – with and without distributed power equipment – have been established and communicated to field operations
● NS has prepositioned portable generators in strategic locations in the event of commercial power loss
● NS has identified critical control points and switches that engineering teams will support in inclement weather to keep them operational. Snow jets and snow blasters are ready to clear snow and drifts from switches and access roads, and heaters to prevent frozen switches have been prepared for winter operation.
Power and resources
To prepare locomotives for cold weather service, NS are adjusting some operating procedures:
● Locomotives have been placed in 'hot' storage areas across the network for surge purpose needs and/or lower temperatures that could require extra locomotives
● Air compressors in facilities and on NS road locomotives are equipped with air dryers to prevent frozen train brake lines
● NS' major locomotive repair shops across the system are prepared to perform repairs to keep locomotives in service.
Response
● If severe weather is forecasted, division personnel are placed on 'high alert' and begin initiating winter weather contingency plans. Each plan includes close monitoring of train crew hours of service
● The NS Network Operations Center in Atlanta monitors weather conditions around the clock so that decisions can be made about routing and operational changes within minutes.
Acknowledgement: This article was created using information and content sourced from the Norfolk Southern Corporation website: www.nscorp.com.