HS2 achieves Gold Standard for workforce equality and diversity
HS2 Ltd, the company behind delivering the UK's new high-speed rail network, is the only company in the UK to have achieved a Gold Standard rating in all four categories of the Clear Assured best practice benchmark.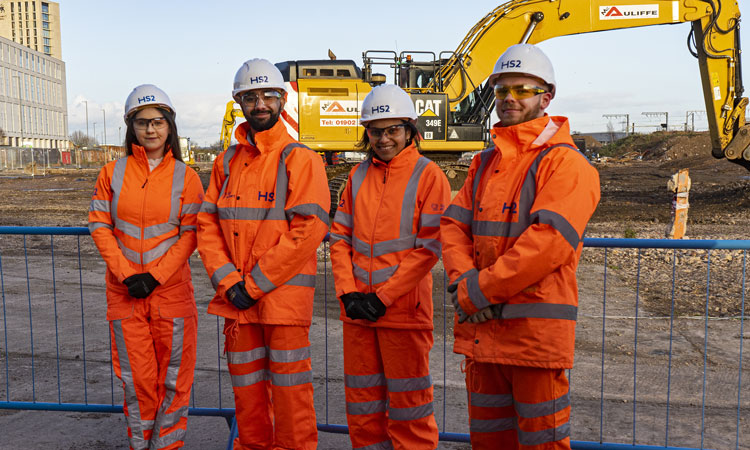 HS2 employees on site at Curzon Street Station. Credit: HS2 Ltd
The benchmark is accredited by the Clear Company, who are the recognised leaders of inclusive recruitment and talent management insight, training and technology in the UK.
Ensuring that equality, diversity and inclusion (EDI) is embedded into all areas of the business is a priority for HS2, as it actively strives to redress the underrepresentation of women and other minority groups working in construction.
HS2 Ltd's latest quarterly performance data shows that 21.5 per cent of those employed through its supply chain are female. Analysis of official statistics by GMB, the union for construction workers, reported in October 2019 that the percentage of women working in the construction industry was just 12.5 per cent.
Similarly, HS2's supply chain currently includes 17.7 per cent of people from Black, Asian and Minority Ethnic (BAME) communities, against GMB's reported figure of just 5.4 per cent working in the sector.
Mark Lomas, HS2 Ltd's Head of Equality, Diversity and Inclusion, said: "HS2 will be a world-class feat in British engineering and we're applying that same standard of excellence in our approach to EDI and the way we recruit our workforce and support their career progression. The project has already supported over 9,000 jobs and 2,000 businesses around the country. As thousands more businesses are set to join our supply chain now that main construction of the Birmingham to London route is underway, we have a genuine opportunity to drive a huge step-change across the sector. EDI standards and targets are embedded into all our contract awards, so the potential for us to build on this success and transform the historical underrepresentation of minority groups in the construction sector is huge."
The Clear Assured benchmark, which is used widely across the UK by recognised companies, ensures that barriers into recruitment and career progression are removed for under-represented groups including female, disabled, BAME and LGBTQ candidates.
HS2 Ltd's Gold Standard accreditation, in all four categories, was the result of an intensive two-year assessment programme, which included auditing over 120 policies and documents which were submitted to the Clear Company as evidence.
An important part of the Clear Assured accreditation is to embed diversity and inclusion at all levels in the organisation so that it has a direct impact on every aspect of the employee life cycle – from applying for a role working on HS2 to thriving and progressing within the business.
Kate Headley, Director at the Clear Company, said: "The Clear Company are proud to be trusted partners to HS2 and as such be an integral part of setting new standards in equality and inclusion throughout the infrastructure sector. All the evidence points to focussed, continuous action rather than words being required to achieve change and positive disruption having significant impact. Congratulations to HS2 for providing authentic leadership, taking action, listening to feedback and pushing back boundaries. Next stop platinum."
HS2 is a state-of-the-art, high-speed line critical for the UK's low-carbon transport future. It will provide much-needed rail capacity across the country, and is integral to rail projects in the North and Midlands – helping to rebalance the UK economy.