HS2 opens public vote to name its first two tunnel boring machines
HS2 Ltd, the company responsible for developing the UK's new high-speed rail network, is asking the UK public to choose the names for the project's first two giant tunnel boring machines.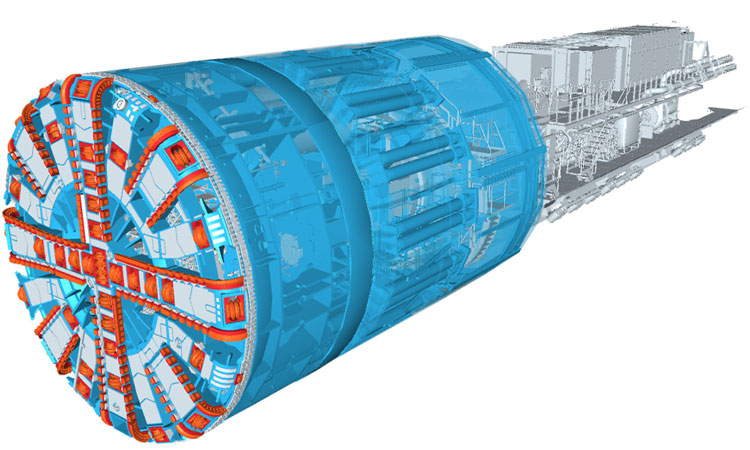 A 3D model of a tunnel boring machine (TBM). Credit: HS2 Ltd
HS2 has launched a national public vote to pick the names of the first of 10 giant tunnel boring machines (TBMs) that will excavate more than 35 miles of tunnel on the first phase of the UK's new high-speed railway between London and the West Midlands.
The public is being invited to vote for their favourite name, from a shortlist of three chosen by local school children and inspired by female scientific and medical pioneers. The names to choose from are: 
Cecilia – named after Cecilia Payne-Gaposchkin, the Astronomer and Astrophysicist born in Buckinghamshire who became Chair of Astronomy at Harvard University in the United States. Suggested by students at Chalfont Community College in Buckinghamshire. 
Florence – named after Florence Nightingale, the founder of modern nursing, who spent many years in Claydon, Buckinghamshire where she wrote numerous books on nursing. Suggested by students at Meadow High School in Hillingdon. 
Marie – named after Marie Curie, the first woman to win a Nobel Prize, and the first person and the only woman to win the Nobel Prize twice. Suggested by students at Maple Cross JMI and Nursery in Hertfordshire.  
The name with the most votes (closing date 5 June 2020) will be given to the first TBM, due to be launched from a site close to the M25 early in 2021. The enormous, 2,000 tonne, 170m-long machine will be one of two that will dig the 10 mile long Chiltern tunnels. The second machine, due to be launched a month later, will be given the second most popular name in the public vote.
The TBMs will be operated by HS2's main works contractor, Align JV – a joint venture formed of three companies: Bouygues Travaux Publics, Sir Robert McAlpine, and VolkerFitzpatrick.
The machines are being built by Herrenknecht in Germany. Their names are being chosen now so they can be fixed to machines during their manufacture, ready for when they emerge out of the factory.
After completion the first two machines will be disassembled before beginning their long journey to England, and once they arrive on site, each TBM will be reassembled, ready to begin their life underground.
Together the TBMs will spend approximately three years digging what will be the longest and deepest tunnels on the project, stretching from just inside the M25, to South Heath in Buckinghamshire.
Launching the competition, HS2 Ltd Chief Executive, Mark Thurston, said: "The launch of our first TBM will be a defining moment in the history of HS2 – and our work to deliver high capacity, low carbon high-speed rail travel for millions of people across the UK. I'd like to thank all the schools that took part in the first stage of the competition. Now it's over to the British public to decide which will grace the side of our first TBMs."