First nine new working tracks on the Mason Mega Rail project start operating
Georgia Ports Authority's Mason Mega Rail project has passed a major milestone by putting into operation the first nine of 18 new working tracks, with its first two rail-mounted gantry cranes to be commissioned in early-June 2020.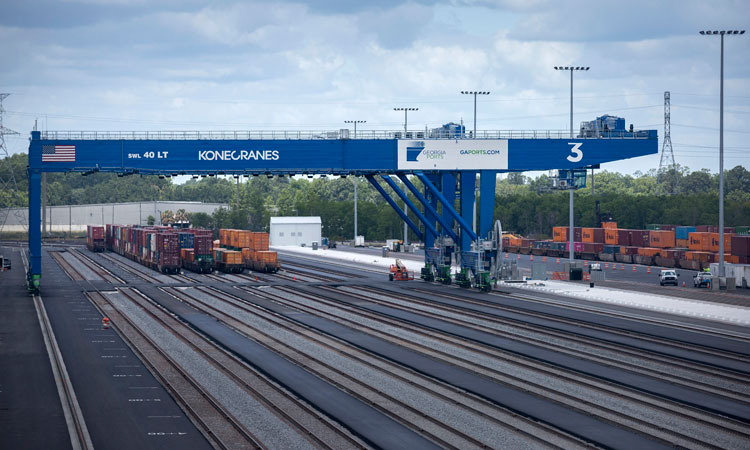 The project at the Mason Mega Rail Terminal, in the works for more than four years, will double the Port of Savannah's rail capacity to two million 20-foot equivalent container units per year. The added capacity will allow Georgia Ports Authority (GPA) to take on new business in a broader service area, reaching well into the U.S. Midwest.
GPA Executive Director Griff Lynch, said: "At the Port of Savannah, we are working to improve the efficiency of the American supply chain and move goods to market even faster. These efforts are strengthening our logistics network at a time when the nation needs it most." 
Griff noted that throughout the COVID-19 crisis, dedicated GPA employees and contract workers have continued to press forward, with a daily average of more than 150 people working on the rail expansion, and more than 2.2 million staff hours expended in planning and construction since late 2015."
The project will include 18 working tracks for improved efficiency moving containers from trains to trucks.
GPA Board Chairman Will McKnight, said: "The Mason Mega Rail Terminal is an incredible example of the federal government and the port authority working together to keep America's commerce moving ahead. Even during this crisis, the disciplined effort involved has been a testament to the vital importance we all place on this nationally significant project."
The expansion will use an estimated $38 million of American-made steel, and the project has so far installed 56,000ft of new track, but will include a total of 129,000ft when complete – or nearly 24.5 miles.
In a related development, a new overpass on State Road 25 is nearing completion. This new route will carry road traffic over eight tracks linking the current Chatham Yard on the south side of Garden City Terminal with the Mason Mega Rail site to the northwest. The overpass is expected to open in August 2020.
Griff thanked Savannah's two Class I railroads, CSX and Norfolk Southern, for providing  a competitive option for moving cargo to a Mid-American Arc of cities ranging from Memphis to Chicago. Garden City Terminal averages only 24 hours between vessel discharge and intermodal train departure. Rail transit from Savannah to Memphis provides cargo availability in just 56 hours.