GB Railfreight announce new Southampton-East Midlands intermodal route
The new route highlights GB Railfreight's efforts to expand its intermodal offering, representing its 20th intermodal service to date.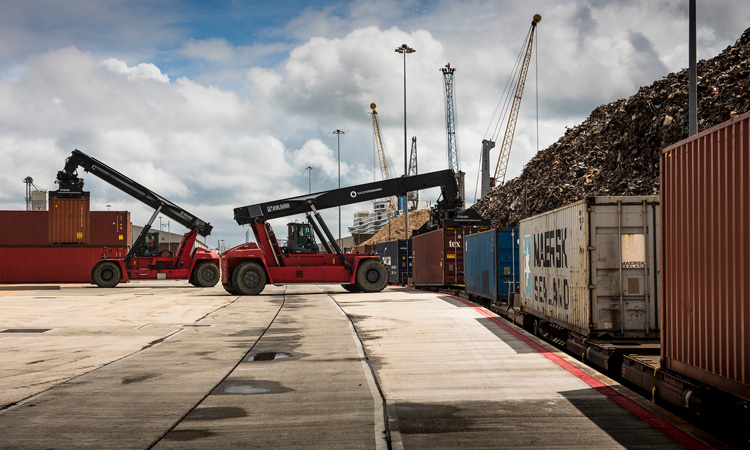 Credit: GB Railfreight
As the UK emerges from one of its greatest challenges, GB Railfreight has announced some positive news – a new intermodal service from the rail terminal at the Port of Southampton to the East Midlands Gateway in Derby has commenced. This will be the freight operator's fourth daily service from one of the UK's leading deep-sea container ports and will offer the market an additional rail destination.
The new service marks GBRf's continued expansion in the intermodal market and underlines the vital role rail freight plays in delivering goods around the country. The new Southampton to East Midlands service will run five days a week and represents GBRf's 20th intermodal service to date.
GBRf are able to offer both loaded and empty storage and final-mile delivery in order to provide a seamless 'door to door' opportunity, with a combination of rail and road resources, to its customers. The new service offers the market an additional rail destination and cost-effective transport solution.
The news follows GBRf's recent announcement that the company is set to start operations at its new intermodal sidings in Peterborough. The investment provides GBRf with much needed track capacity – which will be doubled – in order to facilitate the business' growing intermodal sector. 
GBRf are committed to increasing the amount of goods and materials transported via rail freight, reducing emissions and delivering a more sustainable logistics solution. An average freight train removes a minimum of 70 HGV journeys from the roads while reducing carbon emissions by approximately 75 per cent when compared to transport by road. When combined with rail's advantageous performance in terms of nitrogen dioxide and particulate matter emissions, rail freight demonstrates a clear contribution to the challenge of meeting the UK's net-zero carbon targets.
Managing Director of GB Railfreight, John Smith, said: "I am thrilled to see the beginning of this new service. Our growth in intermodal shows GBRf's dedication to innovation, offering flexible door-to-door solutions that meet our customers' needs, as well as a consistently reliable service. We are very proud of the hard work that has been put in to be the industry's trusted intermodal carrier. Today's announcement also reconfirms GBRf as the rail freight company leading the way to grow the sector at a time of unprecedented economic challenge. In light of the COVID-19 crisis, we are redoubling our efforts to put the UK back on track, while also doing our bit to decarbonise our economy."