Deutsche Bahn introduces digital automatic coupling for freight trains
By introducing the new coupling method, Deutsche Bahn will be able to increase the capacity and quality of its freight traffic.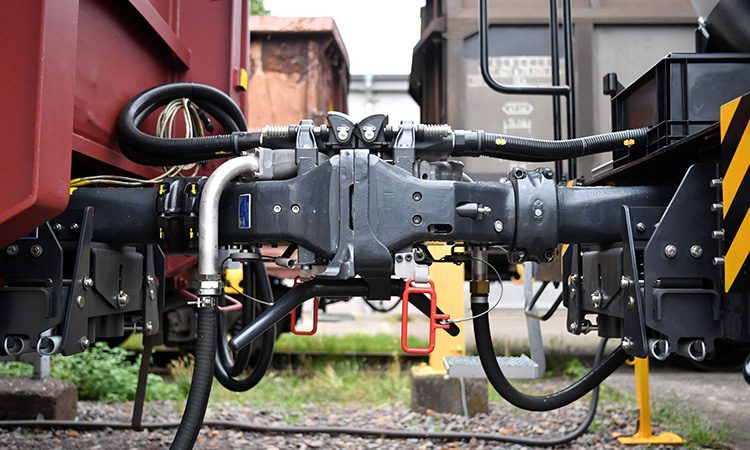 Credit: Deutsche Bahn
For the first time, Deutsche Bahn (DB) has presented a completely new coupling mechanism for its freight cars. The digital automatic coupling (DAC) accelerates the assembly of freight trains, increases the capacity and quality of freight traffic and contributes to the success of traffic turnaround.
The new coupling method also relieves railway employees of tedious physical work, as train formation is currently mainly done by hand with screw couplings.
Deutsche Bahn Board Member for Digitalisation and Technology, Sabina Jeschke, said: "The DAC opens the door to the comprehensive automation and digitalisation of rail freight transport. The capacity of marshalling and transshipment yards can thus be increased significantly. The introduction of the DAC therefore means a digital revolution for freight transport by rail."
Sigrid Nikutta, Deutsche Bahn Board Member for Freight Transport, said: "We want to grow and shift more goods onto the rails. To do this, we need attractive offers for our customers. Technical innovations, such as the digital automatic clutch, help us do that. It makes rail freight transport faster and easier. This particularly strengthens single-wagon traffic as a green alternative to trucks. Transporting goods by rail is the easiest way to protect the climate."
At DB Systemtechnik in Minden, several cars have been connected to each other by a DAC as part of a test. Over the next few months, 12 freight wagons will be fitted with coupling types from four manufacturers, with one type set to be selected following technical tests. A test train with 24 cars will make its way through Germany, Austria and Switzerland, as well as other European Union (EU) countries, for several months. The DAC is also being tested through daily use in the shunting yards.
The research project, which will run until the end of 2022, is funded by the German Federal Ministry of Transport and Digital Infrastructure (BMVI) with €13 million. A consortium of six companies is also involved: In addition to DB and its subsidiary, DB Cargo, these are the Swiss and Austrian freight railways, SBB Cargo and Rail Cargo Austria, as well as the wagon keepers Ermewa, GATX Rail Europe and VTG. The goal is a Europe-wide introduction of the digital automatic clutch.