Siemens to equip ÖBB Nordbahn route with ETCS
Siemens Mobility and Logistics to equip the Nordbahn route between Vienna & Břeclav with ETCS…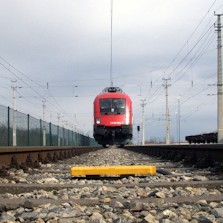 Österreichische Bundesbahnen Infrastruktur AG, the Austrian railway infrastructure company, has awarded an order to Siemens Mobility and Logistics to equip the Nordbahn route between Vienna and Břeclav (Czech Republic) with the European Train Control System (ETCS). An ETCS Level 2 of the Trainguard 200 RBC type will be installed along the 87 km rail link and eleven stations will also be equipped. The overall volume amounts to some 7 million Euros. Commissioning is scheduled for the end of 2013. The scope of the contract also includes an option for equipping the Central Station in Vienna for around 4.5 million Euros.
"As pioneers in ETCS technology, we offer technically mature systems and components for all ETCS Levels with our Trainguard 200. Over 70 years of experience in automatic train control has gone into developing Trainguard and we are unique in being able to supply a flexibly scalable system of trackside, vehicle and communication equipment for all ETCS applications", explained Jochen Eickholt, CEO of Siemens Business Unit Rail Automation.
Vehicles fitted with ETCS Level 2 can be located independently in this line section and transmit their positions cyclically to the Radio Block Center. The RBC constantly receives the latest process image from the interlockings and gives the train permission to proceed via radio transmission.
The information is visualized on the cab display. The digital mobile radio system for railway operations, GSM-R (Global System for Mobile Communication – Railways), is used for transmission purposes while eurobalises serve as reference points for localization of the vehicles.
Trainguard 200 RBC can be integrated into existing infrastructure without the need for costly adaptation as interlockings are linked up via standard interfaces. This means that different interlocking designs can be supported. Speed restriction sections are, for example, programmed via the Trainguard 200 RBC operator workstation which can either be set up locally or integrated into a higher-level operation and control system.
Related topics
Related organisations
Related people