Hugh Logan Engineering's COVO-RAIL™ system launched at Ilford Station
The COVO-RAIL™ system is an innovative new system that allows passengers to queue comfortably and conveniently while maintaining social distancing.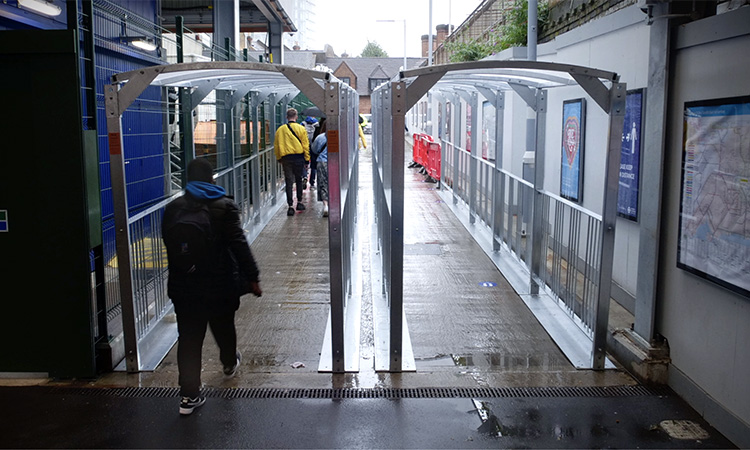 Credit: Hugh Logan Engineering
Ilford railway station has become the first in the UK to launch an innovative new system that allows passengers to queue comfortably and conveniently while maintaining social distancing.
COVO-RAIL™, from Hugh Logan Engineering, is a system that is cleverly designed to enable social distancing, as well as allowing the free flow of fresh air in all weather conditions- offering protection to passengers during all seasonal environments.
Passengers at Ilford Station were among the first on the railways to queue using COVO-RAIL™ at the station's temporary entrance on Ilford Hill. MTR Elizabeth Line, the station's operator and facilities manager, is exploring options for further installations at Transport for London (TfL) rail stations. 
Flexible and modular pop-up queuing solution
The CE-certified COVO-RAIL™ is fully compliant with UK building standards for all elements. It is the most adaptable pop-up sheltered portable queueing system available, with no planning permission required. Building work is not needed for the system's set up and it can be installed easily on a range of surfaces, from grass and dirt to pavement and tarmac.
The system has been developed using high quality UK manufacturing and raw materials. Its modular construction allows for flexibility and a range of uses, meaning the product has a much longer shelf life than its competitors and is both renewable and environmentally friendly.
Reducing passengers' risk of COVID-19 transmission
The innovative use of the system's side rails vertical balusters set at centres maximises the constant free flow of fresh air through passenger queues, reducing the risk of the spread of COVID-19 significantly.
The system also provides an excellent queue management function, whereby staff have high visibility of queuing customers due to its low vertical bar railings.
Pat Shannon, Sales Manager for Hugh Logan Engineering, said: "The COVO-RAIL™ system is ideal for use at railway and bus stations, both on platforms and outside entrances, keeping passengers covered as they alight or queue for tickets and customer service help desks. While competitor brands have launched similar products to the marketplace, these are often manufactured overseas and not fit for the UK's windspeeds or British winter weather."
"Other similar products can also have limited functionality due to rigging and anchor bags required for their set-up. Where COVO-RAIL™ is different is in its versatility and slimline footprint design, which means it is robust, easy to install and can also be converted for other uses, such as taxi and bus shelters, employee waiting areas and storage shelters. What's more, its UK design and manufacturing means that it is built to withstand even the worst of our winter weather," Pat added.
Discussing the system's launch at Ilford Station, Howard Smith, TfL Rail Operations Director, said: "We know that no-one likes being held outside a station, but, with social distancing in place, there may be some times when customers may need to wait to get onto a platform to board a train. This temporary shelter will provide our customers with protection from the elements this autumn and winter as improvement work to the main entrance at Ilford continues."
The COVO-RAIL™ system is supplied in 2m long units and can be delivered anywhere in the UK, with rapid delivery times available through Hugh Logan Engineering's network of suppliers. 
With no planning permission required and no architectural or engineering costs for set up, COVO-RAIL™ is a truly adaptable and innovative pop-up queueing system that makes life hassle free for customers waiting in line for their services.