DB agrees new 'Noise Protection Target 2030' with German government
The German federal government and Deutsche Bahn have announced that a further 1,250km of infrastructure will be equipped with passive noise protection measures, to better protect more citizens living near railway lines.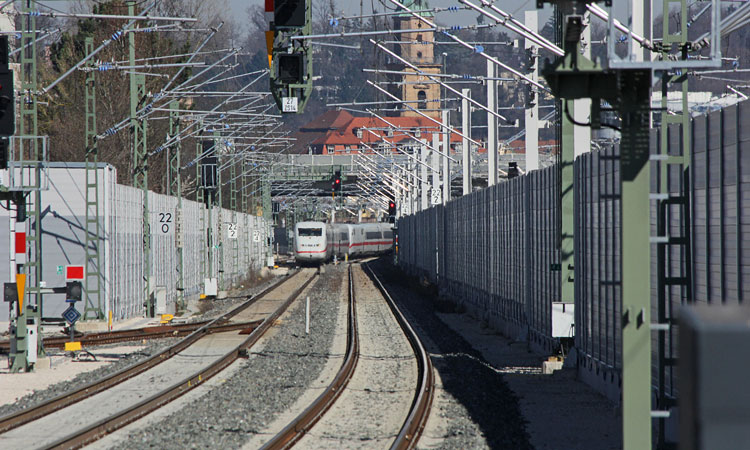 Credit: Deutsche Bahn AG / Claus Weber
The German federal government and Deutsche Bahn (DB AG) are stepping up their efforts to create a quiet rail system by 2030.
In December 2020, representatives of the federal government and DB AG presented the new 'Noise Protection Target 2030', which indicates that by the end of the decade, half of all citizens living nearby to railway lines should be relieved of rail noise.
To achieve this goal, the federal government's "noise abatement programme" launched in 1999 will be continued – the number of route kilometers to be rehabilitated will increase accordingly. In addition to the 2,000km of railway lines that have been rehabilitated so far, an average of 125km of rail lines will be rehabilitated annually by 2030, a total of 1,250km. The federal government currently provides around €140 million annually for this purpose.
Andreas Scheuer, Federal Minister for Transport and Digital Infrastructure, said: "The better protection of citizens on railway lines is very important to us. People who live near a railway line should live well and, above all, sleep well. That is why we consistently reduce rail noise. To this end, we have already implemented many effective measures, such as the noise-dependent route pricing system, converting to whisper brakes or innovative technologies for noise reduction. All of this is already having a very concrete effect. And we're committed to continuing: together with DB, we want to halve the number of people affected by noise by 2030. We want good neighbours between people on the rails and the train."
The conversion of freight wagons with gray cast iron soles to composite soles makes a significant contribution to noise reduction. 
Speaking in December 2020, Dr. Sigrid Nikutta, Board Member for Freight Transport at Deutsche Bahn and CEO of DB Cargo, said: "We are reporting punctual execution for our fleet: since [yesterday], all 63,000 freight wagons at DB Cargo have been quietly on the move. We want to shift significantly more traffic to environmentally friendly rail. For this we need the acceptance of the residents of the railway lines. One-hundred per cent quiet freight trains are a very important milestone."

Also speaking in December 2020, Ronald Pofalla, DB Infrastructure Director, said: "Together with the federal government, we are also keeping our word on noise abatement on the routes. By the end of the year (2020) we will complete the planned noise abatement of more than 2,000km of rail in Germany. Noise barriers, soundproof windows, rail dampers – we are working successfully with numerous means to reduce noise on particularly stressed rail routes. Now we are tackling another 1,250km. We will plan and build quickly, I can promise that today."

Since the start of the noise abatement programme, the federal government and DB have already invested over €1.5 billion. The 2,000 renovated kilometers meanwhile relieve the through traffic of 1,300 cities and municipalities nationwide. In addition, there are 64,000 residential units in Germany that have so far been equipped with passive noise protection measures. In 2020 alone, over 60km of new noise protection walls were completed and around €145 million were invested.
In the past seven years, DB Cargo had invested approximately €220 million in converting its freight wagon fleet. Additional costs arise from the retrofitting itself, but in particular also from the higher effort involved in maintaining freight wagons with composite brake blocks.
As with all companies, the federal government also financially supported the conversion – and the European Union: European funding from the "Connecting Europe Facility" (CEF) was granted for the conversion to quieter brake blocks. DB Cargo has been promised a total of €14.3 million for three projects in order to convert almost 54,000 wagons.
Whisper brakes roughen the wagon wheels significantly less than gray cast iron soles; this reduces noise emissions directly at the source according to the principle of "smooth wheels on smooth rails".