DB Cargo and Kombiverkehr KG partner to shift more freight to rail
Over 230 freight forwarders will work with DB Cargo AG to shift more freight from road to rail in order to improve intermodal transport and be more sustainable.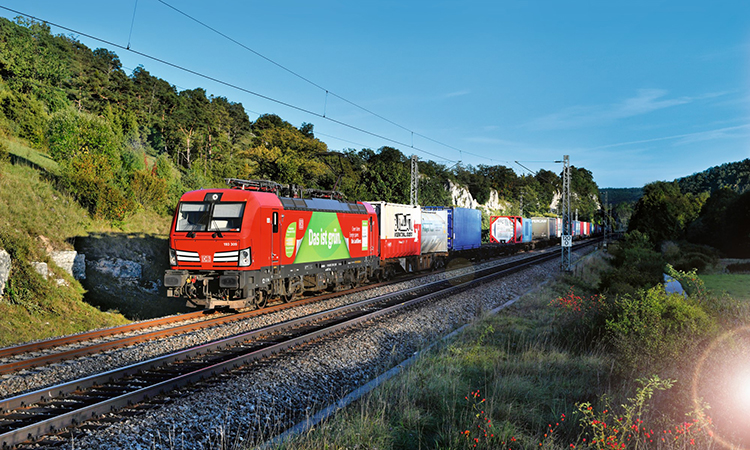 Credit: DB Cargo
More than 230 freight forwarders have declared that they want to move more trucks from the road to the rail together with DB Cargo AG. By better linking freight train and truck, Deutsche Bahn and Kombiverkehr KG expect a CO2 reduction of around 50 million tonnes over the next 10 years.
The transport companies involved in Kombiverkehr KG are set to work with DB Cargo to focus on expanding the common network towards real tact traffic. In addition, digitalisation and automation should make the handling processes significantly easier and faster.
In a cooperation agreement with a nine-point plan for so-called Combined Transport, both companies have declared themselves in favour of a common growth strategy and have defined concrete expansion steps.
Existing terminal locations will be supplemented by others and expanded into a 'Metro-Net'. A new timetable will connect the important German and European economic centres even more often. In addition, the scheduling and billing of the so-called intermodal transports are organised much more digitally and less bureaucratically. This makes it even easier for logisticians to switch to the climate-friendly train over long distances.
According to the Federal Statistical Office, the share of intermodal transport is currently 36 per cent in rail freight transport. The growth potential of this mode of transport is the highest in the logistics industry. Combined transport is ideal for globalised supply chains, because it is not the freight but the standardised loading vessels – such as containers, semi-trailers or swap bodies – that are transhipped from the truck directly to a freight train. At the destination, a truck tractor takes the container to its destination on the last road kilometer.
DB Freight Transport Board Member, Dr. Sigrid Nikutta, said: "Combined transport is the ICE in our environmental network for freight trains. With intelligent network and terminal expansion, with much more direct connections and significantly easier handling for our customers, we bring more traffic to the rail. The potential is huge: We save the environment as much CO2 as if we were taking an entire coal power plant off of the grid every year. Combined transport thus makes a very important contribution to ensuring that we can also meet the European climate targets in the transport sector in the long term beyond the coronavirus crisis."
The German Federal Minister of Transport, Andreas Scheuer, said: "We want to bring more goods from the road to the environmentally friendly rail. This new cooperation between rail and road fits perfectly into our master plan for rail freight transport, with which we strengthen the competitiveness and innovative strength of the sector. Forecasts predict that the volume of freight in combined transport will increase by almost 80 per cent by 2030. From this project alone, we expect a CO2 saving of 50 million tonnes. This shows me that combined transport contributes significantly to achieving our climate targets in transport."
Chairman of the Board of Management of Kombiverkehr KG, Hermann Lanfer, said: "Today, road and rail, freight forwarders and DB Cargo send a strong signal: We are serious about the traffic turnaround in freight transport. As combined transport, we bring the participants together in order to jointly expand the existing cooperation and give new, decisive impetus to Combined Transport. For us, the needs of our customers are the focus. Freight forwarders should be able to transfer transports to rail more easily and quickly. Because only through concrete relocation will we change the modal split and make the traffic turnaround a reality. Specifically, we will strengthen the synergies built up since 2001 with a nine-point plan for strong and climate-friendly combined transport. We will optimise service, networking and digitalisation in the best possible way so that we also win forwarders for rail, who so far only use the road. In this way, we reduce the CO2 emissions of freight traffic sustainably together, with DB Cargo and the German Federal Ministry of Transport and Digital Infrastructure (BMVI)."