South Western Railway launches new passenger reassurance initiatives
The SWR Welcome Hosts service and the 'Cleaner & Cleaner' poster campaign will support passengers and remind them to protect both themselves and others.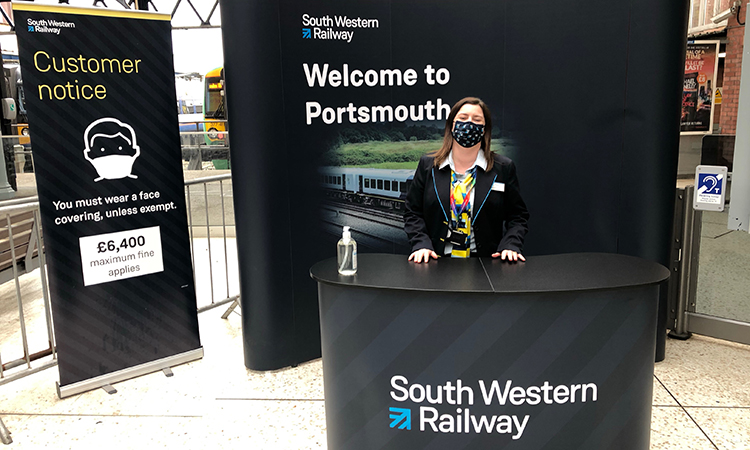 Credit: South Western Railway
South Western Railway (SWR) has announced two new initiatives designed to reassure customers as they return to the railway following the most recent lockdown in England as a result of the COVID-19 pandemic.
A new Welcome Hosts service will be trialled for four to six weeks at eight stations on the SWR network and will provide customers with a new way to make travel enquiries or ask for advice.
The SWR Welcome Hosts will have a designated area, which customers will see as they enter the station, and will be on hand throughout the day to answer customer questions, provide reassurance and tips for safe travel on the railway, encourage social distancing and dispense hand sanitiser. It is anticipated that the move will help to reduce ticket office and gateline queues.
Alongside this new service, a poster campaign is also being trialled at five stations. Titled 'Cleaner & Cleaner', the campaign features station colleagues and highlights their efforts to keep stations clean and customers safe. The campaign also urges people to take some simple steps to protect themselves and others.
The trials are well timed, as the UK government begins to ease travel restrictions and SWR expects to see a steady rise in passenger numbers.
The Welcome Hosts are being trialled at Wimbledon, Richmond, Wokingham and Portsmouth and Southsea stations, with both initiatives running at Clapham Junction, Woking, Guildford and Southampton Central. The 'Cleaner & Cleaner' programme is also running at Baskingstoke station.
James Dolling, Head of Customer Experience Change Programmes at South Western Railway, commented: "We're living through uncertain times, so we want to do everything that we can to help to reassure customers as they return to the railway."
"We hope that the Welcome Hosts will provide a useful new service for passengers, as well as helping to reduce the need for queuing at ticket offices or gatelines for travel-related questions. The Welcome Hosts will be actively encouraging passengers to maintain social distancing and will have hand sanitiser at their stations for customers to use," he added.
James concluded: "It's also great to see our colleagues featured in the 'Cleaner & Cleaner' poster campaign. Over the past year, they have been working hard to keep our stations clean so that our customers can safely travel with us. We hope that this campaign means that our colleagues get the recognition that they deserve and encourages our customers to play their part in keeping everyone safe."