RB Rail AS releases first virtual concept for new Rail Baltica high-speed train
RB Rail AS' first virtual high-speed train visualisation has been released in order to provide a general overview of the train's design concept and features.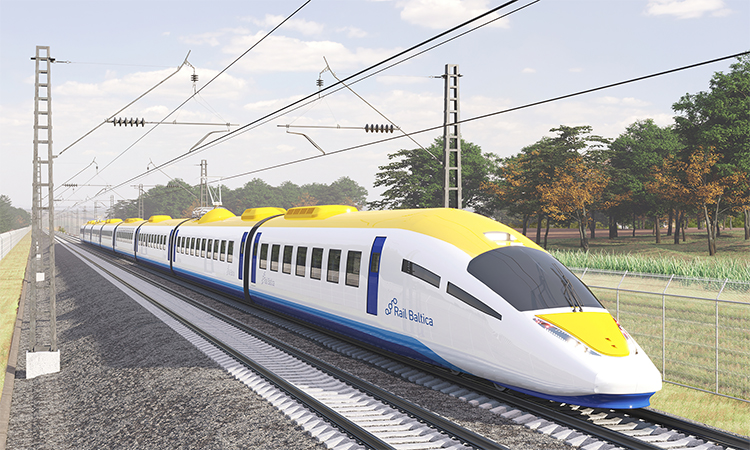 Credit: RB Rail AS - First Rail Baltica high-speed virtual concept train.
The Rail Baltica joint venture, RB Rail AS, has developed the first virtual concept of a high-speed train that would connect the Baltic states with the Western European railway network.
The virtual concept train overview has been made by the RB Rail AS experts to illustrate the features of the high-speed train, whereas the train visualisations are based on a general model train, allowing everyone to imagine the future train. The concept of a high-speed train on Rail Baltica infrastructure will be powered by electricity.
In 2021, the European Year of Rail, during which the railway industry is in the spotlight for its contribution to the safe, green and comfortable transportation of people and goods, RB Rail AS has provided a general overview of the virtual train's design concept and features.
"Only 37 per cent of people in Estonia and Latvia and 27 per cent in Lithuania have travelled by high-speed train, according to a survey that was carried out across the Baltic countries at the end of 2020," comments Agnis Driksna, CEO and Chairperson of the Management Board at the Rail Baltica joint venture, RB Rail AS. "This requires us to even more actively inform and educate society about personal, environmental and economic benefits that the high-speed train would give to people of our region, including its overall positive impact and experience one can get when travelling by a high-speed train."
The inspiration for the train design comes from the one element that connects all three Baltic states – the Baltic sea. Sun, sea and sand are reflected in the color scheme of the model train. This virtual model is an imaginary train, inspired by the most modern high-speed trainsets which are in operation in Europe and elsewhere in the world.