Long Island Rail Road to test feasibility of electric trains travelling on diesel branches
LIRR will work with Alstom to complete an eight-month initial analysis of the use of batteries that could enable electric railcars to travel on the railroad's diesel branches.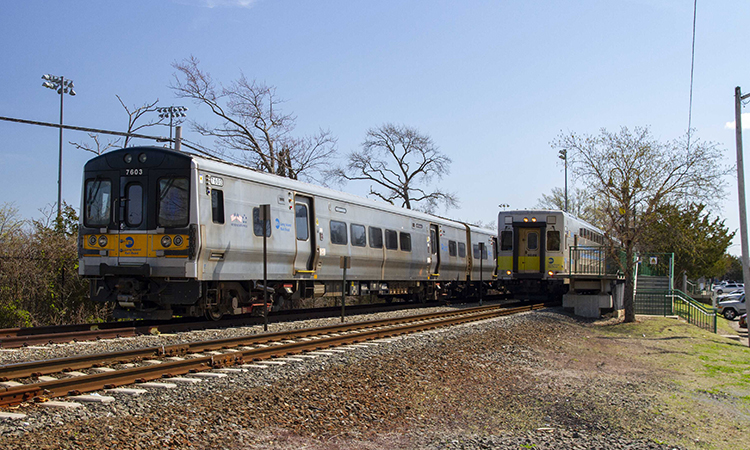 Credit: MTA Long Island Rail Road
President of the Metropolitan Transportation Authority's (MTA) Long Island Rail Road (LIRR), Phillip Eng, has announced that LIRR has entered into an agreement with Alstom to test batteries that could enable electric railcars to travel on the railroad's diesel branches.
Upon successful completion of an eight-month initial analysis, technicians will retrofit a two car-long electric train to operate on battery power without passengers on the Oyster Bay Branch. While on electric portions of the route, the train would run on third rail power and charge the batteries, then switch to battery power for the unelectrified segment between East Williston and Oyster Bay.
If successful, LIRR would ultimately be able to carry passengers directly between Oyster Bay and the railroad's terminals in New York City without the need for a transfer, and that technology could expand to the rest of the railroad's diesel branches.
"People have been talking about extending electrification to various segments of the railroad for generations," said Phillip. "Embracing new technology might allow us to essentially electrify the entire railroad without the need for billions of dollars in massive capital investments. The MTA is already transforming the LIRR through East Side Access and Main Line Third Track; this is potentially a no less profound transformation for the rest of the railroad."
As part of the initial assessment, technicians will investigate whether and where recharging stations might need to be built along the route and along other branches. Recharging would take place in yards when trains are out of service and, if necessary while in-service, during existing station stops that would not be delayed by recharging.
The Oyster Bay Branch was chosen as the pilot branch due to its short 13-mile trip. Other non-electrified branches would be tested in the future, as well as the feasibility of the battery technology and the ability to retrofit existing trains.
"Part of the analysis will tell us if we need additional charging stations for longer distances, how fast can a battery recharge in a 60-second station stop and, if we decide to go further, how many charging stations would be required," Phillip added. "If we have the ability to improve service on Oyster Bay, that improves service on Port Jefferson, Montauk and Ronkonkoma respectively. Everybody benefits."
This appears to be the first test of battery-powered commuter rail cars in North America and, if successful, could be deployed anywhere that diesel commuter trains operate on the LIRR or Metro-North Railroad. If batteries succeed on the LIRR as they have for light rail in Europe and Asia, the use of battery-powered railcars promises over the long term the elimination of the need for transfers to a separate diesel fleet to reach the railroad's expansive un-electrified regions, extending 160 miles from East Williston to Oyster Bay, Huntington to Port Jefferson, Babylon to Montauk and Ronkonkoma to Greenport.
Battery-electric cars could open the possibility that, in years and decades ahead, the railroad could entirely replace the noisy, carbon-emitting diesel fleet with quiet, reliable, zero-emission electric cars, offering seamless transfer-free travel across the railroad.
In the near term, conversion of a fraction of the railroad's 836-car M7 electric fleet to operate with battery power on even just one of the railroad's un-electrified branches would allow LIRR to consolidate its diesel fleet on remaining un-electrified branches, enhancing the frequency of diesel service there and lengthening trains. In recent years, LIRR has seen such a surge in seasonal demand for diesel service that it has had to lease additional cars from Maryland's MARC train system.
"I have heard many times from customers of diesel branches – and I am one of them as a Smithtown resident – that there are too many transfers, trains are too infrequent and can get crowded easily," added Phillip. "Battery technology is improving year after year in ways we see every day, from smartphones to automobiles, so I challenged the private industry to use improving battery technology to benefit railroad customers. This is ingenuity at its best."
Gerry Bringmann, Chair of the LIRR Commuters Council, said: "This is another example of LIRR embracing modern technology to benefit our commuters. This is a potential game changer for our riders in diesel territory, giving them more opportunities for a one seat ride into NYC. It is also particularly fitting to announce this study and the clean air benefits it can bring during Earth Week. It will be good for riders and for the planet."
"One of the most important issues facing the Long Island Rail Road and our citizens is the ability to move from diesel to electric propulsion, which provides both environmental and transportation benefits," said Mitchell H. Pally, Chair of the Long Island Chapter of the League of Conservation Voters and former Suffolk County Representative to the Board of the Metropolitan Transportation Authority. "We need to determine whether there are new options on how to accomplish this goal, and this new analysis will hopefully provide a blueprint on how to make it happen in a very efficient and productive timetable. In this manner, we can reduce our diesel emissions as well as provide a much better coordinated electric system across the region." 
LIRR is sharing the programme details with its sister, MTA Metro-North Railroad (MNR). "This is an exciting technology with implications for Metro-North," said Catherine Rinaldi, President of MTA Metro-North Railroad. "We will be working with LIRR as this technology test advances."
Work on the programme, being conducted with Alstom, will begin by the end of May 2021. In the first phase, expected to last eight months, technicians will evaluate specifications for batteries and where they could be placed aboard M7 cars. They will study the physical characteristics of the Oyster Bay Branch and the Port Jefferson Branch, including hills and distances between stations, and evaluate sites for recharging stations.
Following this initial stage, technicians would operate prototype cars on the Oyster Bay Branch, initially with no passengers. The outcome of these tests will enable railroad officials to evaluate the number of electric cars that could be retrofitted with batteries and when and which trains in passenger service could be converted to battery-electric cars. In 2021, Alstom acquired Bombardier Transportation, which designed and built the M7 fleet and whose engineers are intimately familiar with all systems and workings of the cars.
"We're proud to be partnering with LIRR, the largest and busiest commuter railroad in North America, to test one of our efficient and eco-friendly alternatives to diesel trains. Alstom's battery technology and range of green-traction solutions are helping railroads around the world to meet their environmental commitments while delivering sustainable mobility solutions for generations to come," said Jérôme Wallut, President of Alstom Americas.