Deutsche Bahn to introduce new waste reduction measures
From June 2021, Deutsche Bahn will implement two new measures to improve its system of waste separation and treatment and to ensure resource protection.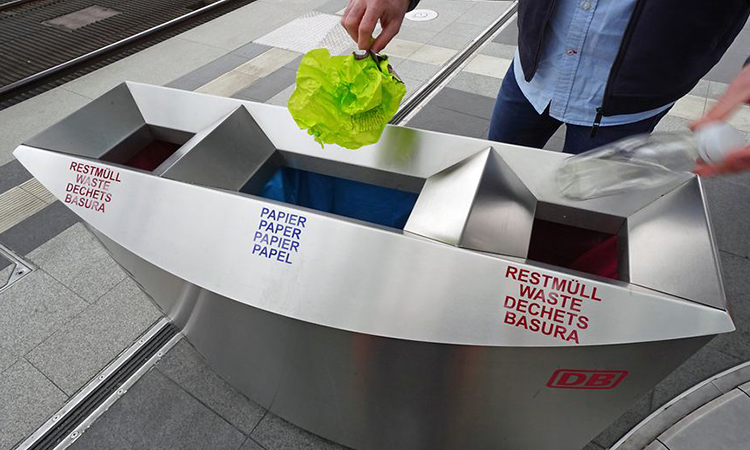 Credit: Deutsche Bahn
Deutsche Bahn (DB) has announced that it wants to produce less plastic waste and process the waste from its stations and trains even better than before. From June 2021, two new measures will take effect for more resource protection.
For the on-board food service on long-distance trains, DB will replace the previous plastic cutlery with FCS-certified wooden cutlery. In this way, the railway relies on a renewable raw material for the approximately 500,000 pieces of cutlery that are used each year.
Secondly, DB will improve its system of waste separation and treatment. In the future, 85 per cent of the waste will be available for recycling as cleanly separated recyclable materials. As a result, resources are conserved and the circular economy is strengthened.
Deutsche Bahn's CEO, Richard Lutz, said: "Less plastic and more recycling is the goal of Deutsche Bahn. Smart alternatives to plastics and improved recycling protects our planet and testifies to responsibility for future generations. In the European Year of Rail 2021, a new system of waste separation and disposal at DB is also a right step towards even more sustainability."
Around 60,000 tonnes of waste is generated every year at DB's stations and on its trains, and it can be difficult to separate recyclable materials and subsequently recycle them. However, the new system is far simpler and clearer. In the future, travellers will only need to separate mixed waste (coffee cups, glass bottles or lunch boxes) and paper.
As a result, DB is converting its approximately 6,000 waste containers in public areas of its stations, as well as on long-distance trains, from the current quadruple separation to a double separation. Existing waste containers will be relabelled rather than replaced. Twenty-five certified service providers in Germany will take over waste sorting and recycling for DB.