Deutsche Bahn's MegaHub Lehrte freight station begins operation
The MegaHub Lehrte freight station will facilitate the removal of approximately 250,000 truck journeys and 120,000 tonnes of carbon emissions per year.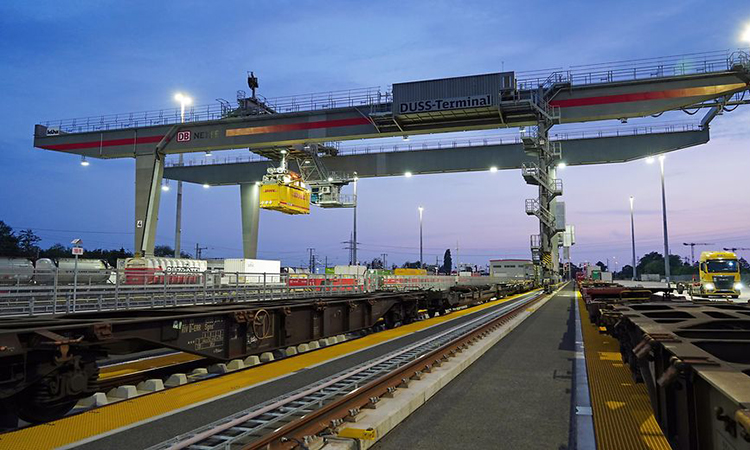 Credit: Deutsche Bahn
After two years of construction and a test run that lasted several months, Deutsche Bahn (DB) Infrastructure Board member, Ronald Pofalla; Parliamentary State Secretary to the Federal Minister of Transport and Digital Infrastructure, Enak Ferlemann; and Lower Saxony's Minister of Transport, Dr. Bernd Althusmann, formally opened the MegaHub Lehrte freight station on 23 June 2021. In total, the German federal government and DB have invested €171 million in the new station.
The station enables the loading of containers at record speed within a few minutes, meaning that goods reach customers faster – the aim is to make rail freight transport more attractive in this way. Additionally, with the new container station, DB ensures more freight traffic is being transported by environmentally-friendly rail: the MegaHub Lehrte assembles up to 13 freight trains per day, corresponding to approximately 250,000 truck journeys removed and 120,000 tonnes of CO2 saved per year. 
Deutsche Bahn Infrastructure Board Member, Ronald Pofalla, said: "The relocation of freight transport to environmentally-friendly rail is one of the most effective and simple measures for climate protection. In Lehrte, goods can be handled faster than anywhere else in Germany. With every train that starts here, we take 52 trucks off the road and, thus, automatically save CO2."
Enak Ferlemann, Parliamentary State Secretary to the Federal Minister of Transport and Digital Infrastructure and Federal Government Commissioner for Rail Transport, said: "The clear policy of the federal government is to shift traffic from road to rail. This requires state-of-the-art handling facilities. The MegaHub Lehrte is a state-of-the-art facility and stands as a symbol of this policy. It serves as a role model for many other plants in Germany."
The Lower Saxony Minister of Economic Affairs, Labour, Transport and Digitalisation, Dr. Bernd Althusmann, added: "The new MegaHub is one of the most innovative projects in freight transport – this underlines Lower Saxony's outstanding position as a logistical heart of Europe. The hub will strengthen the competitiveness of climate-friendly rail and, once again, increase the attractiveness of Lower Saxony as a logistics location."
At the MegaHub Lehrte station, video gates capture the load of the train and truck at the entrance on the 120,000m2 site. Three 20-meter-high cranes and 12 autonomous, electrically-operated vans sort the containers, which are tailor-made for the freight trains. A central computer controls the loading and reloading of the containers. The MegaHub works particularly quietly and enables significant energy savings: arriving trains use their momentum when entering and roll directly under the cranes without electricity. The plant offers expansion potential for twice as many cranes and up to 20 transport vehicles.