Siemens Mobility signs contract for turnkey rail system in Egypt
The launch of Egypt's first ever high-speed rail system has moved one step closer, as Siemens Mobility signs a momentous contract worth $3 billion to cover the initial 660km of the 1,800km rail network planned.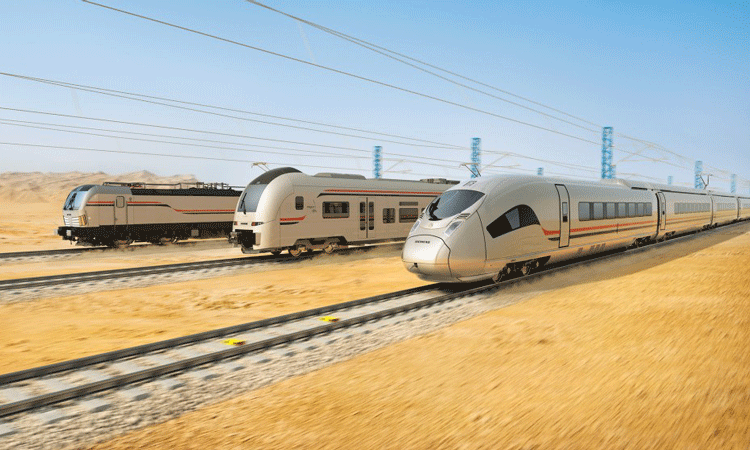 Credit: Siemens Mobility
Siemens Mobility has announced a contract with the National Authority for Tunnels (NAT), in witness of the Egyptian Prime Minister and Minister of Transport, as well as the German Ambassador in Egypt to deliver a comprehensive rail system that will feature the first ever high-speed, electrified main and rail freight line that will transform transportation in the Arab Republic of Egypt. In partnership with Orascom Construction S.A.E. and The Arab Contractors, Siemens Mobility will provide its comprehensive turnkey services to design, install, commission, and maintain the systems for 15 years. The total contract value is approximately $4.5 billion, of which Siemens Mobility's share is around $3 billion. Most of the order intake is expected to be booked in 2022 after financial closing. It is the first contract to be signed from the MoU agreed upon between NAT and Siemens Mobility, Orascom Construction and The Arab Contractors in January 2021.   
The contract signed today (1 September 2021) covers the initial 660km out of the 1,800km rail network planned. Additionally, it was agreed to discuss and finalise the agreements on the two other high-speed railway lines including rail infrastructure and trains, and maintenance in the coming months of 2021. 
"This high-speed train will strengthen the infrastructure of the areas it passes through and help achieve urban sprawl, in addition to linking the new administrative capital and new cities to the railway network for transporting passengers and goods," said H.E Lieutenant General Kamel El-Wazir, Egyptian Minister of Transport. "The project will also help promote tourism through a fast, modern, and safe means of transportation characterised by the highest levels of efficiency and safety to meet the needs and expectations of all Egyptians across the country, which is considered a major leap in the field of rail transport. For its part, Siemens will provide its latest smart technology solutions, along with its continuous support to local skills development."
Roland Busch, President and Chief Executive Officer of Siemens AG added: "We are proud to support the Egyptian government's ambition to transform its transport sector by building its first high-speed electrical rail network. This landmark project will create jobs, boost economic growth, and improve quality of life for millions of people, by creating a more efficient, safe, and sustainable transport system. As a long-standing partner to Egypt, we are committed to providing the most advanced technology and to supporting local skills development."
"We are honoured and proud to become Egypt's partner in constructing a state-of-the-art rail system that will transform the everyday travel for millions of Egyptian people," commented Michael Peter, CEO of Siemens Mobility.
"Our world class trains will provide an enhanced passenger experience, and combined with our digital leadership in rail infrastructure, we will deliver a safe, reliable and efficient transportation system."
"In addition to benefiting passenger travel, the first fully electric mainline rail network in Egypt will create thousands of local jobs and open up huge possibilities for freight transport," Michael added. 
For this project, Siemens Mobility will deliver its Velaro high-speed trains, Desiro high-capacity regional train sets, and Vectron freight locomotives. A safe and reliable signalling system based on the latest computer-based interlocking technology and European Train Control System (ETCS) Level 2 will be installed, as well as the power supply system that delivers efficient and continuous energy. Furthermore, Siemens will provide and integrate the latest communications, safety and security systems that will create a pleasant passenger experience. The trains and all sub-systems are based on the most modern, proven products and platforms. Siemens Mobility's consortium partners will install the tracks, while the customer will build the bridges and facilitate the sub construction. 
A Suez Canal on tracks
The 660km line will connect the port cities of Ain Sokhna on the Red Sea to Marsa Matrouh and Alexandria on the Mediterranean, creating a Suez Canal type of link on the tracks. The two additional lines will connect the Greater Cairo region from '6th October City' along the Nile River with Aswan, and Luxor via Hurghada to Safaga. The entire network will re-establish Egypt as a regional leader for transportation, with anticipated effects on different economic sectors, empowering both smaller and midsized businesses, and a forecasted boost to the economy. 
Benefits of high-speed rail to Egypt's economy and environment
The consortium will directly create more than 15,000 jobs in Egypt, with an additional 3,800 at Egyptian suppliers and indirectly through the wider Egyptian economy. It is anticipated that many more jobs will be created as soon as the other lines are ready for implementation. In addition to jobs, the project will also contribute to a significant local, technical training and qualification programme that Siemens Mobility intends to support, which will provide the needed skill development to complement the project. 
The fully electrified system will reduce primary energy usage and overall air pollution by cutting carbon emissions by 70 per cent, in comparison to the current emissions from car and bus transportation. Therefore, increasing the quality of life and protecting the environment for Egyptians. The rail system will be based on state-of-the-art technology, proven products, and European standards. The signalling system to be supplied complies with the highest safety requirements. Additionally, extensive testing, commissioning and local training will ensure the safety of passengers and staff.
Forecasted passenger results
The connection will transport more than 30 million people per year and save up to 50 per cent travel time, which will highly increase the productivity of workforce. Furthermore, it will link Cairo to the new urban communities being developed. Cairo's population has doubled in size since 1980 and to approximately 20 million. Therefore, to ease the congestion, new cities are currently being developed around the Cairo metropolis. The additional benefit of a comfortable and affordable commuter system around Cairo will reduce travel time from east to west. In addition, the line will connect both sea and dry ports, which will improve the overall efficiency of moving freight. Specifically, the total inland freight transported on rails will be increased by 15 per cent.