Stadler expand market leadership of alternative drive technologies
DB Regio have ordered more FLIRT Akku type trains from Stadler, further cementing Stadler's place as a leader in the market for alternative drive technologies.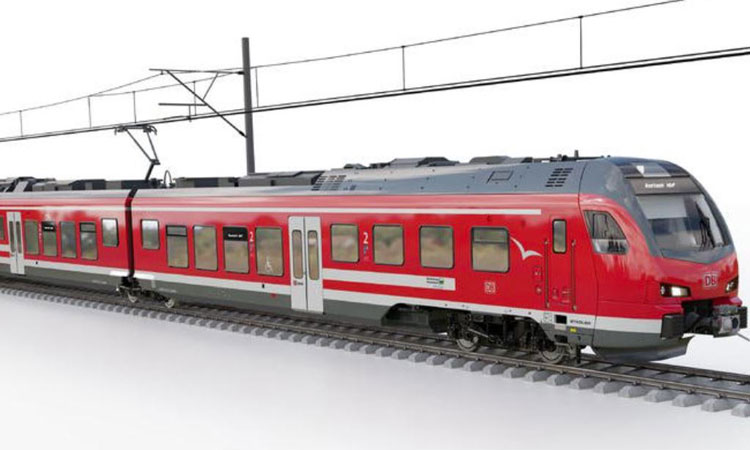 Credit: Stadler Rail
DB Regio has ordered trains of the FLIRT Akku type from Stadler, helping Stadler to expand its market leadership considerably in the field of alternative drives in Germany with a third supply contract for battery-operated vehicles. Stadler will be delivering at least 113 vehicles with alternative drive technologies over the next five years. The two-part vehicles for Mecklenburg-Vorpommern will go into passenger service from December 2026.
Starting at the end of 2026, Deutsche Bahn will use the innovative battery-operated vehicles from Stadler on a route that was previously serviced by diesel-operated vehicles in the so-called H-network in Mecklenburg-Vorpommern. The H-network stands for the use of electrical battery-hybrid vehicles. This means that these routes can be serviced locally and completely emission-free, without having to install catenaries throughout the entire network.
The two-part vehicles of the FLIRT Akku type will be used for typical transport period of 13 years and are tailored to the needs of the network that runs along part of the Baltic Sea coast. The H-network Warnow has a service scope of 1.5 million train kilometres a year and covers the routes of the RB11 between Wismar, Rostock, Tessin and the RB12 between Bad Doberan, Rostock, Graal and Müritz. 
The FLIRT Akkus provide space on 99 seats. Two spacious and accessible multi-purpose areas are provided for wheelchairs, pushchairs and bicycles. The air conditioned and step free vehicles also have a wheelchair accessible toilet. All trains are equipped with WLAN, power sockets as well as video surveillance of the passenger areas and a modern passenger information system and ensure contemporary ride comfort.
"With the battery-electric multiple units, which will replace diesel vehicles, we are taking an important step towards climate neutrality with the state," Carsten Moll, Chairman of DB Regio Northeast, said. "As DB Regio, we are proud to put the first environmentally friendly network of this type into operation in Mecklenburg-Western Pomerania."
The FLIRT Akku is the battery-operated version of the FLIRT type series by Stadler. The vehicle is highly versatile thanks to that fact that it is designed for non-electrified and partially electrified tracks. The operational reach of the vehicle is about 100km, which means that 80 per cent of the non-electrified routes in Germany can be used by regional trains in battery mode. With 224 driven kilometres in pure battery mode, the FLIRT Akku holds the world record for the longest journey by a regional train in pure battery mode without additional charging.
"Since 2019, Stadler has sold 113 vehicles with alternative drive technologies in Germany," Jure Mikolčić, CEO of Stadler in Germany, said. "It makes us very proud that our FLIRT Akku not only makes an ecological and innovative contribution to climate friendly traffic policies, but also significantly boosts efficiency. If we consider the average life of a rail vehicle of around 30 years, battery-operated vehicles are more cost-effective than diesel-operated trains."