ÖBB awards Stadler contract for 186 KISS-type double-decker trains
Following court proceedings, ÖBB have once again chosen Stadler to supply them with 186 Kiss-type double-decker trains.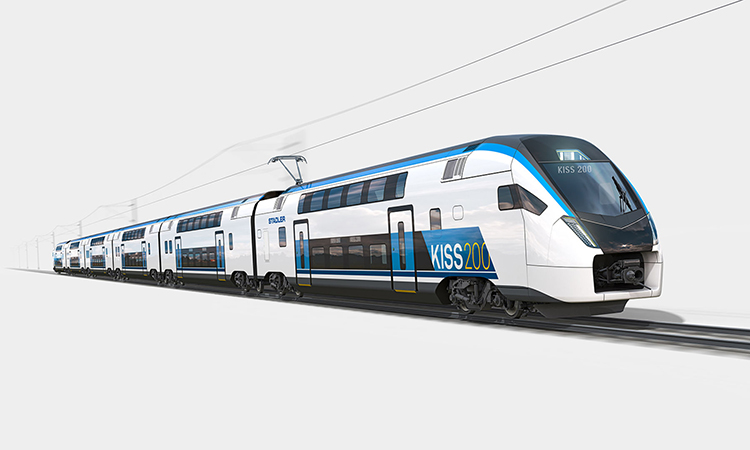 Credit: Stadler
Austrian Federal Railways (ÖBB) has again named Stadler the winner of the tender for 186 KISS-type double-decker multiple-unit trains, this follows some confusion regarding Stadler's qualified electronic signature. The framework agreement has a ten-year term and a total volume of up to €3 billion.
After the conclusion of the tendering process was delayed by court proceedings, all legal obstacles have now been removed. This means that ÖBB can now conclude the framework agreement with Stadler. The award decision announced by ÖBB signals that the way is clear for the call-off order of the first vehicles. The framework agreement covers the manufacture and delivery of various four-, five- and six-car double-decker multiple-unit KISS trains. Counting the framework agreement for ÖBB, Stadler has so far sold over 550 KISS trains. The trains will be manufactured at Stadler's new centre of excellence for double-decker trains in St. Margrethen (CH). A first call-off order is expected to be made in the near future, with ÖBB and Stadler to publish further information on the vehicles and the initial order in the coming weeks.
"We are extremely pleased that, after a delayed tendering process, we have now been legally awarded the contract by ÖBB," Peter Spuhler, Chairman of the Board of Directors and Group CEO of Stadler, said. "Vehicles from Stadler have been operating successfully on Austrian rails for years, the fact that we are now also able to supply the next generation of double-decker multiple-unit trains to Austria with ÖBB fills us with great pride."