Renfe install lifesaving defibrillators into its fleet
Renfe are installing a total of 668 defibrillators to save lives in situations where a passenger needs early care in the event of a cardiorespiratory arrest.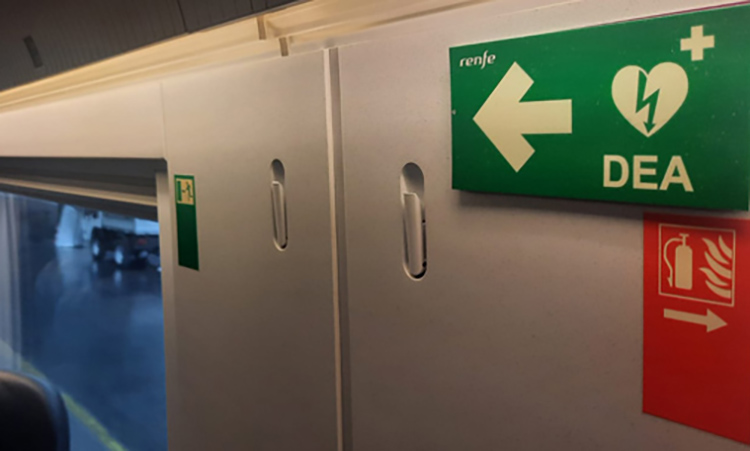 Credit: Renfe
Renfe have installed Semiautomatic External Defibrillators (DESA) on its Ave, Long and Medium Distance and Tourist trains, thus converting its fleet into cardio protected spaces. This initiative, which contemplates an investment of €3 million, has a main objective of guaranteeing maximum safety in the event of a possible cardiorespiratory emergency, which one of the millions of passengers who use Renfe rail transport could suffer.
To do this, a total of 668 defibrillators are being installed successively, of which 570 are already at the start of the commissioning process. There will be one defibrillator per train and there will be a reserve of devices located in stations (at strategic geographical points) to replace the equipment in case it has been used in a health emergency. The placement of the devices is being carried out with 168 for high-speed trains, 17 for long distance trains, 330 for medium distance trains and five for tourist trains.
The defibrillators are located in the most accessible areas of the trains, such as cafeterias, vending areas, or spaces for people with reduced mobility. Signage is also being placed both outside the cars and inside, at different points, to help find them if necessary. To facilitate its rapid and safe use, users must follow the sound or visual instructions of the AED. In addition, this type of device is connected to the 112-emergency service and will automatically make a warning call through an already established protocol.
The business criteria for the conversion of trains into cardio protected spaces is based on increasing the value in the services that Renfe offers its passengers, since there is no regulation that requires the units to be equipped with defibrillators on board. In this way, Renfe guarantees passengers the possibility of having adequate technical means to facilitate early care in the event of a cardiovascular emergency during a journey, in which access to health resources may be delayed over time. This measure means giving continuity to the active role that Renfe has been developing since 2018, in the implementation and use of these devices in stations and work centres and that has helped save eight lives.
This project involves providing the personnel located in these cardio protected spaces with adequate training in order to guarantee rapid action in the event of sudden cardiac arrest. To date, a professional group of 2,226 people has been trained. All of them have received theoretical and practical training in cardiopulmonary resuscitation and in the correct use of a DESA equipment.
Related organisations
Related regions