Alstom deliver first semi high-speed regional train for Delhi-Meerut RRTS line
The semi high-speed regional train is designed to run at 180kmph and is expected to decrease travel time between Delhi-Meerut by 40 per cent.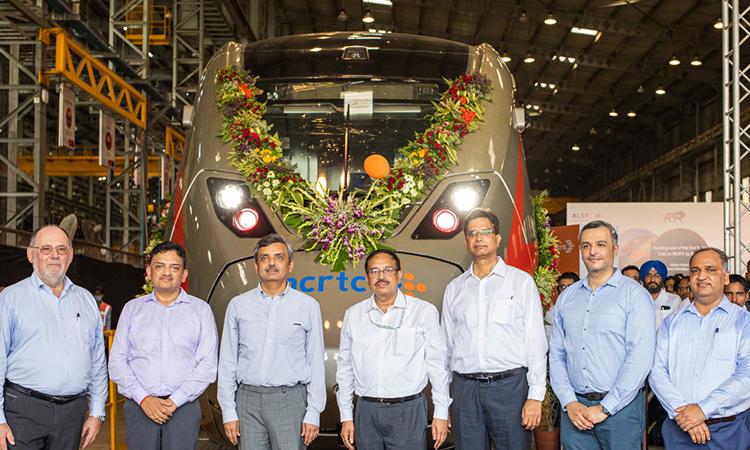 Credit: Alstom
Alstom has successfully delivered India's first semi high-speed regional train for the National Capital Region Transport Corporation's (NCRTC) 82.5km long Delhi-Ghaziabad-Meerut RRTS line. Designed and built to move passengers at 180kmph, these trains are expected to reduce the travel time between Delhi and Meerut by 40 per cent. These semi high-speed aerodynamic trains are energy efficient, designed to offer top-notch comfort and safety features for premium passenger experience for commuters, including those who are disabled.
"It is a proud moment for all of us to witness the roll out of the RRTS trainset, which is a true manifestation of the Hon'ble Prime Minister's vision of an 'Aatmanirbhar India'," Shri Hardeep Singh Puri, Union Minister of Housing & Urban Affairs for the Government of India, said. "Designed in India, made in India and made for India, it is the perfect demonstration of the Make in India initiative. It is imperative that we plan efficient public transport to fully harness the potential of our metropolitan cities, so that we truly make them the engines of growth for tomorrow's economy."
"The RRTS project is one of the most ambitious ventures in India's mobility sector and will prove to be a game-changer in India's regional rail segment," Alain Spohr, Managing Director for Alstom India, said. "Our trains and ETCS signalling systems will ensure safer and seamless intercity commutes, benefitting millions of people and contributing towards socio-economic development. Delivering the first train within a year of commencing production, reinstates Alstom's commitment to revolutionise India's rail networks."
Designed at Alstom's Hyderabad engineering centre and manufactured at Savli (Gujarat), these trains are 100 per cent indigenous, in line with the government's Make in India programme. The propulsion systems and electricals are manufactured at the company's factory in Maneja (Gujarat). The Savli site produces bogies, car bodies and undertakes train testing. This Alstom site has also successfully delivered trains for Delhi Metro, Queensland Rail and is currently producing metro trains for Kanpur & Agra cities.
Some of the safety and passenger comfort features on these fully air conditioned trains include ergonomically built 2×2 transverse seating, wide gangways for comfortable standing space, overhead luggage racks, CCTV cameras, fire & smoke detector, intercom, fire extinguisher, exterior camera, door status indicators, grab handles, Wi-Fi, laptop/mobile/USB charging stations, dynamic route display maps, auto controlled ambient lighting system, large windows for panoramic view and ergonomically designed areas to support disabled people and for medical emergencies.
The first train design, which was inspired by Delhi's iconic monument, the Lotus Temple, was unveiled in September 2020. With the manufacturing process beginning in July 2021, the first train has been delivered within a year. This RRTS line is the first in India to adopt the European Train Control System (ETCS) hybrid Level 2 signalling system, which is the core signalling and train control component of the European Rail Traffic Management System (ERTMS). This contract also marks the world premiere for the combination of the latest ETCS standard supported by the latest digital Interlocking and Automatic Train Operation (ATO) over Long Term Evolution (LTE) radio.