$2.5 billion of grants awarded for Bay Area transit investment
Transportation leaders in the Bay Area have celebrated as vital state funds have been awarded to Caltrain, BART and VTA.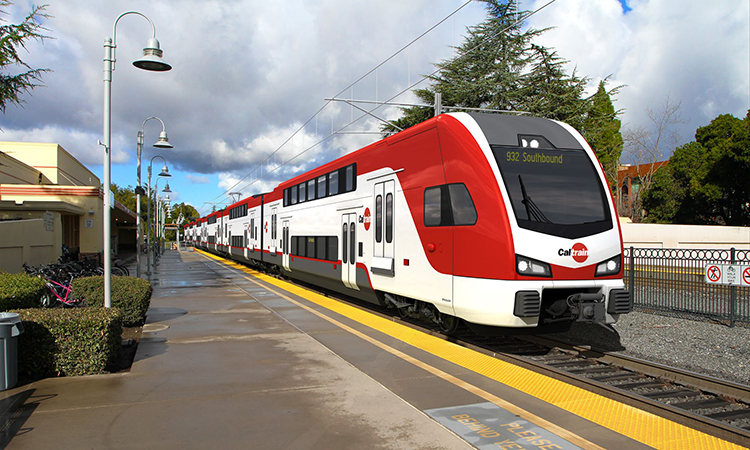 Credit: MTC
Metropolitan Transportation Commission (MTC) members and Bay Area transit leaders have thanked state legislators, Gov. Gavin Newsom and California State Transportation Agency (CalSTA) Secretary Toks Omishakin for their leadership in advancing a new generation of Bay Area transit investment through more than $2.5 billion of grants awarded by CalSTA through the state's Transit and Intercity Rail Capital programme (TIRCP).
Among the grants awarded in the latest round of TIRCP funding are $375 million to the Santa Clara Valley Transportation Authority (VTA) to help finance the BART extension to be built by VTA from the current terminus at the Berryessa/North San Jose station through downtown San Jose to Santa Clara; $367 million for Caltrain to complete the ongoing electrification of the Caltrain corridor between San Jose and San Francisco; $250 million to BART for its Core Capacity initiative to boost service frequencies through the Transbay Tube linking San Francisco and Oakland; and $34 million to the Sonoma-Marin Area Rail Transit District to extend the SMART corridor north to Windsor.
"Metro areas around the state compete fiercely for TIRCP grants," Alfredo Pedroza, MTC Chair and Napa County Supervisor, said. "The Bay Area chose to focus on a small number of projects that already are either under construction or set to begin construction soon, and that also have already earned commitments of federal dollars. This focus was reinforced when MTC adopted a new Major Projects Advancement Policy, which specifically identified VTA's Silicon Valley BART extension, Caltrain electrification and the BART Core Capacity effort. This strategic approach paid off, as Bay Area investments received 85% of the $1.2 billion in TIRCP funds available for projects outside Southern California."
"We appreciate that the state recognises the importance of Caltrain electrification, and we are excited to now have the funding necessary to complete the project in 2024," Michelle Bouchard, Executive Director for Caltrain, said. "Electrification of Caltrain will be a transformative experience for our riders, with more frequent service and enhanced amenities. Not only will it significantly decrease greenhouse gas emissions, but it is also a major advancement for transit in the Bay Area, connecting communities to a transportation network they deserve."
"Bay Area commuters throughout Santa Clara County and the South Bay will be rejoicing over this significant state matching grant to help bring BART to downtown San Jose and Santa Clara," Cindy Chavez, Santa Clara County Supervisor and MTC Commissioner, said. "This will make getting around the Bay Area easier and help alleviate bumper-to-bumper traffic congestion."