Multi-million-pound Ebbw Vale upgrade continues
Network Rail are continuing the multi-million-pound Ebbw Vale upgrade with platform construction work at both Llanhilleth and Newbridge stations.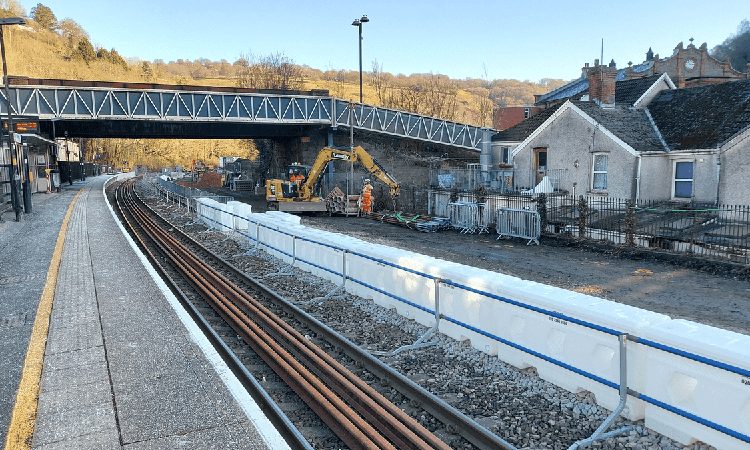 Credit: Network Rail
The Ebbw Vale line will be closed on three separate occasions across March and April, with further closures planned between May and July, as considerable work continues to be carried out across the entire line.
Engineers from Network Rail and principal contractor, Amco, will continue platform construction work at both Llanhilleth and Newbridge stations and install part of a new fully accessible footbridge and lifts at Llanhilleth station. 
Network Rail's internal Construction Services team will undertake substantial track work between Crosskeys and Crumlin and alongside our contractors Siemens, we will continue to upgrade and renew signals along the line. This work is part of the Ebbw Vale enhancement scheme that will enable an additional hourly passenger service from Ebbw Vale to Newport in the future.
In October 2023, there was a nine-day closure of the line to replace Bridge Street rail bridge in Newbridge, install new track and regrade an embankment near Riverside Park. In addition to this, 53km of new signalling cable was installed as well as four trackside cabinets to house the new signalling equipment.
"It's fantastic to see the transformation of the Ebbw Vale line really taking shape after last year's huge upgrades and our continued work in 2023," Nick Millington, Interim Route Director at Network Rail Wales and Borders, said. "This multi-million-pound investment will transform services on the line and really benefit the communities it serves."  
"As well as enabling more frequent services in the future, it is vital that we deliver this new footbridge and lifts at Llanhilleth station to provide accessible, step-free access for those who need it," Tom Edwards, Project Manager at Network Rail, said. "We know there is never a right time to carry out work of this nature but closing the line and specific roads will allow us unlimited access to the railway to safely complete this essential work." 
This £70m project has been funded by Blaenau Gwent County Borough Council via a loan from the Welsh Government. The Department for Transport and Network Rail are providing a further £17m of funding to deliver the signalling upgrade and renewal work.