South Western Railway to install lifesaving defibrillators at all of its staffed stations
154 South Western Railway stations are to have publicly accessible defibrillators installed by the end of the summer.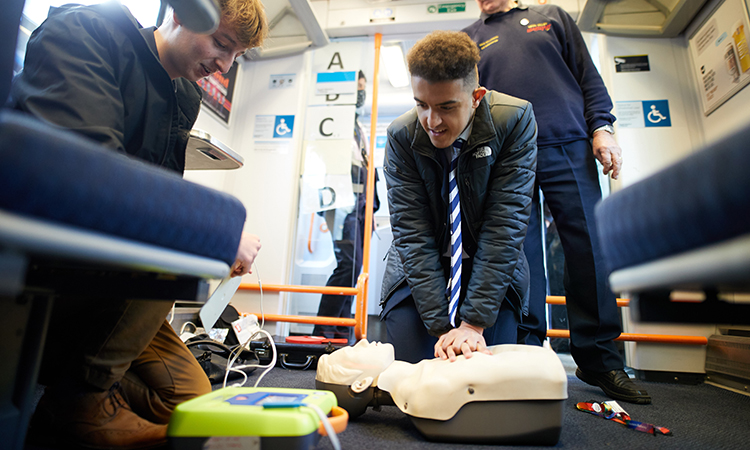 Credit: SWR
South Western Railway (SWR) is to install publicly accessible automated external defibrillators at all 154 of the staffed stations on its network. The train operator, which is one of the largest in the country with stations across South West London, Surrey, Hampshire, Berkshire Dorset, Wilshire, Somerset, and Devon, is investing over half a million pounds in the project as part of its commitment to safety and serving local communities.  
The defibrillators will be placed in protective cabinets as close as possible to the front entrance of the stations, to be used day or night in the event of cardiac incidents at or near stations. The British Heart Foundation (BHF) estimates that there are around 30,000 out-of-hospital cardiac arrests every year in the United Kingdom, and tragically just one in 10 people survive. 
During a cardiac arrest, every minute counts. The immediate use of CPR and defibrillators can double the chances of survival. Expanding the availability of these machines can, therefore, be lifesaving. Station staff and local ambulance services will be provided with the codes to unlock the cabinets and access the machines, which they can provide to members of the public in an emergency. 
Moreover, the locations will be added to 'The Circuit' – the BHF's database. Once registered, a defibrillator is visible to NHS ambulance services who can direct 999 callers to its location so it can be used to help save lives. A heating system will ensure that the defibrillators can maintain their normal operating temperature. A monitoring system will also send an alert if a machine malfunctions or the battery is low, ensuring it is always ready to use. The rollout of the machines across 154 stations, which begins this month, is expected to be competed in the summer. 
"I'm honoured to have unveiled SWR's Alex Wardle Foundation train at London Waterloo," Claire Mann, Managing Director of South Western Railway, said. "Sudden arrhythmic death syndrome and other heart conditions can impact us all. As part of SWR's commitment to the local communities we serve, I'm so pleased that we are installing defibrillators at every single one of our staffed stations, which could very well prove to be lifesaving."