New Passenger Assist Points to be installed at Northern stations
Northern are to install eight Passenger Assist Points across its stations to help make travel easier for passengers with accessibility needs.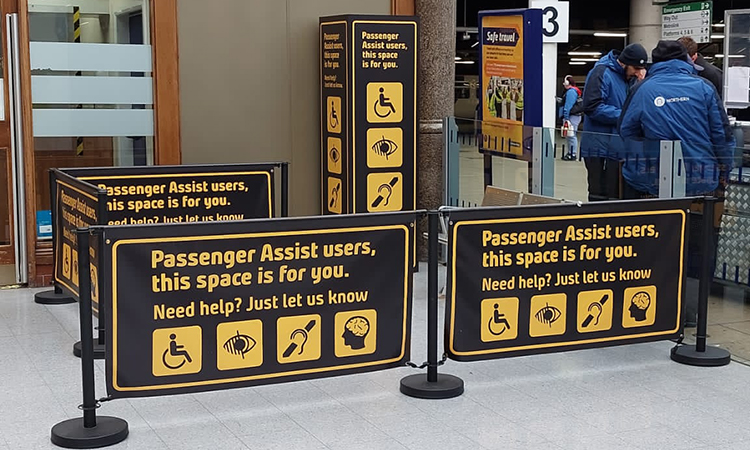 Credit: Northern
Eight Passenger Assist Points will be installed across Northern stations in the coming months to help make travel easier and more accessible for people with accessibility needs. These new designated areas at key stations across the network will feature clear and accessible signage, as well as seating to make it easier for passengers to get the assistance they need when travelling on Northern services.
Locations will include Barrow-in-Furness, Blackpool North, Bolton, Halifax, Harrogate, Manchester Oxford Road, Manchester Victoria and Meadowhall stations. Passengers will be able to wait in these areas or ask for help when they book train travel through 'Passenger Assist' – a national scheme for any passengers who require assistance to travel on the rail network. It allows people to contact Northern and other train operators and they can help you on and off trains as well as reserve wheelchair spaces and seats. The scheme is part of Northern's ongoing commitment to improving accessibility and inclusivity on its services.
"We are delighted to be installing these new Passenger Assist Points across our network," Mark Powles, Customer and Commercial Director at Northern, said. "We know that travelling by rail can be challenging for some passengers and we are committed to doing everything we can to make it easier and more accessible for everyone."
Northern was recently recognised at the Rail Business Awards, winning the Customer Service Excellence category, for its development of 'The Accessible Travel Simulation' – an app designed to support people who are anxious or need to build confidence to travel by train.
Related content you will enjoy:
Northern trials new supersonic-cryogenic leaf-busting technology
Customers to see new and improved information screens across Northern network
Global Railway Review's Access For All interview series – over the coming weeks we have exclusive interviews with rail accessibility experts from train operating companies to understand more about the strategies and projects in place to make rail travel more accecssible for all. Participants will include Northern, TransPennine Express, DSB, ProRail, Avanti West Coast, Hull Trains, and many more! Our first interview with Catherine Langlois, Senior Advisor – Universal Accessibility at VIA Rail, is available to read now!
If you would like to take part in the Access For All series, or would like to nominate a colleague, please email: Craig Waters, Editor, Global Railway Review.