Images revealed of UK's first 'Beacon' bridge
The 'Beacon' bridge is the first of its kind in the UK and will give rail passengers using Garforth station a safe, step-free option for the first time.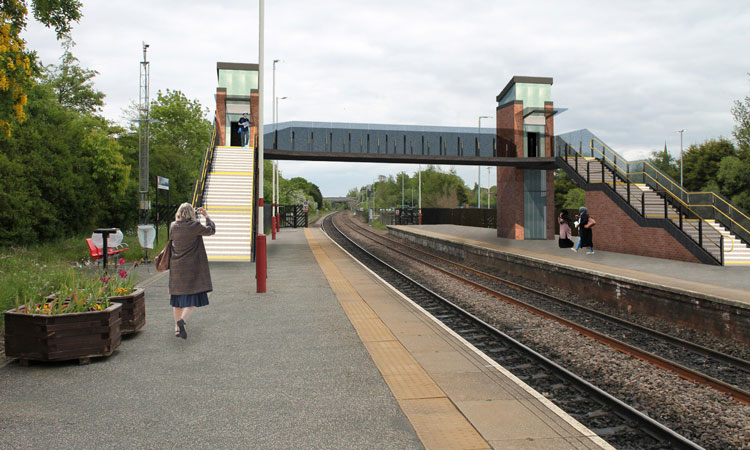 Garforth footbridge artist impression. Credit: Network Rail
Artist impressions of Garforth Station's new accessible pedestrian bridge have been released by Network Rail.
The 'Beacon' bridge, so-called due to the striking design of its two lift shafts, is the first of its kind in the UK and will give rail passengers a safe, step-free option at the station for the first time. 
Construction of the £6 million investment – part of the Department for Transport's (DfT) Access for All programme – starts at the end of May 2023 and will be completed by April 2024.  
Chris Wright, Senior Sponsor for Network Rail, said: "The Beacon bridge has been designed with increased focus on people and place. The structure appears lighter than traditional designs, with the glass deck and stairs preserving views of the adjacent listed road bridge. More crucially, it will deliver the long-awaited step-free access that Garforth needs and deserves. Being able to release these images is hugely exciting as we move into the construction phase of the project."
Tony Baxter, Regional Director for Northern, said: "We welcome all investment in rail infrastructure. This project will have a big impact on the customer experience at Garforth and we look forward to the bridge opening in 2024." 
The existing footbridge, which is Grade II listed, is being carefully removed and will be relocated to the Bredgar and Wormshill Light Railway in Kent. A temporary footbridge will be installed in June 2023 to allow access between platforms to be maintained while the Beacon bridge is under construction. 
Have you seen the exclusive interviews as part of Global Railway Review's Access For All series?
Look out for other interviews over the coming weeks; participants will include DSB, ProRail, Avanti West Coast, Hull Trains, and many more!
If you would like to take part in the Access For All interview series, or would like to nominate a colleague, please email: Craig Waters, Editor, Global Railway Review.