Ermewa establish partnership with LTG Cargo Polska
Ermewa have leased 40 container wagons to LTG Cargo as part of a new intermodal partnership.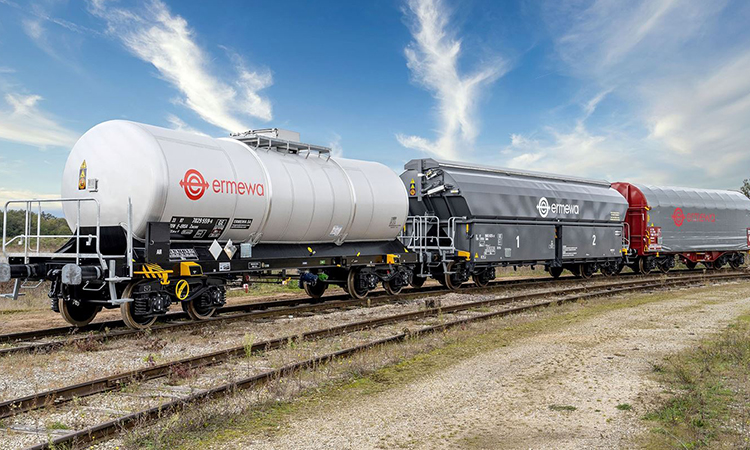 Credit: Ermewa
Ermewa has established its first successful partnership with LTG Cargo Polska for the lease of 40 container wagons. The brand new Sgmmnss wagons were handed over in Poprad, Slovakia. LTG Cargo will use the 40-foot wagons mainly in Northern Europe on the route from Lithuania via Gdansk in Poland to Duisburg in Western Germany. This collaboration serves as a valuable addition to LTG Cargo's existing fleet.
"We are excited to start this partnership with Ermewa, as it allows us to further strengthen our intermodal capabilities and cater to the growing demands of our customers," Michał Szlendak, CEO of LTG Cargo Polska, said. "The addition of these 40 container wagons from Ermewa enhances our operational efficiency and enables us to increase the volume of our freight transport services across multiple destinations."
LTG Cargo Polska is owned by the Lithuanian rail freight company AB LTG Cargo, which is a part of the largest group of railway companies in the Baltic States, the Lithuanian state-owned company AB Lietuvos Geležinkeliai. The company specializes in cargo transportation and forwarding services across various destinations.
Responding swiftly to the growing demand for 40 feet container wagons, Ermewa is currently making substantial investments in the intermodal sector.
"Ermewa is proud to expand its client network in Poland with such a strong partner as LTG Cargo Polska," Cyrille Guyon, Deputy Manager for Ermewa, said. "Together we are focusing on the growth segment of rail freight, intermodal transport."