Renfe extend contract with CAF for additional Media Distancia electric trains
As part of a Fleet Renewal Plan, Renfe have extended its contract with CAF for the supply of another 32 Media Distancia electric trains.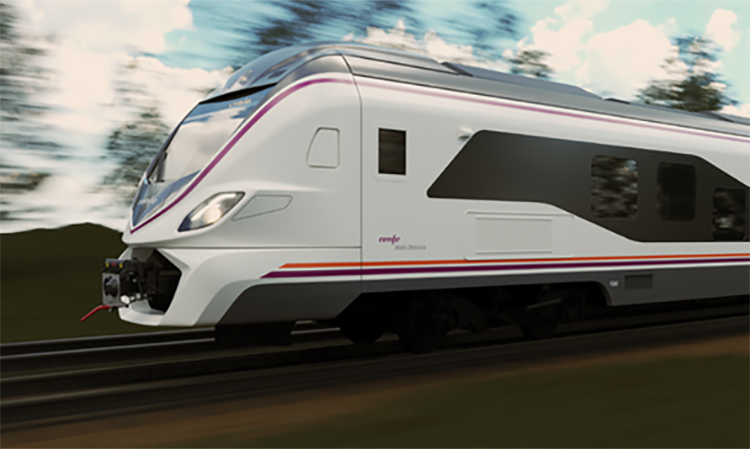 Credit: Renfe
Renfe has announced the extension of the contract with Construcciones y Auxiliar de Ferrocarriles (CAF), originally awarded October 2022, for the supply of another 32 new Media Distancia electric trains for €190 million.
At first, the award to CAF, for an amount of €290 million, included the supply of 28 electric trains, the supply of spare parts and joint maintenance, through a mixed company Renfe-CAF, of 17 of the trains for 15 years, as well as the possibility of expanding the supply of electric trains. Now, to this first batch, another 32 electric trains are added for an amount of €190 million, with which Renfe will acquire a total of 60 new latest-generation Media Distancia trains, more sustainable and efficient.
This purchase complements the acquisition of the 29 Cercanías units in order to guarantee maximum efficiency in the operation of the new fleet and the lowest cost over a long period of time.
The investment that Renfe is making to renew its fleet is unique, no other railway operator in Europe equals it. The figure amounts to €4,509 million for the manufacture of 436 trains, the remodelling of another 57 trains and the manufacture of 50 locomotives. These are High Speed, Cercanías, Media Distancia and Metric Gauge trains, as well as High Speed ​​locomotives. If the maintenance of these trains is added, the global investment is €5,235 million.
The new trains will allow the rejuvenation of the fleet, with the consequent increase in reliability and the reduction of incidents; an increase in energy efficiency; the adaptation to the obligations of implementation of accessibility; the replacement of diesel material, and the increase in safety in the rail system. By 2026, Renfe will have the most modern fleet in Europe. In addition, all this will mean the creation of 52,000 jobs.
Related organisations
Related regions