HS2 begins production of tunnel segments at new STRABAG facility in Hartlepool
HS2 will produce over 83,000 concrete segments for running tunnels at a new STRABAG facility in Hartlepool.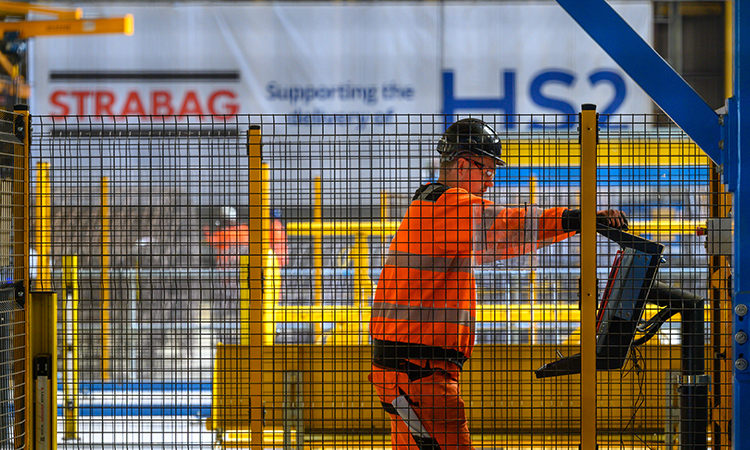 Credit: HS2
The production of over 83,000 concrete tunnel segments for HS2 has begun at a new facility at Hartlepool docks. STRABAG were awarded the contract to manufacture the segments in October 2021 and chose Hartlepool as the location for their new production site.
Located in a unit at Hartlepool Dock which was previously used for the fabrication of oil rigs, the new facility has been fitted out with a state-of-the-art automated segment carousel and reinforcement hall. Robots controlled by telemetry have been installed to produce the high-quality reinforcement cages required for each segment. The location boasts excellent transportation links, both by road and sea, and the STRABAG team have brought the rail head adjacent to the site back into use, reinstating rail connections.
Over 100 jobs have been created at the Hartlepool facility, including six new apprenticeships and a number of formerly unemployed people recruited from the local area. STRABAG are also utilising the local supply chain, sourcing aggregate from local quarries and using UK recycled steel.
Over 83,000 precast tunnel segments will be produced for HS2 in order to construct the Northolt tunnel east and Euston tunnel. They will be used to construct 3.4 miles of twin bored tunnel for the Northolt tunnel East, and 5 miles of twin bored tunnel for the Euston tunnel between Old Oak Common and Euston. Each ring has an 8.8m outside diameter, is 35 centimetres thick and weighs seven tonnes.
The Hartlepool facility will be used to produce HS2 tunnel segments for around three years but the investment from STRABAG in the site is part of a long-term UK investment strategy.
"HS2 is already bringing benefits to the UK economy, creating jobs around the country as part of the construction and manufacturing required for HS2," Ruth Todd CBE, HS2's Chief Commercial Officer, said. "STRABAG's choice of location in Hartlepool for its new facility demonstrates a commitment to bringing new job and training opportunities to the North East, and the HS2 project provides a great pipeline of work. Over 3,000 UK based businesses are already working on the project, with over 28,500 jobs directly supported, with many more through the supply chain. As more phases of the HS2 programme begin, there will be many more opportunities for businesses across the UK to get involved in this once-in-a-generation mega-project."
Robotics will be used by the STRABAG team at the facility and a state-of-the-art automated segment carousel will ensure shorter turnaround times and better quality in production. The automation used in creating the steel reinforcement cages reduces wastage to negligible volumes and operates with energy efficiency levels significantly better than traditional methods.
"This is an extremely exciting day for STRABAG's UK operations," Andy Dixon, MD for STRABAG UK, said. "Our new factory in Hartlepool allows us to manufacture products for HS2 in the North East of England by giving new life to a vacant site and bringing over 100 new skilled jobs to the area. The increased use of automation enhances production efficiency, creates a safer environment for our staff as well as creating new technology related job opportunities. In addition, having direct access to the rail network means that we can take a significant number of lorries off of UK roads. This creates a more sustainable solution in the way that we transport tunnel segment rings to the Tunnel Boring Machines (TBMs) building the London tunnels for HS2, resulting in a reduction in our carbon footprint."
96 concrete segments rings will be produced each day at the site, with teams of 30 working in shifts across 24 hours, seven days per week. HS2's Main Works Civils Contractor, Skanska Costain STRABAG joint venture (SCS JV), are constructing HS2's London tunnels. The segments will be transported by rail to HS2's London logistics hub, part of HS2's commitment to reduce carbon emissions in construction. Starting in the summer, a 20-carriage train will depart from the site each day over six days, increasing to two per day as production increases.
From the Logistics Hub, the segments will be transported by an electric Multi-Service Vehicle (MSV) to the neighbouring construction sites and transferred on to the four giant Tunnel Boring Machines that will be constructing these tunnels.
"We are proud to be able to support the development of this state-of-the-art industrial facility, ensuring jobs and economic growth are secured for the future in the Hartlepool area," James Richardson, Managing Director of SCS JV, said. "The tunnel segments manufactured here in Hartlepool will be transported by rail to our tunnel boring machines, forming the high-speed tunnels in the heart of London. By using rail instead of road to move over 83,000 segments, we avoid over 56,000 lorry journeys and reduce CO2 emissions by 76 per cent. At all stages of the manufacturing, transportation and installation of these tunnel segments, we will ensure the building of a cleaner, greener railway and unlocking the social benefits HS2 can bring across the UK."
Related organisations
Related people