CN to modernise 60 additional locomotives with Wabtec
CN and Wabtec have announced an order to improve the fuel efficiency and performance of CN's existing fleet.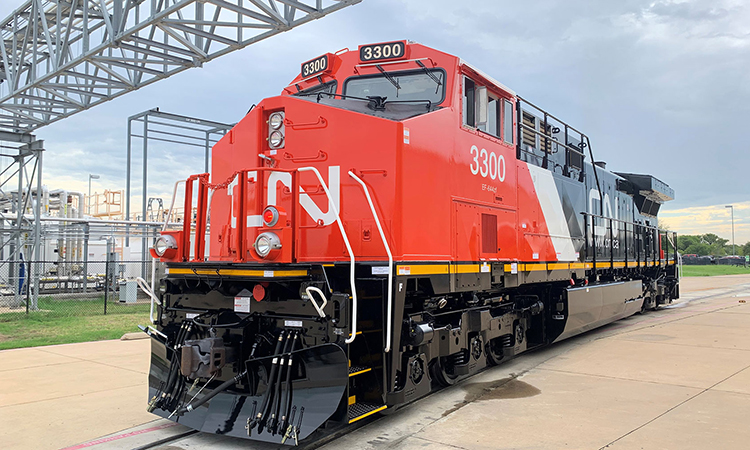 Credit: Wabtec
CN and Wabtec Corporation have announced an order to enhance an additional 60 locomotives in CN's existing fleet through Wabtec's modernisation programme. The investment supports CN's commitment to drive growth in a sustainable manner and build success for customers, employees and communities.
"Modernising these locomotives cost-effectively improves the reliability of our existing fleet and contributes to reducing our rail carbon footprint," Mark Grubbs, Vice-President Mechanical at CN, said. "In addition to reducing the environmental impact of our own operations, it helps us to reduce the greenhouse gas emissions of our customers."
The modernisations will help to improve locomotive fuel efficiency, where CN remains a leader in the North American rail industry, consuming approximately 15% less locomotive fuel per gross tonne mile than the industry average. The programme supports CN's science-based target to reduce its Scope 1 and 2 emissions by 43% per gross tonne mile by 2030 from a 2019 base year, and with CN's commitment to setting a net-zero 2050 carbon emission target aligned to a 1.5-degree scenario. 
Wabtec's Services team will modernise CN's 60 certified pre-owned Dash-9 locomotives to bring the total modernised fleet to 110 locomotives. The company will transform the locomotives from DC to AC powered traction and will feature enhancements such as the FDL Advantage engine upgrade and a suite of digital solutions including Trip Optimiser, and LOCOTROL Distributed Power. These upgrades are expected to extend the life of the locomotives and provide benefits, including targeted fuel efficiency improvements of up to 18% through a combination of engine and digital technology enhancements, a more than 40% increase in reliability, and up to a 55% increase in pulling power. The total programme is expected to enable CN to realise up to 50,000 metric tonnes in annual greenhouse gas emission reductions, the equivalent of removing nearly 10,700 non-electric passenger cars. Additionally, the modernisation order will reuse or recycle approximately 11,000 metric tonnes of steel.
"Our modernisation solutions allow CN to enhance its existing fleet by upgrading to Wabtec's state-of-the-art technology to enhance the locomotives' performance to current standards," Alicia Hammersmith, President of Wabtec Freight Services, said. "Our modernisation programme supports the circular economy and is a key component of Wabtec's sustainability approach through processes that reduce waste, extend life, and improve fuel efficiency, thereby driving emissions reductions and helping customers save money."