Video: HS2 delivers third bridge move in the West Midlands 27 hours ahead of schedule
HS2 have moved a 5,600 tonne bridge under the Coventry to Leamington railway 27 hours ahead of schedule.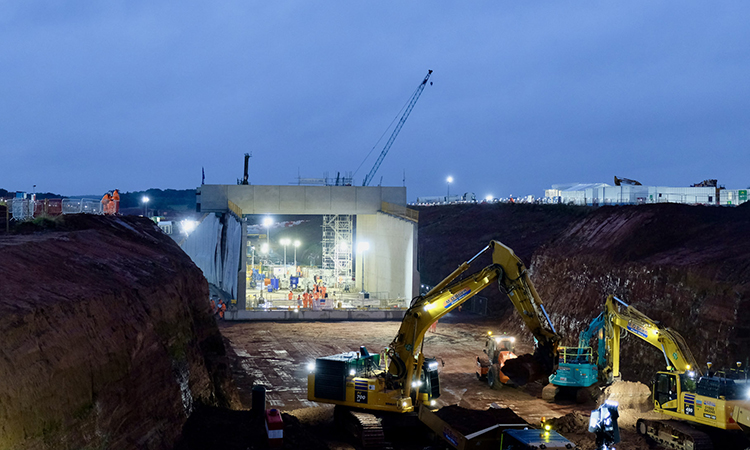 Credit: HS2
A team of 250 people have worked around the clock to move HS2's huge 5,600 tonne bridge into place under the Coventry to Leamington Spa railway in Warwickshire. The operation to slide the 22 metres long and 11 metres wide bridge into position took 5.5 hours and was completed 27 hours ahead of schedule.
From the start of blockade on 29 July, 113 metres of the existing rail track and 188 rail sleepers were removed, then 15,000 cubic metres of ground including hard sandstone material was excavated to create the space for the bridge to be moved into. It was moved into place using five 3.8 tonne jacks on a sliding surface, which allowed the bridge to be jacked on a guiding raft slab over a distance of 47 metres.
It moved at around nine meters per hour and took 5.5 hours to be moved into its final position at 03.30 on 31 July. This innovative construction method allows the bridge to be moved in one movement, which dramatically reduces disruption for rail passengers.
The structure will allow the high speed railway to pass underneath the existing Coventry to Leamington Spa line. In the short term it will also allow construction traffic to pass under this line, reducing the number of lorries on the public highways. The structure also features an adjoining access bridge for a nearby farmer, which will start construction shortly.
This is the third major bridge move undertaken by HS2 in the last two weeks, as construction ramps up on all the structures, including bridges and viaducts, where HS2 will intersect with existing railway lines and roads in the West Midlands.
On 17 July, a 6,200 tonne bridge was moved into place by an 840-wheeled transporter at Fulfen Wood near Lichfield under the existing West Coast Main Line. On 28 July, a 2,600 tonne bridge was also driven under the existing South Staffordshire freight railway line at nearby Streethay.
"The bridge was built on-site adjacent to the existing railway – an innovative approach which means it takes days, not months, to safely complete our works, keeping disruption to a minimum for rail passengers," James Briggs, HS2's Project Manager, said. "This is another great example of HS2's world-leading approach to engineering and shows the vast progress we are making to bring high-speed rail to the Midlands and the North. Over 3,000 UK businesses and almost 30,000 people are helping to build HS2, providing a vital boost to the economy."
"Over the last two and a half years through design development to implementation, we have remained focused on delivering this critical bridge move during the fixed Network Rail blockade," Shamus Banaghan, Project Manager for Balfour Beatty VINCI (BBV), said. "I would like to extend my thanks to everyone who has contributed to us achieving this latest feat of engineering ahead of schedule."
"This is a fantastic milestone for HS2 who we have worked with closely to combine their major construction work with a project to strengthen a historic railway viaduct near Leamington Spa which will help to secure the future of this key route for passengers and freight services," John Emery, Senior Sponsor for Network Rail, said.
The Fulfen Wood bridge operation, completed on 17 July, was the UK's heaviest bridge drive to install an intersection bridge structure beneath the West Coast Main Line at Fulfen Wood near Lichfield. The 56 metre long and 19 metre wide structure will allow Britain's new high-speed railway to pass beneath the busy existing railway line, on its route going north of Birmingham Curzon Street Station up to Crewe.
The giant 6,200-tonne concrete structure, which was built adjacent to the WCML over the last six months, was slowly manoeuvred into place on self-propelled modular transporters. Specially designed for very heavy lifting, the 840-wheeled transporter with four carrier beams was controlled by a remote steering system.
On 28 July, the Streethay bridge was driven into place under the South Staffordshire freight railway on the same self-propelled modular transporters (SPMTs) that were used for the Fulfen Wood drive, but with 344 wheels for the lighter 2,600 tonnes structure.