Škoda Group and Titagarh Firema win contract for Italian night line coaches
Škoda Group and Titagarh Firema have been awarded a contract for the production of up to 370 new railway coaches for Italian night lines.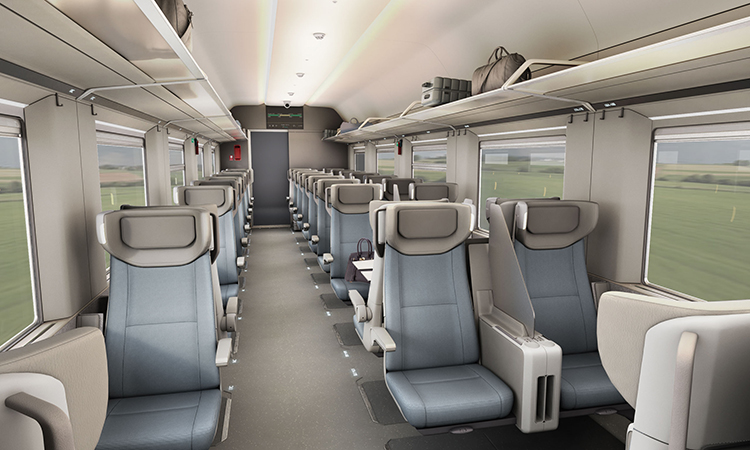 Credit: Škoda Group
Škoda Group has announced a new project to supply new sleeping coaches in Italy. Škoda Group were awarded the contract for the production of up to 370 new railway coaches with Titagarh Firema. The consortium was successful in the European tender procedure announced by Trenitalia, a member of the Ferrovie dello Stato Italiane group. In the future, the Milan-Palermo-Syracuse line will be served by completely new rolling stock that combines the most modern and efficient technical solutions with respect for all the characteristics of environmental sustainability. The contract's total value is €732.5 million.
This project reflects the growing popularity of night train travel in Europe. The new coaches for the Italian railways will offer an extraordinary travel experience with greater comfort, privacy and a tranquillity resembling a conventional hotel room. The trains are thus ready to meet the demanding requirements of passengers.
"I'm proud of our team, which has done a great job on the Italian market," Didier Pfleger, CEO of Škoda Group, said. "In October 2022, the Škoda Group opened an office in Florence to enter a new market. A few months later, in Italy, we are involved in two important projects for new long-distance carriages and trams for Bergamo. I'm thrilled that another European carrier trusts our more than 160-year tradition in vehicle manufacturing and has ordered sleeping coaches with a distinctive Škoda footprint."
"Firema achieved another significant success and took on a new challenge in the case of an extremely important contract for Trenitalia, for the country, which has contributed PNRR funding to the project, and for our company, which is constantly increasing its leading position in the Italian railway industry," Carlo Logli, CEO of the Caserta-based Titagarh Firema, said. "I am really pleased that the production of the new coaches will take place in Italy, at a historic site of rolling stock manufacture, because of the subsequent positive impact on employment levels that will result. I would therefore like to thank Škoda for this unprecedented partnership, which we hope will be the first of many more fruitful collaborations in the future."
The first part of the contract covers the delivery of a total of 70 sleeping coaches – 44 of them in the Comfort category, 22 are DeLuxe and 4 are Economy – with a total value of €138.59 million.
The DeLuxe coaches are equipped with comfortable spacious bedrooms, six of which are single and two double. Each has its own toilet and shower. Thanks to the air-conditioning solution, the temperature in each unit can be individually adjusted. The facilities also include modern information and audio/video infotainment systems. A coach also includes a small kitchen equipped with electrical appliances.
The Comfort Class offers seven compartments in each coach, each equipped with four beds and its own washbasin. In addition, the facilities also include a larger space for people with reduced mobility and their companions. Toilets and transport platforms are also available for such people to facilitate their entry and exit. The air conditioning can also be individually adjusted in each compartment.
Economy Class coaches offer a spacious passenger lounge with a 2+1 seating arrangement. For maximum comfort, individual sections have dividing walls, armrests and oversized headrests, and each seat has its own individual lighting. The wide central aisle allows for comfortable use of the interior space when the train is moving, while the vestibule area features luggage racks and storage spaces. There is one toilet on each side of the vestibule.