Network Rail and ProRail sign new deal
Network Rail and ProRail have signed a new MOU focusing on technological improvements such as automated inspection.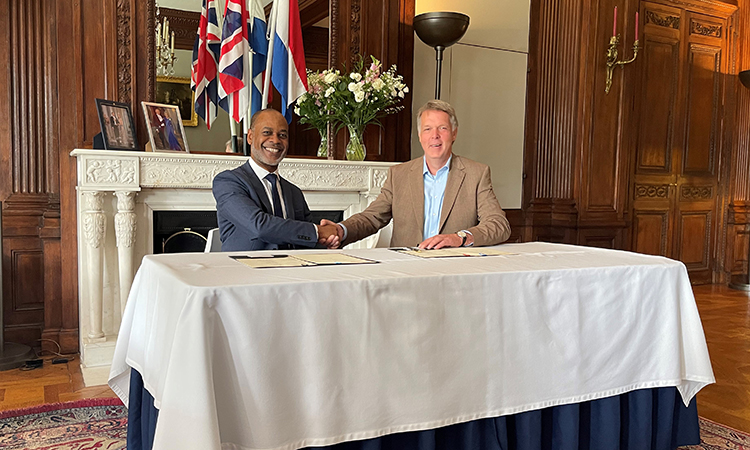 Credit: Network Rail
Network Rail and its Dutch equivalent, ProRail have signed a Memorandum of Understanding (MOU) to continue their partnership. The MOU follows several years of close working on new tech including cab signalling system ERTMS Level 3 and Fibre Optic Acoustic Sensing and builds on a previous MOU signed five years ago.
Automated inspection, acoustic monitoring using fibre optic cables and other technological improvements are among the developments being worked on as part of a partnership between the two companies.
"Network Rail and ProRail are both dedicated to running more reliable railways for passengers and freight customers, and we share many of the same challenges and opportunities," Robert Ampomah, Network Rail's Chief Rail Technology Officer, said. "As well as new tech, we already share information on trespassing, managing our assets and even the impact of how Artificial Intelligence can help improve the way we work. Our focus is always to make journeys easier for customers and by sharing information we can check our findings against another operator, get a better spread of data and test our ideas on different infrastructure too."
"ProRail and Network Rail have similar challenges in modernising and transforming their railway," Karel van Gils, ProRail Director of Innovation and Technical Renewal, said. "Capacity needs to grow, whereas the railway systems and assets are aging and work forces are scarce. Both Network Rail and ProRail are committed to digitising the railway systems as it will be key for a future proof, interoperable and reliable, high-capacity railway. We will enhance each other's efforts in the necessary research and development."
The developments created between the two companies in the past five years such as FOAS will continue. Going forward, the pair aim to progress in the digital railway, asset management, measurement trains and embankment stability.