Greenlight for Dumfries Station's Accessibility Project
Dumfries and Galloway Council's Planning Applications Committee has approved Listed Building Consent for access improvements to Dumfries station.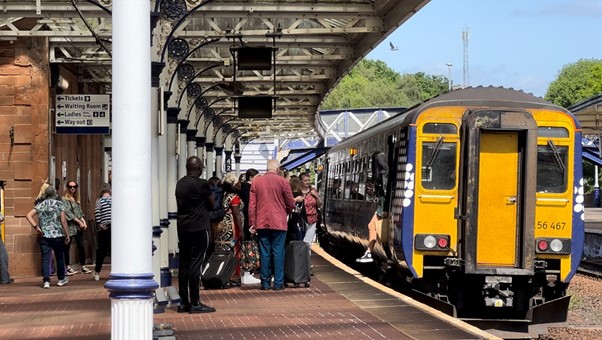 Plans will see the construction of a new footbridge with lifts allowing step-free access to both station platforms. The application for listed building consent was submitted in June following an engagement event with the community to showcase the proposed designs.
"We are delighted to have the Listed Building Consent approved by Dumfries and Galloway Council," Karen McChesney, Network Rail's town planning lead for the accessibility work at Dumfries station, said, "this project will deliver modern standards of access for those travelling to or from Dumfries and will improve the travelling experience for passengers."
Such adaptations include a new bridge and lifts, which will aid everyone in the community in accessing services at Dumfries station, enabling more people to travel by train. Likewise, to better accommodate motorised scooters, the internal dimensions of the lift tower have been changed to make them less square.
A gentle curve to the bridge has been introduced by lifting the deck 200mm in the middle and the lift towers will now have a mid-grey cladding panel which is slightly darker than the original colour.
"Delivering step-free access at stations to open up our network is one important way in which we are improving the overall experience of travelling on Scotland's railway", McChesney added.
Dumfries station is a category B listed building, therefore extra consideration is needed before allowing adaptations. The designs were chosen to be sympathetic to the aesthetic of its historic character. Following a consultation response from Historic Environment Scotland, the original design has been slightly updated to take their recommendations on board.
"Network Rail would like to thank council planning officials and the Planning Applications Committee for supporting this important accessibility project", McChesney highlighted, "we look forward to the works starting at the station in the not-too-distant future."
Works are due to commence in late October with the completion of the works in Summer 2024.