Spanish High-Speed Rail: The Most Extensive in Europe
Spanish high-speed rail is now the most extensive, a new report has found. However, it is more cost-effective than some European counterparts.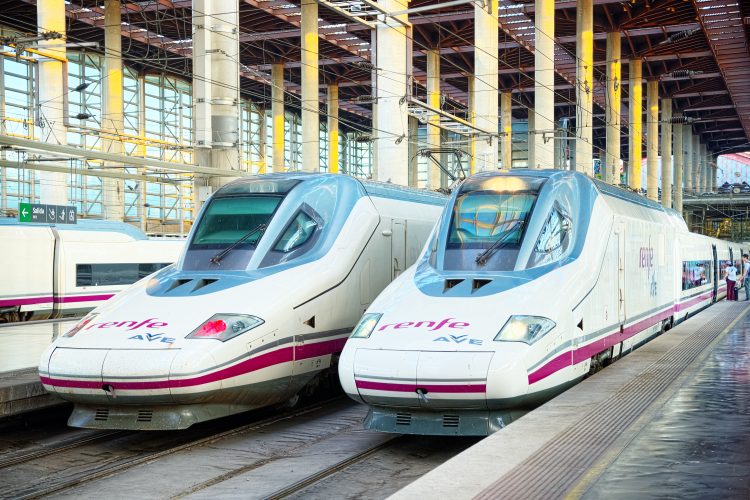 Spain's feat in creating the most extensive high-speed rail network in the European Union while keeping construction costs remarkably low takes centre stage in a recent report. Titled Efficiency of the Spanish Sector in High-Speed Rail Development, this study, compiled by engineering and consultancy firm Ineco, unveils the complex dynamics of the Spanish high-speed rail model's efficiency. A thorough examination of the Transit Costs Project database, coupled with an array of existing studies, affirms the claim: Spain now has the world's second-largest high-speed rail network, all the while maintaining one of the most economical construction costs per kilometre when juxtaposed with its global counterparts. Furthermore, Spain emerges as the European Union's paragon of cost efficiency in the realm of high-speed rail development.
Engineering and consultancy of reference in the field of sustainable mobility and digital transformation, Ineco has been designing comprehensive, innovative, and technological solutions for more than 50 years that contribute directly to improving the quality of life of millions of people. With a multidisciplinary team of more than 5,500 professionals, the company is present on all continents where it deploys its experience and capacity to tackle technically complex projects.
With a price tag of just €17.7 million per kilometre, Spain's construction expenses for high-speed rail remain well below the €45.5 million incurred by other high-speed rail nations. This achievement underscores Spain's commitment to upholding impeccable design and quality standards, swift project execution, and unwavering adherence to budgetary parameters.
The study takes a comprehensive approach, considering the entire infrastructure lifecycle, including operational and maintenance costs. Spain, despite its extensive high-speed network, manages to keep these expenses in line within or below the European average. Even with the choice of ballast track, which carries higher maintenance costs compared to ballastless track, the report emphasises that this strategic decision has not led to an increase in the overall long-term cost of Spain's high-speed rail system.
The production costs in Spain have not compromised the quality of their product. In fact, the study reveals that Spain boasts a superior quality-to-cost ratio when compared to other countries. Those nations achieving higher quality scores often do so at the expense of disproportionately higher cost-per-kilometre ratios.
Key Elements Underpinning Efficiency in Spain's High-Speed Rail Model
The report delves into a comprehensive analysis that encompasses not only the cost implications but also the technical advantages of the model. It carefully examines how economies of scale are exploited and the role of various factors like technology, institutions, culture, and politics in shaping the model's efficiency. Economic factors that exert a direct influence on costs play a pivotal role in maintaining the model's efficiency, as underscored in the report. Notably, elements such as Labour costs in Spain, coupled with land costs (measured per hectare), both of which are below the EU average—partly attributed to Spain's relatively low population density—contribute to the overall construction cost. While these factors do affect costs, their impact is somewhat mitigated in the overall cost structure.
The report scrutinises several pivotal factors contributing to the Spanish high-speed rail's success. These encompass strong social and political consensus, proprietary technology development, effective learning curve exploitation, an integrated management approach, and standardised design parameters. This consensus not only streamlines processes and reduces production costs but also ensures sustained public sector support, independent of political cycles or regional factors, thereby underpinning the model's triumph.
This commitment, coupled with a wealth of highly skilled professionals and the support of key players like Adif, Ineco, and the broader public administration, has fostered substantial investments and a resolute dedication to the railway as a linchpin for sustainability and the transition toward cleaner energy in the realm of mobility. Simultaneously, the private sector has thrived in this environment. Spanish construction companies, manufacturers, and engineering firms have harnessed this impetus to bolster their expertise, specialisation, technology, innovation, and most importantly, their ability to add value across the entire infrastructure life cycle.
The report also highlights costs in the United Kingdom, where figures are nine times higher than those of the Spanish model. The study delves into the factors contributing to this disparity between the two nations, particularly in light of the recent cancellation of phase 2 of the British HS2 project. This project has encountered significant cost and time overruns, prompting a closer examination of the underlying reasons.
The report thoroughly compares the Spanish and British cases, highlighting key distinctions. Lower Labour costs in Spain and its network passing through less densely populated regions contribute to cost disparities. However, the report emphasises that more crucial differences in technological and institutional factors underlie the contrasting evolution of both high-speed experiences. Another critical distinction lies in the strategic approach to these networks. Spain exhibits a strong consensus on the role of high-speed rail in modernising the country and enhancing international connectivity, alongside its mobility-related objectives. In contrast, HS2 was initially conceived to enhance railway capacity and connectivity within existing axes already operating at full capacity, with high-speed railway features seen as a secondary factor, which has posed challenges for the project's advancement.
The distinctive legal context and governance structure surrounding major transport infrastructure development in the UK renders the conceptualisation and planning phase a complex process, entrenched in the British legal framework. This complexity imposes significantly higher costs compared to Spain during this phase.