Last sleeper laid in the Gotthard Base Tunnel
On Wednesday 31 October 2014, the last rails were laid in the Gotthard Base Tunnel. At a distance of around 54m from the south portal, the contractor cast the "golden sleeper"; a big moment for everyone involved and an important milestone for the project…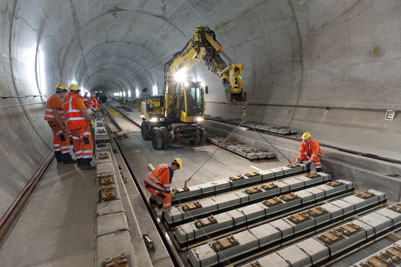 Last sleeper laid in the Gotthard Base Tunnel
The pure laying time was 39 months. 290km of track have been laid and the entire 57km of the world's longest railway tunnel can now be continuously travelled by diesel locomotives.
At exactly 12.00 noon on Wednesday 31 October 2014, the concreting train that was specially developed for the Gotthard Base Tunnel was used for the last time. At a formal ceremony in the tunnel, the "golden sleeper" of the ballastless track was cast. In total, the general contractor, Transtec Gotthard, has used around 131,000m3 of concrete, transported 380,000 monolithic sleepers into the tunnel, and laid 290km of rails. Around 125 workers were in action in shifts, 24 hours a day, seven days a week.
The ballastless track in the Gotthard Base Tunnel is an important factor for installation of the railway infrastructure systems. It makes rail-based transport possible for all subsequent work operations. With the end of track-laying, the first major area of the railway infrastructure systems is complete.
Renzo Simoni, CEO of AlpTransit Gotthard Ltd, expressed his great satisfaction: "An important milestone in the Gotthard Base Tunnel has been accomplished on time. The work is on schedule. The timetable for opening in June 2016 is valid."
Marco Hirzel, CEO of Transtec Gotthard, also showed pleasure at the achievement: "Installing the railway infrastructure systems in the world's longest railway tunnel is a very challenging task. Only thanks to the collaboration of all of the approximately 720 people who are working on this project, can we achieve our goal of punctual handover of the tunnel."
All other work on the Gotthard axis is also on schedule. The surface installation sites along the Gotthard Base Tunnel have already been removed and recultivated. In autumn 2015, test operation in the entire Gotthard Base Tunnel will begin. On 2 June 2016, and at the following weekend, the opening celebrations for the Gotthard Base Tunnel will be held. Integration into the SFR network with scheduled train services will take place in December 2016. 
In the Ceneri Base Tunnel, excavation work is progressing rapidly: 85% of the entire tunnel system has already been cut. Now that the Federal Supreme Court has confirmed the original awards, planning and implementation of the railway infrastructure systems can also proceed. The date of December 2019 for opening the Ceneri Base Tunnel to commercial operations that was already planned therefore remains the goal of AlpTransit Gotthard Ltd.
Related topics
Related organisations